Why Adrien Brody Was Rumored To Be Banned From SNL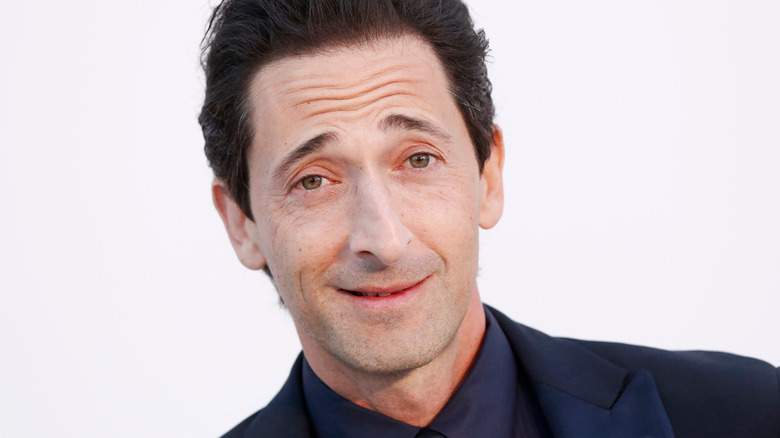 Andrea Raffin/Shutterstock
Hosting "Saturday Night Live" is a major privilege and milestone in any actor's career, with some returning to host five times. But there are others that have only hosted once, including Adrien Brody. "The French Dispatch" star was rumored to be persona non grata at 30 Rock after his only appearance on the show. He hosted "SNL" back in 2003 and it was his first real television experience. By now he's played leading cameos on "Peaky Blinders," HBO's "Succession," and Peacock's "Poker Face" starring Natasha Lyonne, but back then, he'd only appeared in a few television episodes here and there. 
His "SNL" gig in 2003 came after he starred in 2002's "The Pianist," which won him an Academy Award for Best Actor. But, again, that was the only time he's ever hosted. And rumor had it that it was because Brody has been banned from hosting "SNL." But is that true? "SNL" is live and things can get out of hand. But even in the worst-case scenarios (think Chevy Chase and Kanye West), "SNL" hasn't really banned anyone, unless you rip a photo of the Pope on national TV. So did Brody's cringe-worthy performance earn him a hosting ban?
Adrien Brody was the victim of a false rumor
One of the longest running myths surrounding SNL is that this moment was completely unplanned and Adrian Brody was banned from the show because of it. That's all completely false. Adrian did the exact same thing in dress rehearsal. As stupid as it is, this was supposed to happen. https://t.co/3FamROsDRE

— That Week In SNL (@ThatWeekInSNL) October 7, 2021
The incident in question happened in 2003 when Adrien Brody hosted alongside musical guest Sean Paul. While introducing Paul, Brody dressed in a dreadlocked wig and spoke in a Jamaican accent (since Sean Paul is Jamaican and had really prominent reggae/dancehall songs at the time, like "Get Busy," which he performed on that episode). As Far Out Magazine reported, Brody said, "Ya, ya, ya, ya, you know, man. We got original rude boy Sean Paul here." The audience notably stayed quiet as he used slang like "Big up Kingston Massive!" 
Right away, the story that stuck about his introduction was that Brody completely went off-book, leading to the rumor that he got banned because of it. However, the podcast "That Week in SNL" tweeted in 2021 that this is just a false rumor. Brody reportedly did the same Jamaican persona and intro during dress rehearsal, too. So the powers that be definitely knew what he was going to do. "As stupid as it is, this was supposed to happen," they tweeted. They followed up by saying Tina Fey apparently said Brody had "a BUNCH of awful sketch ideas" and this intro for Sean Paul was the only one to make it through.
In a 2012 interview with HuffPost, Brody was blasé about his rumored "SNL" ban. He said he didn't know about it and that Lorne Michaels, head honcho for "SNL," didn't say anything to him backstage.
Adrien Brody did have an inappropriate improvised moment with Halle Berry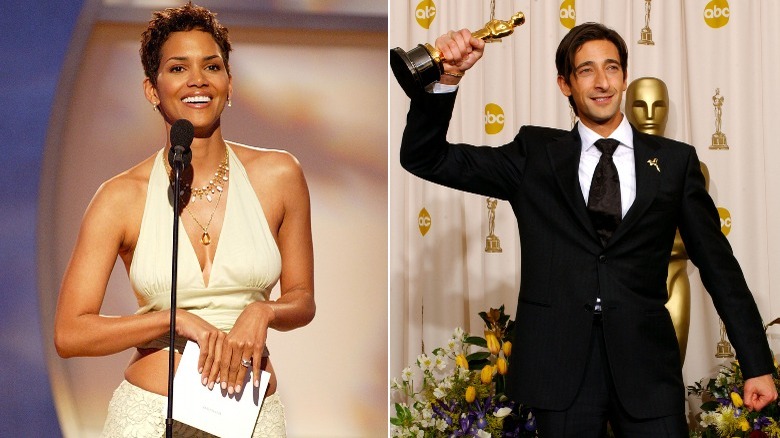 Frank Micelotta/Getty & Kevin Winter/Getty Images
But that wasn't Adrien Brody's only cringe-worthy live TV moment. In fact, one happened during his win for Best Actor at the 2003 Academy Awards. When accepting his award, Brody grabbed presenter Halle Berry in a close embrace once he got to the stage and kissed her. While appearing on "Watch What Happens Live with Andy Cohen" in 2017, Berry said she "knew nothing about it," and was thinking the whole time, "What the f*** is happening right now?" She added that she knew how "out of body" you can feel while on that stage, so she "just f***ing went with it." But she, of course, can't say how the kiss was because she "was too focused on what the f*** is going on..."
When Brody talked to Vanity Fair about it in 2015, he had a very different memory and tone about the moment. "That sure was probably one of the most memorable moments ever," he said, saying that "time slowed down" when he did it. "In fact, it must have, because by the time I got finished kissing her and people kind of settled in, they were already flashing the sign to say, 'Get off the stage, you're time's up.'" He went on to say it was "amazing" he was able to even give a speech with all the commotion and pressure. He also didn't think he was going to win anyway.