Celebs Who Showed Up Nearly Unrecognizable On The Red Carpet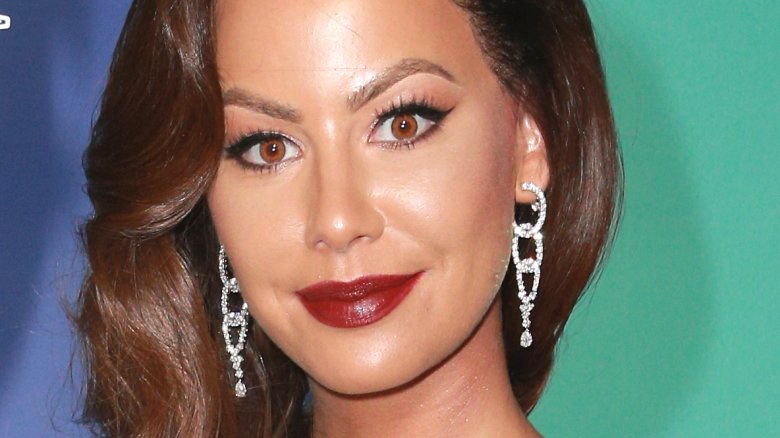 Getty Images
There's nothing like a good red carpet transformation to keep us on our toes. After all, celebs aren't going to make the best-dressed list more than once by sticking to their go-to look. Unfortunately, not every outfit is a win. Sometimes, Hollywood A-listers step out of their comfort zone and right into a big fat miss. Other times, they emerge like a glamorous phoenix who burns up the red carpet and tells the haters to shove it.
Unexpected looks aren't always a celebrity's doing — they do have professional stylists to dress them for all high-profile events. But things happen, and if they're a star, their questionable outfit choice will probably find its way online — and the celeb will take the brunt of the criticism.
From Jonah Hill's epic weight loss to Lady Gaga just being Gaga, these celebs were completely unrecognizable on the red carpet (for better or for worse).
Bella Thorne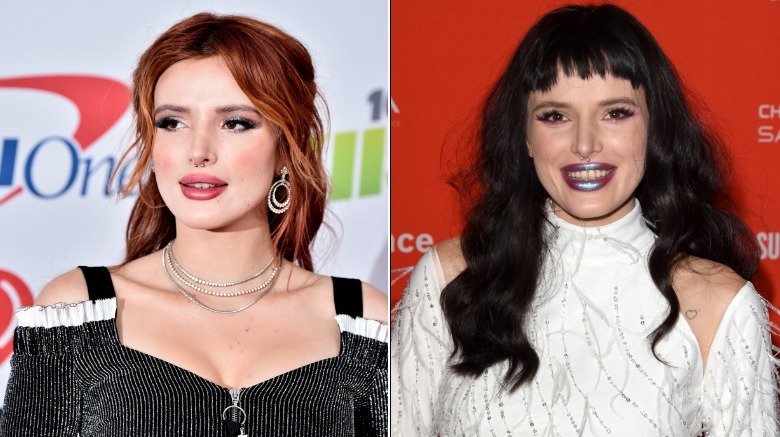 Getty Images
After parting ways with Disney, Bella Thorne has added some undeniable edge to her image — she shakes up headlines as much as she shakes up her look. In a year alone, the actress has gone through a highly public breakup, come out as bisexual (after being spotted kissing her brother's ex girlfriend on Snapchat) and fearlessly shared her experiences with childhood sexual trauma. Her fearlessness isn't limited to sharing her personal truth, however. It also spills over into her eccentric sense of style.
Thorne has tried out a number of unconventional hairstyles since her time on Disney Channel. Those neon green tips gave us life, but she still always looked like herself — at least until the 2017 Sundance Film Festival. Thorne ditched her flowing ginger locks for a long black haircut with short, choppy bangs and looked more like a character from Twilight than the face of Famous In Love. The look, paired with iridescent blue lips, was a striking difference but, thankfully, not a permanent one.
Renee Zellweger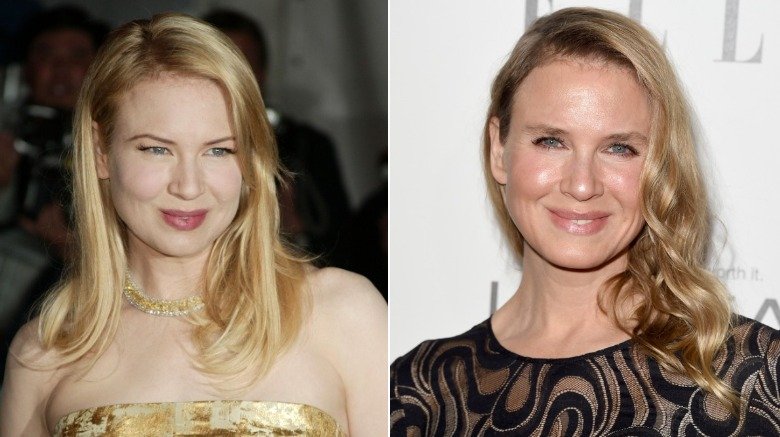 Getty Images
Renée Zellweger shocked the masses when she stepped out on the red carpet for Elle's 21st annual Women in Hollywood event. The Bridget Jones' Diary actress looked nothing like her former self — her face was undeniably different. But is change always a bad thing? According to Zellweger, her changing looks were the result of a healthy lifestyle.
"My friends say that I look peaceful. I am healthy," she said. "For a long time I wasn't doing such a good job with that. I took on a schedule that is not realistically sustainable and didn't allow for taking care of myself."
Nonetheless, a majority of headlines threw around claims of plastic surgery, while others were the verbal equivalent of a jaw-drop. Remember, this is Hollywood, where women don't age. After Variety penned an article titled "Renee Zellweger: If She No Longer Looks Like Herself, Has She Become a Different Actress?," the star fought back. Zellweger, whose only sin was aging, slammed the media for their narrow-minded views of beauty in a Huffington Post op-ed titled "We Can Do Better." Bridget Jones is certainly setting a good example for her baby.
Uma Thurman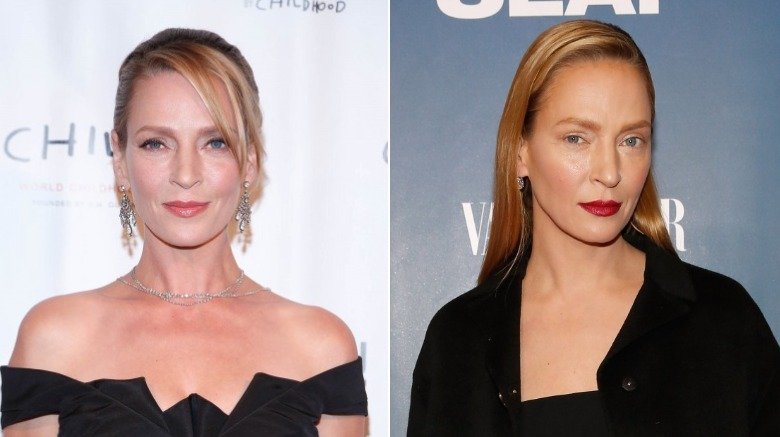 Getty Images
Kill Bill star Uma Thurman had a "suspiciously smooth" forehead when she hit the 2015 premiere party for her miniseries The Slap, at least according to the Daily Mail. It's about a suspicious as Botox could be in an industry that punishes women for aging but also punishes them for trying to stop the aging they're relentlessly teased about in the first place. Apparently, female celebs just can't win in Hollywood when it comes to their looks.
Thurman made the egregious misstep of toning down her makeup to let her natural beauty shine through. Of course, a star whose generally seen fully glammed out looks really different without mascara and eyeliner. Critics still slammed her nearly unrecognizable appearance, but she shrugged it off.
"I know I look weird," she told the Today Show (via Hollywood Life), adding, "I don't know, I guess nobody liked my makeup."
We did, Uma!
Amber Rose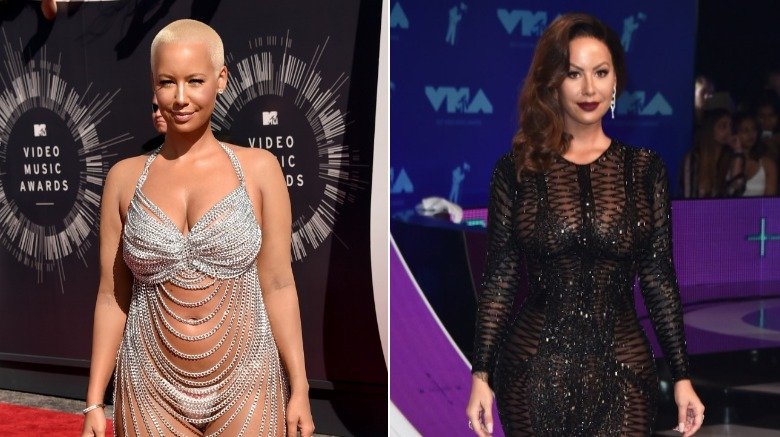 Getty Images
Most of us are still in denial. Amber Rose's invite to the 2017 MTV Video Music Awards must have gotten lost in the mail because that couldn't have been her, right? That has to be it because Rose has never looked this glamorous.
The former stripper, who's known for her scantily clad outfits and platinum buzz cut, looked like an entirely different person on the red carpet. If we squinted, we probably would have thought she was Lana Del Rey, but, obviously, she wasn't. Where was the edgy outfit — the jumpsuit emblazoned with the battle cry "sl**" and "gold digger"? Where was the cleavage, the body chains, the skin?
The only explanation was that Rose was trolling the media, who have a tendency to criticize her sexuality.
"They call us sl**s and wh***s all the time, so we just embrace it," she told MTV.
This time, she showed the world that she could be as glamorous as an Oscar winner — even if she usually prefers to just be her sexy, unapologetic self
Zach Galifianakis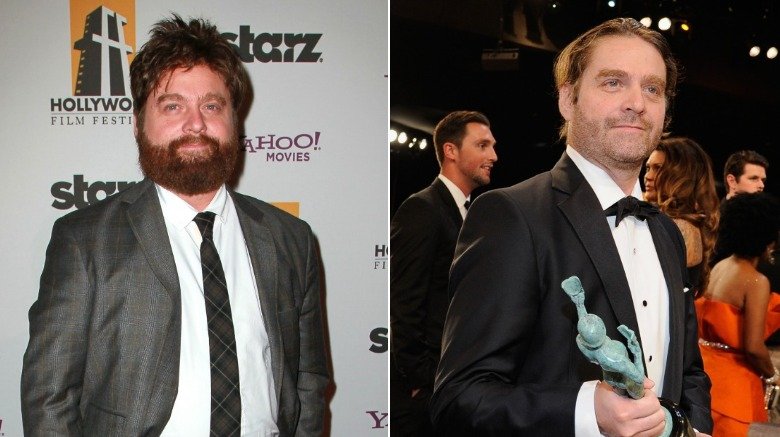 Getty Images
Zach Galifianakis was always known for his roles as the chubby weirdo. He was the leader of the Wolf Pack in The Hangover. He's hysterical, loveable and not someone who's often heralded for their looks unless you're into that scruffy lumberjack vibe. Galifianakis wasn't ever cast as the smoldering hot leading man like Bradley Cooper. He was cast next to the smoldering hot leading man, but everything changed when he showed up to the 2015 SAG awards as an entirely different person.
Galifianakis arrived looking like a knock out — even more so than whatever pills his Hangover II character gave the Wolf Pack in Bangkok. So, what happened? He lost a ton of weight by, ironically, cutting down on booze. Galifianakis won't be seen an IRL version of The Hangover anytime soon.
"I stopped drinking and I just, kind of, put the weight off," he told told Conan O'Brien in an interview. "I was having a lot of vodka with sausage. Delicious, but bad for you."
Jonah Hill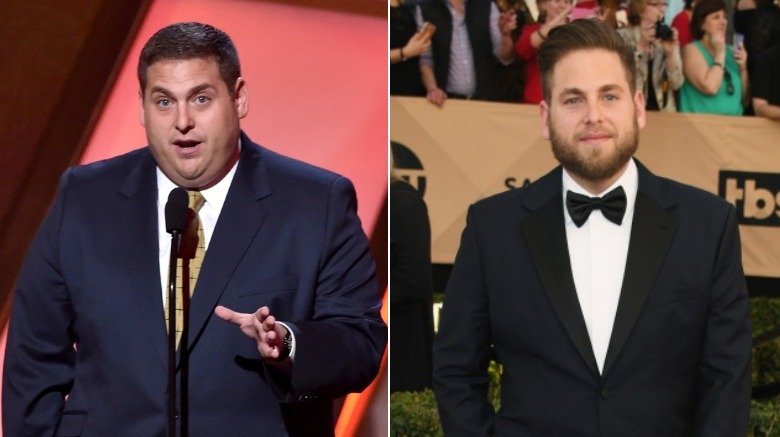 Getty Images
Zach Galifianakis isn't the only funny guy who lost so much weight that he became unrecognizable. Jonah Hill stepped onto the red carpet at the 2017 SAG Awards as a fraction of his former self.
After starring in Superbad, the comedian rose to fame as the fat, funny guy (an admittedly horrible Hollywood trope). He was then cast in a myriad of similar roles — from 21 Jump Street to Get Him to the Greek – where his raunchy sense of humor shined. After 21 Jump Street, the actor decided it was time to shed some pounds, so he turned to his extra-fit co-star Channing Tatum (i.e. one of the hottest guys on the planet) for advice.
"I wanted to get in better shape, so I called Channing Tatum and said, 'Hey, if I eat less and go to a trainer, will I get in better shape?'" Hill told The Tonight Show. "He's like, 'Yeah, you dumb motherf****r, of course you will. It's the simplest thing in the entire world.'"
Tatum's advice worked wonders, and, by the time the 2017 SAG Awards rolled around, Hill looked like an entirely different person
Tara Reid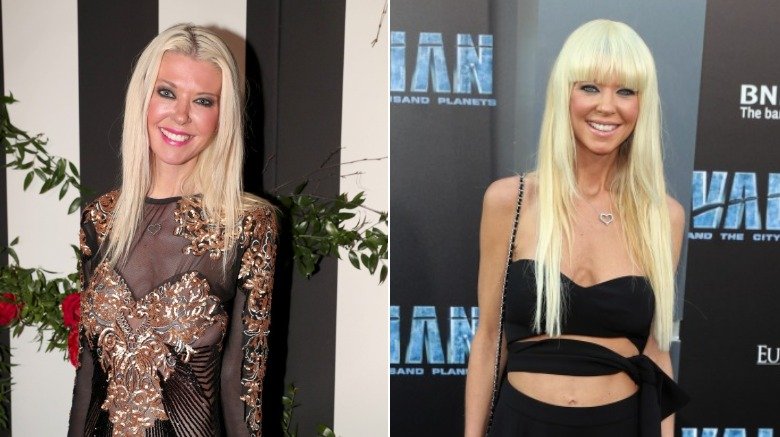 Getty Images
Tara Reid has always been a blonde bombshell. The girl-next-door has pretty much patented bleach-blonde hair since her debut in American Pie. Even after a botched plastic surgery left her stomach misshapen and scarred, she's always been beautiful, impossibly thin, and ultra-busty.
Reid doesn't try out new looks very often (her go-to appears to be somewhere between a form-fitting dress and string bikini), but she hit the red carpet for the Valerian and the City of a Thousand Planets premiere looking like a new gal. Who knew bangs could make such a difference?
For everyone who ever wondered how a wig could possibly have hidden Hannah Montana's true identity, now you know. We're definitely used to seeing Reid in platinum, but, for some reason, the fringe made her look unrecognizable. At least we know if she ever has to go into witness protection (perhaps because she knows how a few deadly sharks got into a tornado), all it would take is a quick haircut for her to blend in with the masses.
Nicole 'Snooki' Polizzi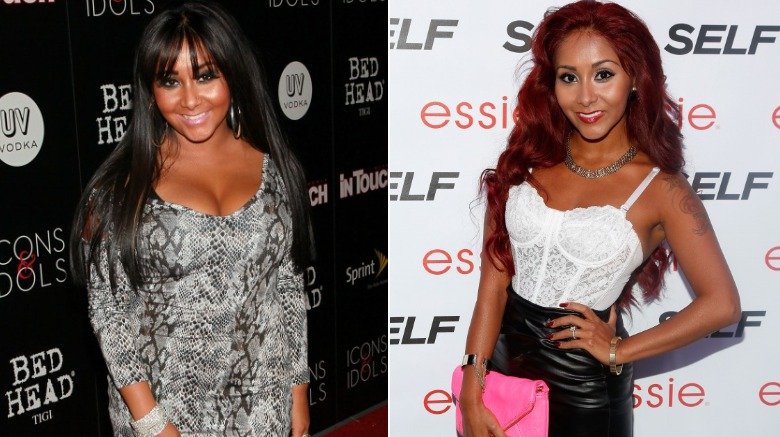 Getty Images
During The Jersey Shore, Snooki (real name Nicole Polizzi) dubbed herself a "meatball" because of her chubby, short stature and affinity for Italian food. The reality star is only 4' 9", so the 40 pounds she gained during her first pregnancy showed. After giving birth to a beautiful little boy, Snooks hit the gym and debuted her new mom-bod at the SELF Rocks the Summer event. Though she was always curvy during her time on Jersey Shore, she looked like an entirely different person after shedding the pounds with the help of a healthy diet and daily workouts with a personal trainer.
"If I can lose 42 lbs. after giving birth six months [ago], I mean, anybody could do it," she told The Dr. Oz Show (via People). "You just need the dedication, and you need to want to have your body back."
Though Jersey Shore may be back for a reboot, Snooki's weight is not. She's managed to keep off the pounds even after having a second child. Today, with a breast augmentation and some lip fillers, she's even more unrecognizable than before, but, rest assured, she's still her funny, ridiculous self.
Jenni 'JWoww' Farley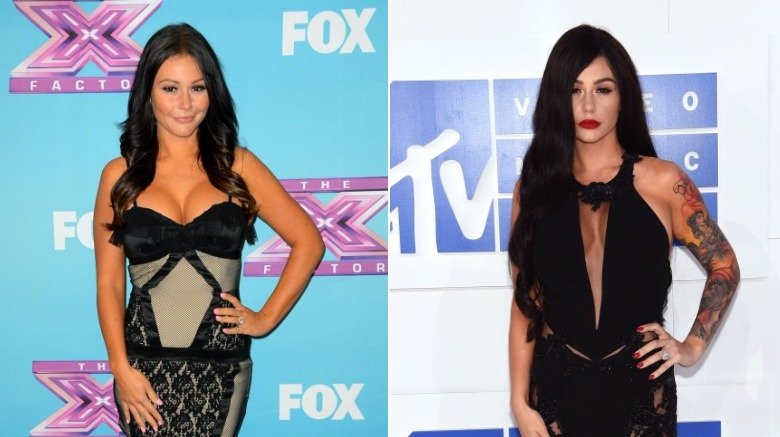 Getty Images
Snooki isn't the only Jersey Shore cast member who's changed since the show aired its final season in 2012 (that is before coming back to TV for a reboot). The JWoww of today looks nothing like the tough-as-nails Long Island chick from season one — and maybe that's a good thing. Jenni Farley, who's been long rumored to have had plastic surgery on her face, was always pretty, but her 30s may be her best era yet.
At the 2016 MTV Video Music awards, she was barely recognizable after ditching her sun-kissed skin and drawing some inspiration from Elvira and Dita Von Teese. Though today her hair is typically styled in a mom-approved (and effortlessly chic) bob, she donned a waist-length black wig and a bold red lip on the red carpet. And Farley was totally feeling the vampy look, claiming that she'd "never felt more beautiful." However, not everyone agreed.
Unfortunately for the haters, they had Snooki to deal with.
"She's been preparing for the VMAs for forever. She wanted a new sexy look, she wanted to get back to her JWoww sexy look with the boobs out," Snooki told TooFab. "She honestly looks better than she's ever looked ever. I'm so proud of her, she works so hard."
She's not wrong.
Lily Collins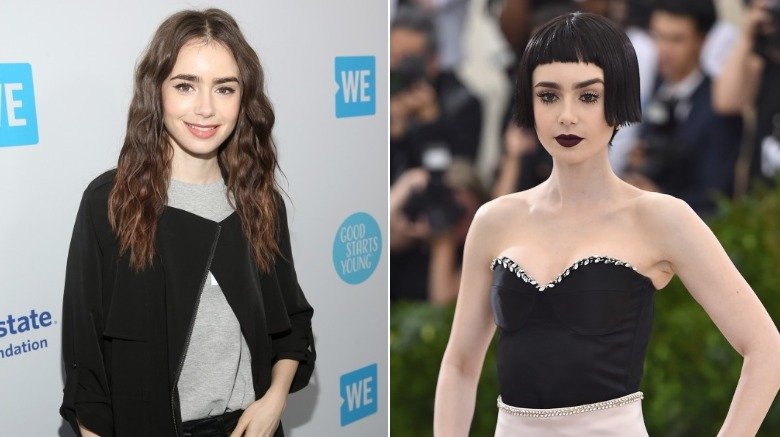 Getty Images
Lily Collins isn't really one for dramatic changes in appearance, but 2017 was an outlier. The actress ended up losing an enormous amount of weight to play a 20-year-old girl struggling with anorexia in the Netflix film To The Bone. Collins, who struggled with an eating disorder in the past, admitted the process was "scary" because of her past battles.
"I knew that, this time, I would be held accountable for it. I would be [losing weight] under the supervision of a nutritionist and surrounded by all these amazing women on set. So, I knew that I would be in a safe environment to explore this," she told Refinery 29.
Though the star showed up to the 2017 Met Gala looking a little healthier than she did in her critically acclaimed flick, she was completely unrecognizable thanks to a cropped wig. The actress, whose father is famed musician Phil Collins, typically has tousled chocolate waves and opts for natural-looking makeup. A jet-black bob and vampy, deep red lipstick is a real departure — but an undeniably strong statement. The Met Gala is the place for statements, right?
Millie Bobby Brown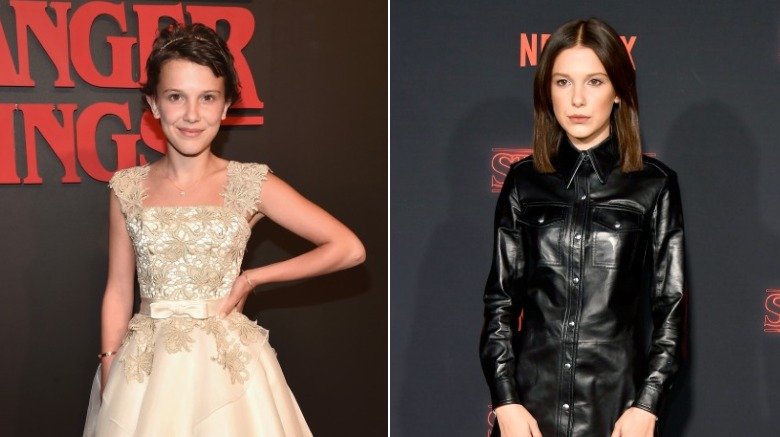 Getty Images
Millie Bobby Brown was the undeniable star of Stranger Things (though her pack of misfit friends were pretty great too). The young actress shaved her head for the role of Eleven and sported a curly cropped cut throughout the entire first season's press cycle. But suddenly, everything changed, and Eleven became a teenager. When did time slip away from us? Can someone make it stop?
A 13-year-old Brown showed up at the premiere of Stranger Things 2 looking like a glamorous young woman. Every trace of her cropped hair was gone and replaced with a slick, straightened shoulder-length style. She even chose an edgy leather mini dress and kitten heels (what 13-year-old wears heels?). She opted for a natural makeup look — probably because anything more would seem inappropriate for a girl her age.
Seriously, whatever happened to 13-year-olds having to go through an awkward phase of unflattering powder blue eyeshadow, braces, and acne.
Allison Williams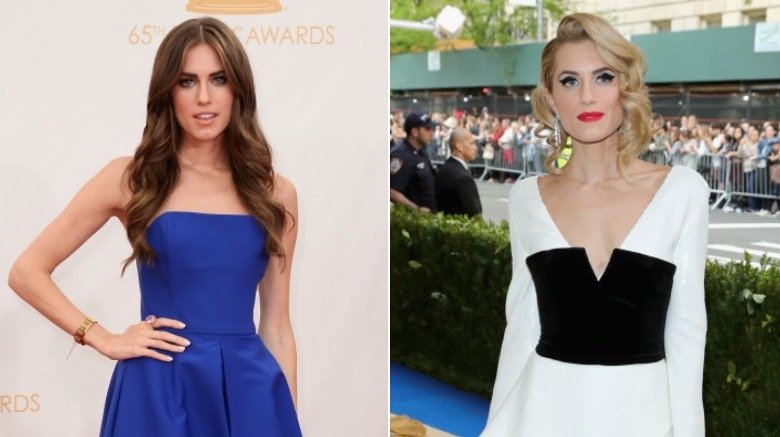 Getty Images
Hello, Marilyn Monroe, is that you?
Allison Williams isn't Marnie Michaels — not anymore. The Girls actress debuted an entirely new blonde bombshell look at the 2017 Met Gala. If there's ever a time to transform yourself, the Met Gala is it.
Before the event, Williams approached Diane Von Furstenberg's creative director Jonathan Saunders and asked for help creating a brand new look. And he absolutely delivered. Though Williams wore a feminine dress like we're used to seeing on her, it was undeniably more edgy than almost anything she's worn in the past. As for her hair, Williams ditched her brunette locks and went bleach blonde for a style that oozed old Hollywood glamour. She completed her look with a striking red lip, a classic that stood out, especially when considering Williams' tendency to wear natural, nude colors. Even her heavy eye makeup was a shock, as Williams typically wears a soft smokey eye rather than thick, graphic liner.
Jennifer Love Hewitt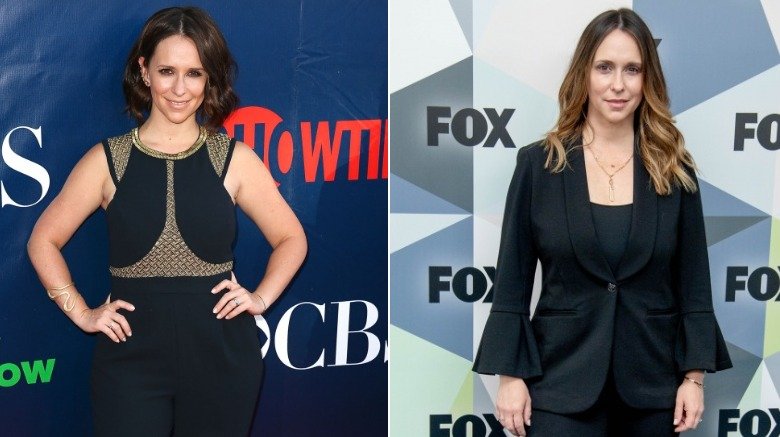 Getty Images
Jennifer Love Hewitt has been America's sweetheart since the '90s. She exudes sexiness and adorableness, but her look at Fox's upfronts left longtime fans puzzled. The event was Hewitt's first red carpet appearance in four years, and she looked frazzled next to her 9-1-1 castmates. Had she forgotten how to be an actress? Did she just throw caution to the wind because superficiality is overrated? Hewitt, who opted for a rather ill-fitting black pantsuit, later said she looked like a "hot mess" — because it turns out it was hot and she was a mess. You see, even the most seasoned Hollywood actresses aren't impervious to New York City's humidity.
"Wearing a black suit was not a good idea," she candidly admitted. "Not wearing enough hairspray and teasing in my hair, also a bad idea. I just have to apologize for how wrecked I look in all the pictures that have come out. I was literally melting by the time I got to the red carpet. I was honestly melting."
Honestly, she looked better than most of us would, considering the circumstances. All she needed was a little volumizing spray of dry shampoo.
Lady Gaga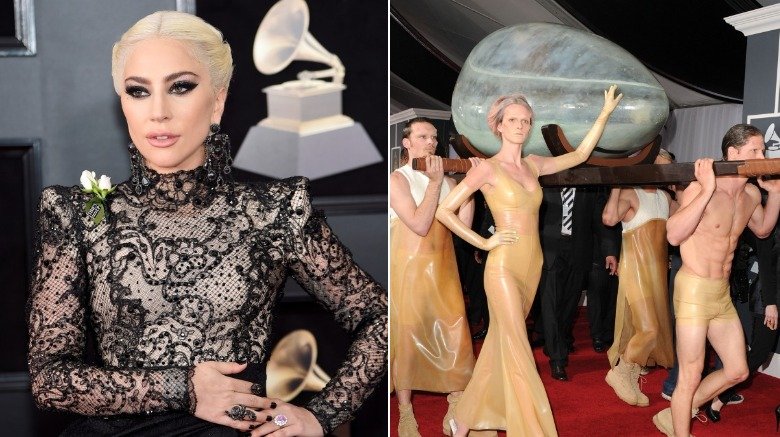 Getty Images
Lady Gaga switches up her red carpet look pretty often. These days, she's pretty much ditched the meat dresses and bubble minis for a toned-down, natural look (at least as natural as Lady Gaga gets). Why? Because she topped all of her wild looks in 2011 at the Grammys. And, at this point, insane outfits are just a distraction.
"It becomes about everything else, and that was what I [once] wanted," she told The Times. "But if I wear a black T-shirt and black pants every day, [people] might listen to what I write. All the outfits, fashion and art pieces over the years made sense to me. They didn't make sense to other people."
Gaga was unrecognizable in her 2011 Grammy look because she was literally encased in a giant egg that was being toted around the red carpet by beefy guys in skintight spandex and construction boots. If that sounds insane, that's because it was, but you can't knock her for her commitment to art. Later that night, the singer hatched from the egg during an epic performance and everything was again right with the world.