Lindsay Lohan's First Movie Role Was The Only One She Auditioned For As A Child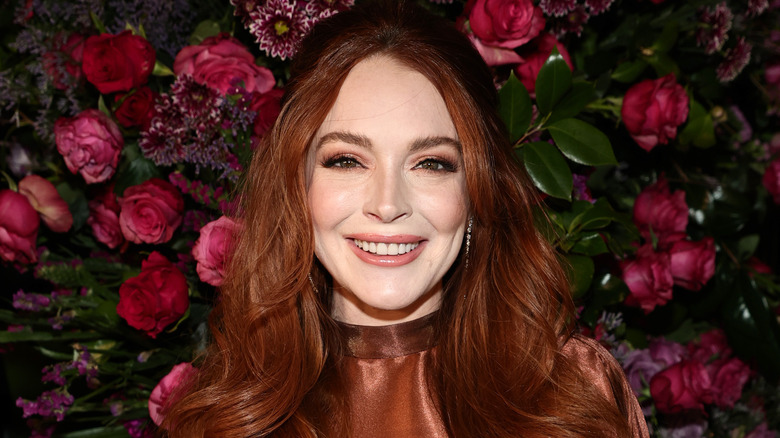 Jamie Mccarthy/Getty Images
Lindsay Lohan started her career strong as a child star. While she'd previously scored guest roles on shows like "Sesame Street," her breakthrough came in 1998 when she landed the dual roles of Hallie Parker and Annie James in "The Parent Trap." Lohan discussed transitioning from acting in commercials to starring in a feature film with ET. "When I did commercials, I didn't know how hard it was," Lohan said. "And now I realize: If you want to be in a movie, how you have to be ready for it. You can't just go in, do it, get it over with, and be out." Regarding acting, Lohan added, "It's fun, and I like the attention."
In a chat with journalist Jimmy Carter, Lohan spoke about staying grounded as "The Parent Trap" was set to debut. "I just don't want to let it go to my head. I want to stay normal," Lohan said. Following the success of the Disney remake, Lohan's star continued to grow, having landed roles in films like "Freaky Friday," "Confessions of a Teenage Drama Queen," and "Mean Girls." In recent years, Lohan revealed the only audition she had to go through as a kid.
Lindsay Lohan only had to audition for The Parent Trap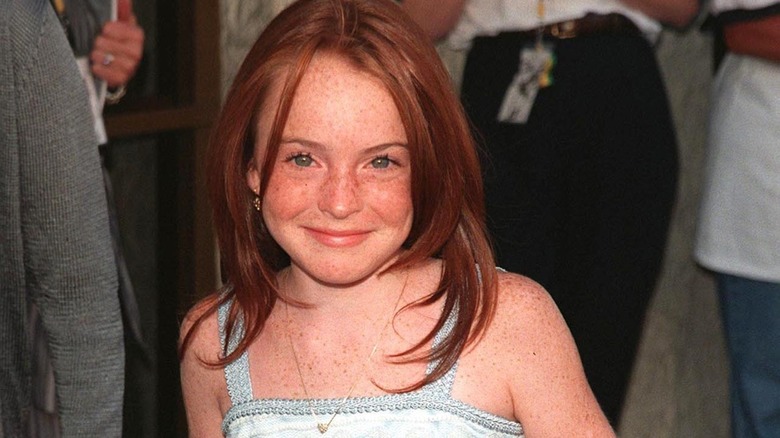 Featureflash Photo Agency/Shutterstock
Lindsay Lohan's earliest big break marked the only time she had to audition for a project as a child star. Lohan stopped by "The Drew Barrymore Show" in November 2022 and revisited the process of getting her first movie role. "'Parent Trap' was a lot of screen tests," Lohan said. "I went back. I auditioned once. Then I got a callback again. Then I got a third callback."
In 2019, Lohan spoke to Variety about this experience, stating, "I only auditioned for 'The Parent Trap.'" The performer went on to detail her fear of trying out for films. "I would be terrified to audition," Lohan said. "I don't even know what it would be like. I think I would freeze." 
Despite this fear, Lohan impressed during her tryout and won her dual "Parent Trap" parts over other talented actors like Michelle Trachtenberg, Mara Wilson, Scarlett Johansson, and Jena Malone, as BuzzFeed reported. In a 2020 "Parent Trap" reunion, per Insider, costar Dennis Quaid stated that Lohan's British "accent was so perfect" at the audition that he "actually thought there were two girls" testing for the character. Recently, Lohan has returned to acting and showcased her talent in a leading movie role.
Lindsay Lohan is having a career renaissance
Lindsay Lohan recently celebrated her return to acting. In 2022, the actor starred in the Netflix holiday rom-com "Falling for Christmas," which was her first lead in a film in three years. Lohan talked to Forbes in November 2022 about returning to acting. "Everything was refreshing to me," Lohan said. "It was just a whole different way of starting, getting on set and making movies again that I really missed, that I didn't realize how much I had missed."
During a promotion for "Falling for Christmas" on "Good Morning America" in November 2022, Lohan expressed her fondness for "The Parent Trap" and the memories she has of filming it. "That movie means everything to me," she said. "It was the first experience I ever had being a young adult on a set, so it's so nostalgic for me."
In March 2023, What's on Netflix reported that Lohan will be starring in another romantic comedy called "Irish Wish," alongside Ed Speleers, Ayesha Curry, and Jane Seymour. The film is expected to premiere in 2024. On March 29, Lohan shared a photo on Instagram of herself preparing to record audio for "Irish Wish" during an ADR session.