Taylor Swift And Phoebe Bridgers' Friendship Started Before The Eras Tour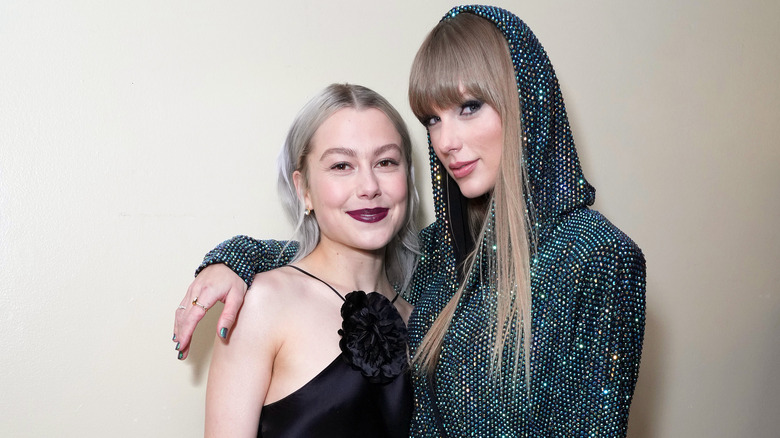 Kevin Mazur/Getty Images
Taylor Swift's biggest tour yet, the Eras tour, is making waves online every night she performs, from her costumes to her setlist. And just like with any tour, Swift has opening acts. This time around, the Eras tour has a slew of openers switching off at different legs of the tour. Swift has rounded up musicians including Paramore, MUNA, Girl In Red, HAIM, and more playing different shows throughout the tour, per Billboard. One of these artists, Phoebe Bridgers, is more than just an opener for Swift.
Before Swift even announced Bridgers' role in the Eras tour, Bridgers was a featured artist on Swift's rerelease of "Red (Taylor's Version)." Bridgers' popularity and notoriety have grown exponentially since the release of her second album, "Punisher" in 2020. She's more than just a collaborator of Swift's; her work actually impressed Swift enough for the "Midnights" singer to reach out first for the album's collaboration. So how did the two meet?
Taylor Swift was the first to contact Phoebe Bridgers
When it was announced that sad girl rocker, Phoebe Bridgers, was going to be on a "Red" song from the vault, fans wondered if Swift would give Bridgers a full verse and make it a proper duet. Luckily, Swift is just as much of a fan of Bridgers as her Pharbz (Bridgers' fans) are. 
As NME reported, Swift went on the "Late Night with Seth Meyers" in November 2021 and sang the musician's praises, saying Bridgers was "one of [her] favorite artists in the world." Swift said, "If she sings it, I will listen to it. I just love her voice." After Swift decided she had to have Bridgers on the song, Swift texted her.
"I got this random text from Aaron Dessner that was really weirdly worded for him," Bridgers told Billboard in 2022. "And I was like, "What the f*** is this?" And as I was reading it, I [realized], 'Oh, my God, it's from Taylor Swift.'" Bridgers described it as "just a total high," with her and Swift texting and really hit it off. Swift told Meyers that Bridgers first responded, "I've been waiting for this text my entire life." Same, Phoebe. Same.
They are longtime fans of each other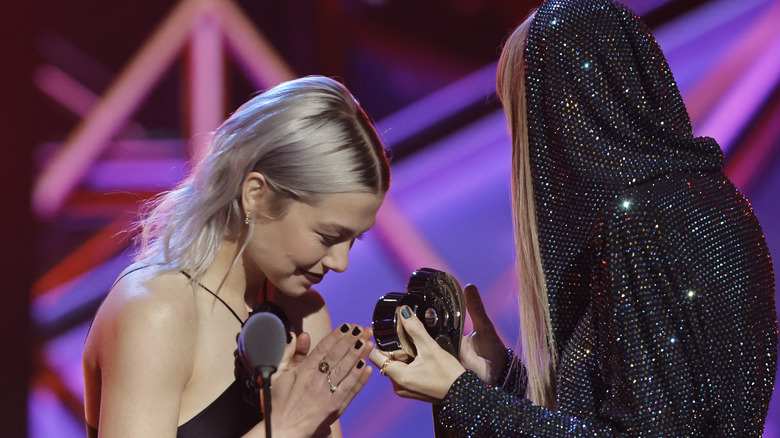 Kevin Winter/Getty Images
So obviously Taylor Swift and Phoebe Bridgers were not only friends before the Eras tour started, but also fans of each other. And while Swift revealed that she was a fan of Bridgers' music and voice before even meeting her, Bridgers was obviously a supporter of Swift's as well. This was further shown at the recent iHeartRadio Music Awards where Swift won the Innovator Award. None other than Phoebe Bridgers was there to present it to her, of course. Even though it was explicitly stated why Bridgers was chosen to present the award to Swift, it's easy to see through Bridgers' speech. 
As the Daily Mail reported, Bridgers was awkward and nervous. Regardless, Bridgers shared how she used to not be very good at songwriting (of course way before she made it big). But Taylor Swift changed that for her. "I heard a girl not much older than me, singing a song that she wrote about her own life. And the song really was good," Bridgers said. "As I grew up, so did Taylor, and so did her songs." Swift and Bridgers shared a hug on stage, and it's a nice reminder that Bridgers seems to be more than just an opening act and collaborator for Swift.