Beyoncé And Jay-Z Don't Actually Agree On When They First Met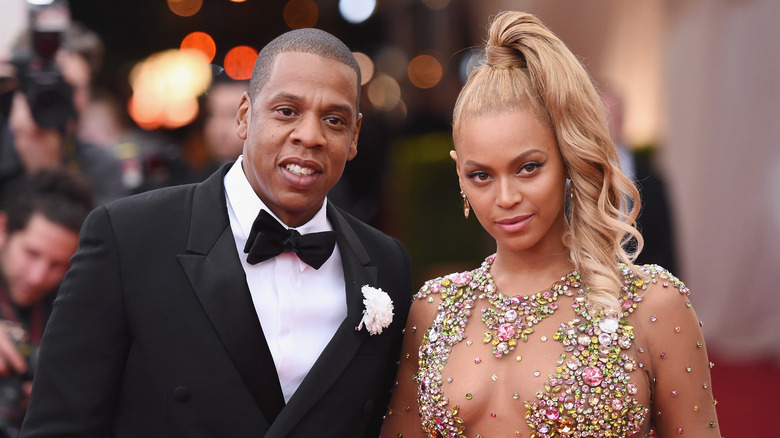 Mike Coppola/Getty Images
"Crazy in Love" crooners turned husband and wife Beyoncé and Jay-Z (born Shawn Corey Carter) sent fans into a frenzy when they made their first red carpet appearance as a couple at the 2004 MTV Video Music Awards. "What up, Jay?" she said from the podium while accepting the Best Female Video award for "Naughty Girl," effectively sending the crowd into a tailspin. 
But make no mistake — according to Queen Bey, the pair's journey to couple status was achieved by playing the ultimate long game. "We were friends first for a year and a half before we went on any dates," the pop icon revealed to the queen of all media, Oprah Winfrey, according to Elle. "We were on the phone for a year and a half, and that foundation is so important for a relationship. Just to have someone who you just like is so important, and someone [who] is honest." 
But how did they actually first meet? Funny you should ask, because it appears the power couple doesn't agree on that part of their grand love story... 
The math ain't mathin'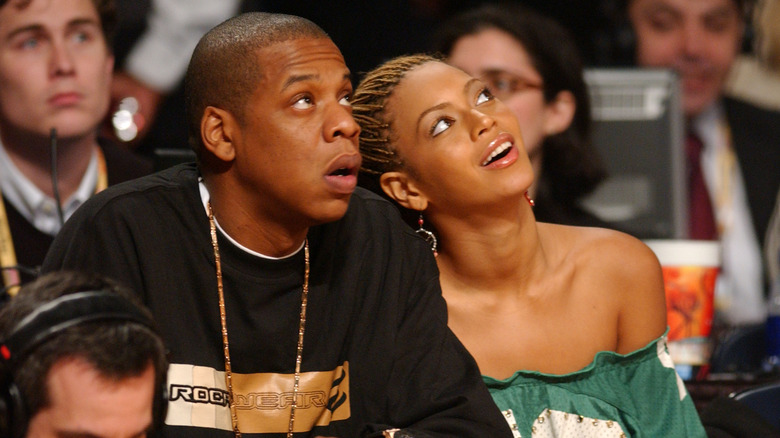 Vince Bucci/Getty Images
It's a family feud... at least when it comes to how and when A-list spouses Beyoncé and Jay-Z first met.
"I was 18 when we first met, 19 when we first started dating," Beyoncé famously told Seventeen in 2008, according to Elle. FYI, Beyonce was born on September 4, 1981, which would put their initial (and perhaps pre-destined) meeting in 1999 or early 2000. On the contrary, Jay-Z told former television journalist Charlie Rose in 2007 that he met Beyoncé 10 years ago, which would put the meeting in 1997, when she was 17. Simply put, the math ain't mathin'. 
Fortunately, both parties agree that the relationship started strictly platonic and stayed that way for some time. "We're just cool. We're just friends," he told Playboy in April 2003. Later, in 2013, the "Excuse Me Miss" rapper confessed to Vanity Fair that he really had to put in the work to woo his future wife. "Well, you know, you've got to try first. You got to dazzle... wine and dine," he explained. "She's a charming Southern girl, you know, she's not impressed," he added. In the end, however, it appears Jay-Z did impress the Houston, Texas native. On April 4, 2008, Bey and Jay made it officially official and said "I do" in front of friends and family during an intimate yet lavish ceremony in Manhattan.
Dates don't concern Jay-Z and Beyoncé — numbers do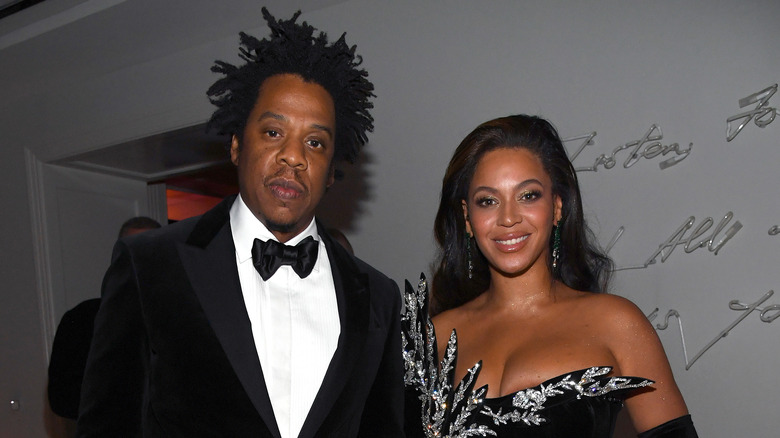 Kevin Mazur/Getty Images
Perhaps, however, this is one power couple who's way too busy to concern themselves with frivolous and inconsequential dates. Besides, it would appear they are more of a numbers couple than a dates couple.
As it turns out, Beyoncé and Jay-Z have a serious thing for the number four. As Parade notes, both celebs were born on the fourth day of the month — Beyoncé in September and Jay-Z in December. And naturally, they opted for the fourth day of the fourth month (April) to tie the knot. But that's not all. Instead of trading rings at their wedding ceremony, the famous couple opted for tattoos of the roman numeral four on their ring fingers. Later, during a concert, Beyoncé shared the significance of her wedding day with her fans. "On April 4, 2008 — eight divided by two is four — [Jay-Z] put a ring on it," she declared, according to the BBC. 
Alexa, play "4:44" by Jay-Z.