Why Adam Sandler Won't Get Involved In Jennifer Aniston's Dating Life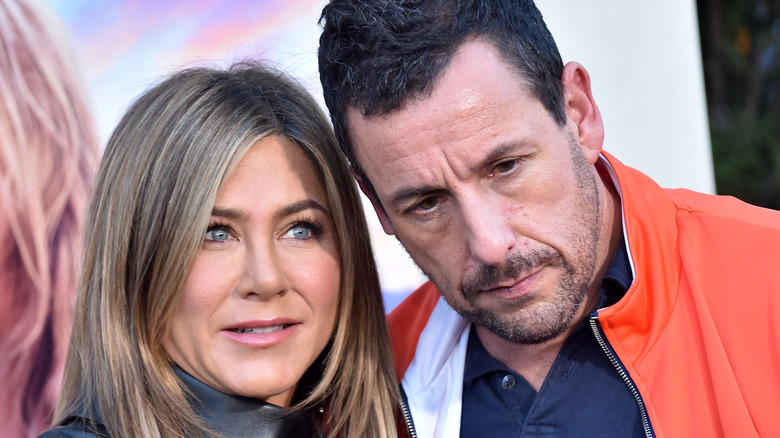 DFree/Shutterstock
Jennifer Aniston and Adam Sandler go back, like, way back. Aniston and Sandler met in their 20s when Aniston was dating one of Sandler's close pals. While we don't know the name of Sandler's pal whom Aniston dated, one thing is certain: The two struck up a friendship that has stood the test of time. Right off the bat, Sandler knew that he and Aniston had something special. "I knew I was going to be friends with her," the "Big Daddy" actor told E! News in 2019. "I didn't know I was going to be making movies with her. We both didn't know that, we were young, and we didn't have jobs quite then." How cute is that?
Even though Sandler didn't quite know it at the time, he and Aniston ended up starring in a few films together, including "Just Go With It" in 2011 and "Murder Mystery" in 2019. In fact, the pair seemed to love working with one another so much that they signed on for a second installment — "Murder Mystery 2." The two have talked about playing love interests on-screen, and they like to joke with each other about it — especially the kissing scenes. "'For God's sake, keep your mouth closed.' It was so wide! Every time, she'd come with a big, wide mouth, and I'd be like, 'Whoa-ho-ho-ho-ho, whoa! What are we doing?'" Sandler joked (via Yahoo!) while critiquing Aniston. 
But just because they play on-screen partners doesn't mean Sandler wants a hand in setting Aniston up.
Adam Sandler doesn't think any friend is worthy of Aniston's love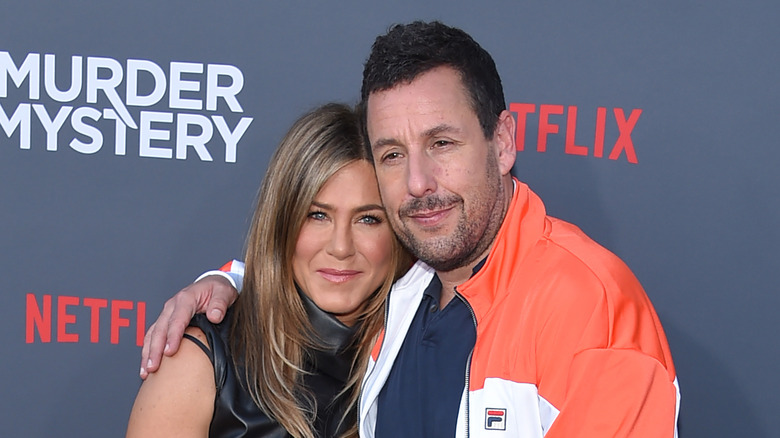 DFree/Shutterstock
Adam Sandler and Jennifer Aniston may be great pals, but that doesn't mean that Sandler wants to play any role in finding Aniston a potential partner. While the pair made their way around the press junket to promote their Netflix film, "Murder Mystery 2," they fielded numerous questions, including some about Aniston's widely-publicized love life. First, Extra TV asked Sandler why he enjoys working with Aniston so much. "Aniston is a true family member. I love her. She's always on your side. She's great to my entire family. She's great to my kids," he told the outlet. "Really tight with my wife. I've known her forever, and I'm never not happy seeing her," he said. Sandler later revealed why he hasn't played cupid. "Nobody I know is worth Aniston taking a look at. All my friends are too insane," he joked. "But I just want her to always be happy, and if she falls in love with somebody, I hope it's the nicest guy on the planet because she is pure fun."
This is not the first time the topic of Aniston's love life has come up. In an interview on "The Tonight Show with Jimmy Fallon," Aniston joked that Sandler doesn't always approve of her relationships. "If I get anything from him, it's, 'What are you doing?' Usually based on someone I'm dating," she told the late-night host. 
We love their playful relationship!
Jennifer Aniston and Adam Sandler have nothing but love for eachother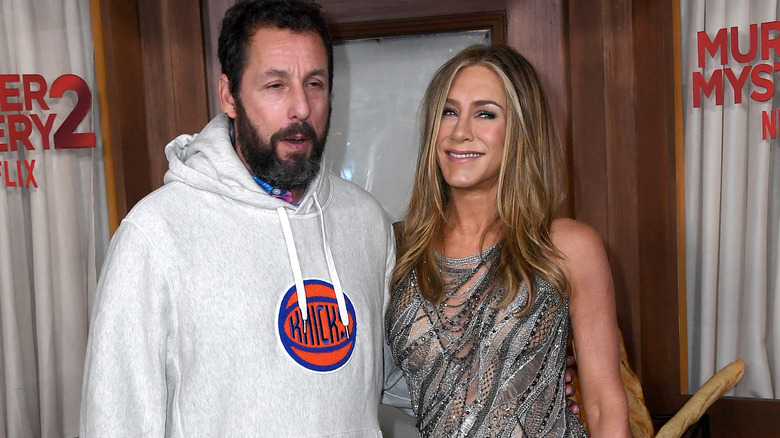 Albert L. Ortega/Getty Images
It's easy to see that Jennifer Aniston and Adam Sandler have a super-close relationship that's more akin to a brother and sister. The two are never short on compliments for one another, and at the end of the day, as much as they like to joke around — they're so close that they are like family. And guess what? They seem to want to make sure everyone knows it! "He's such a mensch and you just love each other, he takes you in, and I'm very much the same way. And then you become family. It's like second nature," Aniston once told E! News of her good pal.
The two also gushed over one another with People on the red carpet at the premiere of "Murder Mystery 2."  Sandler recalled the time he met Aniston, noting that she was "funny as hell" and he would always be happy when they got together. "He's just exactly who he is and has been since I've met him," Aniston quipped, adding that they always have a good time and a tight bond. "We have each other's back. We take care of each other. Neutral, deep respect for each other," the "Friends" star added. They definitely seem like they will be friends forever. 
Now the only question is — where can we petition for a "Murder Mystery 3" to see their adorable relationship play out in even more interviews?