Did Gisele Bündchen Have A Short-Lived Fling With Josh Hartnett Before Tom Brady?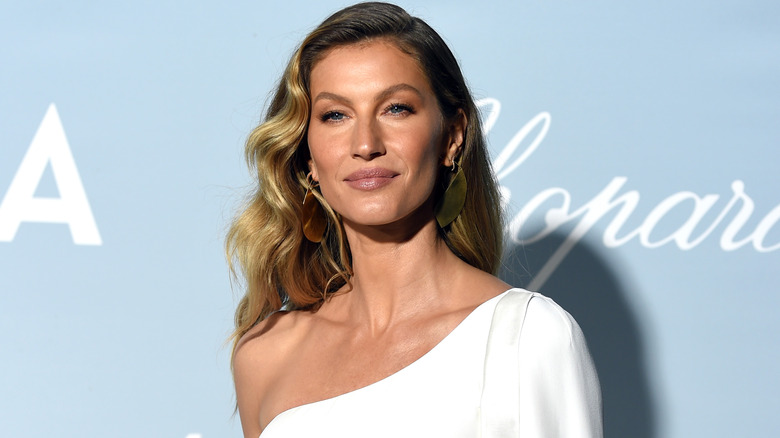 Kevin Winter/Getty Images
Gisele Bündchen's love life has been a hot topic of discussion since her much-publicized divorce from ex-husband Tom Brady. These days, it seems the Brazilian supermodel is slowly dipping her toes back into the dating game, as she's enjoying the company of her jiujitsu instructor, Joaquim Valente. The pair has been spending more and more time together since they were first spotted out in Costa Rica in November 2022, furthering speculation about the true nature of their relationship. In a cover story for Vanity Fair, Bündchen opted to keep things vague when addressing her rumored fling with Valente. "I think, at this point, unfortunately, because I'm divorced, I'm sure that they're going to try to attach me to anything," she said. "He's our teacher and, most importantly, he's a person that I admire and that I trust."
On the other hand, Bündchen was less diplomatic and more forthcoming when it came to rumors linking her to Brady's friend, billionaire Jeffrey Soffer. In her interview with VF, Bündchen scoffed at reports she's dating Soffer, saying, "I have zero relationship with him in any way. He's Tom's friend, not my friend ... I wouldn't be with this guy. I mean, puh-leeze." As one of the world's biggest supermodels, Bündchen is no stranger to making headlines when it comes to her relationships and private life. Throughout her career, Bündchen's romantic history has been a regular topic of conversation — from her marriage and subsequent divorce with Brady, to her other high-profile relationships and flings, including her often-forgotten tryst with Hollywood actor Josh Hartnett. 
Gisele Bündchen and Josh Hartnett were each other's rebounds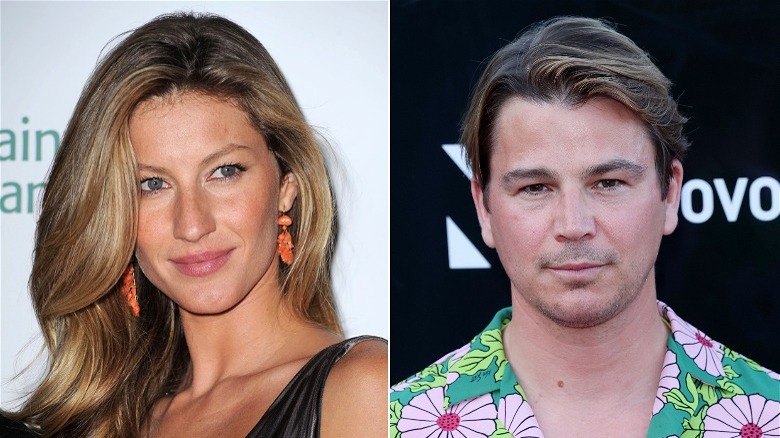 Daniele Venturelli/Getty & Everett Collection/Shutterstock
In 2006, fresh off her breakup from pro surfer Kelly Slater, Gisele Bündchen embarked on a short-lived fling with heartthrob and "Pearl Harbor" star Josh Hartnett. She and Hartnett made headlines after they were spotted locking lips outside a restaurant in New York City that December, according to an old report by Page Six. "They were all over each other," an eyewitness told the outlet at the time, according to CelebBitchy. Back then, Hartnett had also just gotten out of a relationship with his longtime girlfriend, Scarlett Johansson. He and Johansson dated for two years after meeting on the set of their 2006 film "Black Dahlia," but later split due to their busy schedules. "It was difficult spending so much time apart with all our different commitments and both of us flying all over the world," Hartnet explained to the Mirror about their "really painful" breakup. "At the end of the day, we're just ordinary people, and it didn't work," he added.
Per Page Six, reps for both Bündchen and Hartnett refused to comment on their public make-out sesh at that time. However, it seems things fizzled out between the two just as quickly, as Bündchen soon started dating her would-be husband, NFL star Tom Brady. As for Hartnett, the "Operation Fortune" actor went on to date other A-list stars, but he's now happily married. 
Josh Hartnett married actor Tamsin Egerton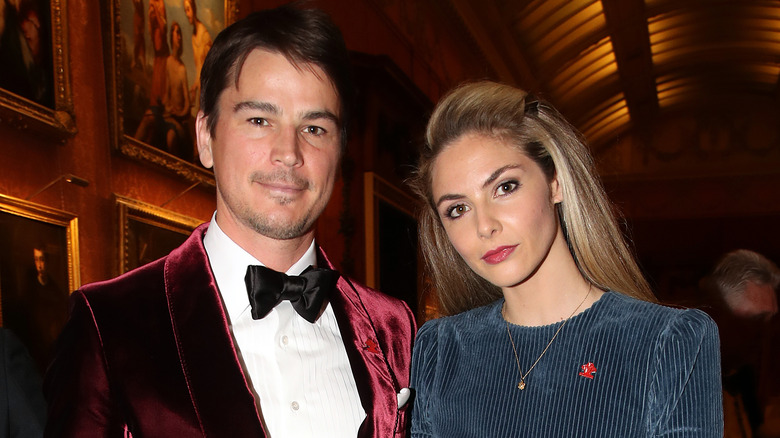 Chris Jackson/Getty Images
Gisele Bündchen and Scarlett Johansson aren't the only famous names in Josh Hartnett's extensive dating history. Throughout his career, the "Cracker" star has been linked to various women in the industry, including Natalie Imbruglia, Julia Stiles, Kirsten Dunst, Penelope Cruz, Mischa Barton, and Amanda Seyfried, to name a few. In 2007, Hartnett was also rumored to be dating superstar Rihanna after they were seen reportedly making out at a New York night club. Despite initial reports that the "Diamonds" singer had professed her feelings for the actor, she eventually denied the dating rumors in an interview with Allure. "You can't even go out with a friend who's a celebrity and have a good time without people making [bleep] up," she said, according to People. "Well, at least he's good-looking, right?" Hartnett himself would later speak up on the rumors and deny that he and Rihanna were ever an item. "No, Rihanna and I never dated," he told Entertainment Tonight in 2022. 
These days, the former Hollywood heartthrob is happily married to English actor Tamsin Egerton, with whom he shares his three young children. The couple met on the set of the 2013 Belgian film "The Lovers," and started dating shortly thereafter. Per ET, they tied the knot in an intimate ceremony at the Old Marylebone Town Hall in London in November 2022 after 10 years together.