Colin Farrell's Kids: What We Know About His Two Sons James And Henry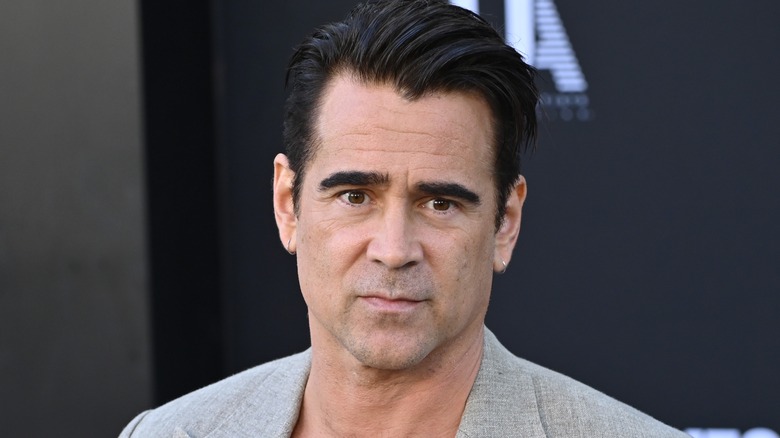 Featureflash Photo Agency/Shutterstock
Sure, Colin Farrell is a famous actor known for starring in hit films like "The Batman" and "The Banshees of Inisherin," but he's actually a family man at heart. As part of his tangled life, Ferrell has two amazing sons. He first became a dad in 2003 when he welcomed his eldest son, James Farrell, with his former girlfriend, Kim Bordenave. Although the couple eventually parted ways, Colin's relationship with his son has never faltered. Six years later, another Farrell was added to the bunch when the actor welcomed his youngest son, Henry Farrell. Unfortunately, as with James, Farrell split from Henry's mother. However, he remains a constant presence in both of his sons' lives.
Since becoming a father, Farrell's life has changed for the better. He shared with Access Hollywood, "Your life widens. You become stronger than you ever thought. You would do anything to protect that child. And also, more vulnerable." And even though the actor is very famous, that doesn't stop his kids from poking fun at their old man. When he landed a role in the Harry Potter franchise, both of his sons remained unimpressed, and he told People it didn't exactly make him a "cool dad." He shared, "I'm just as boring and frustrating as I ever was."
Although they may not think their dad is that cool, the father-son trio is clearly close. As Colin gains more fame, his sons are becoming the interest of many, and we're here to fill you in on all the details.
James Farrell has Angelman Syndrome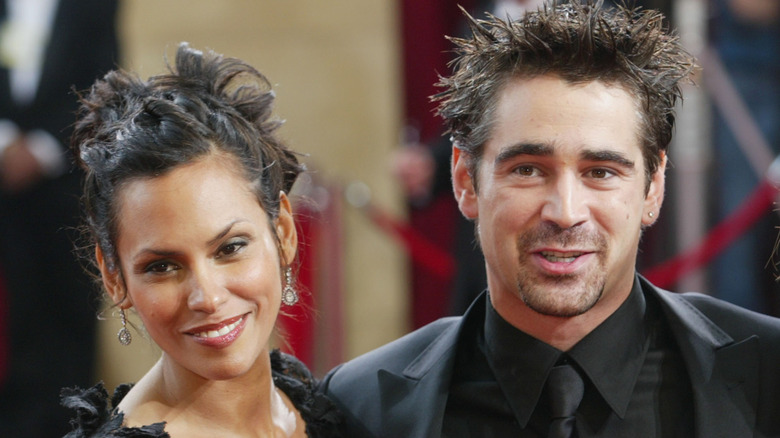 Kevin Winter/Getty Images
Colin Farrell's most joyous moments have come from being a father. After he and Kim Bordenave welcomed James Farrell in 2003, the actor's happiness was at an all-time high. As reported by the Irish Examiner, he said, "I adore him and I will always be in his life forever. ...Fatherhood for me is the ultimate success." Although "The Batman" actor was ecstatic about welcoming his new son, that happiness quickly turned into worry when James was diagnosed with Angelman Syndrome.
According to Mayo Clinic, Angelman Syndrome is a "genetic disorder" that "causes delayed development, problems with speech and balance, intellectual disability, and, sometimes, seizures." Despite his condition, James has worked hard to achieve various strides, including walking, talking, and eating. Through it all, Farrell continues to remain immensely proud of James. The actor shared, "Everything he's achieved in his life has come through the presence and the kind of will that is hard work. He's a lot to be inspired by."
As James grows older, Colin and Bordenave remain protective of their son. In 2021, both parents filed for co-conservatorship over James, citing that he is "unable to properly care for his own physical health and well-being," per E! News. According to the outlet, getting James to court can be difficult due to his condition, so it's unclear whether the conservatorship was granted. Regardless, Colin and Bordenave continue to put James' needs first and only have the utmost love for their child.
Henry Farell and Colin Farrell have a hilarious relationship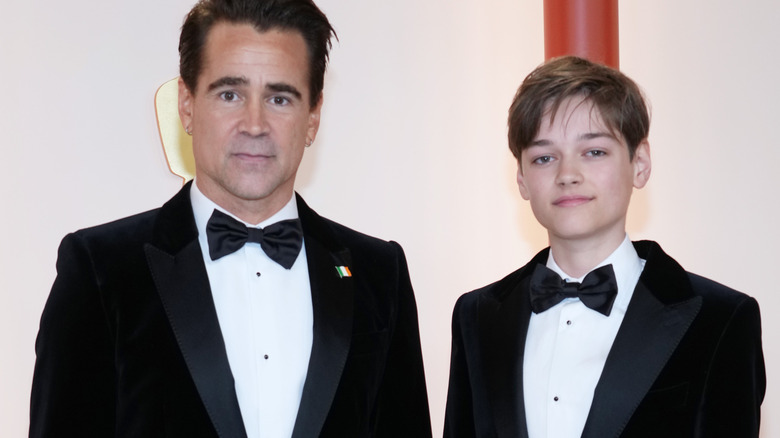 Kevin Mazur/Getty Images
Regardless of their fame, kids will always be embarrassed by their parents — something Colin Farrell has experienced with his youngest son, Henry Farrell. As Henry gets older, it seems he isn't afraid to share his thoughts on his father. "The Banshees of Inisherin" actor revealed on "The Ellen DeGeneres Show" a hilarious story about his son calling him out on his fashion choices. After DeGeneres revealed that Colin's short shorts are back in style, the actor shared that his son would "disagree vehemently." Colin said his son is "mortified" by his dad's choice of shorts. Colin shared, "He says, 'Please, Dad, do not wear the short shorts.' ... And I tell him, 'They feel good.'" It's a parent's job to embarrass their child — right?
Lucky for Colin, it seems he didn't embarrass his son too much, as Henry actually accompanied his father at the 2023 Oscars. Matching head to toe, the father-son duo walked the red carpet and even shared their thoughts about one another. After being asked by Extra TV if Colin is a "tough dad," the actor jokingly bribed his son. But, there was no bribing necessary because Henry had nothing but great things to say about his father. He said, "He's definitely nice," as he hilariously pretended to wipe away sweat. Colin and Henry's interview with the outlet showed how close the two are as they played off one another's humor. No doubt, their relationship will continue to get stronger over the years.