Kelly Ripa Doesn't Have Fond Memories Of Her Early Days At Live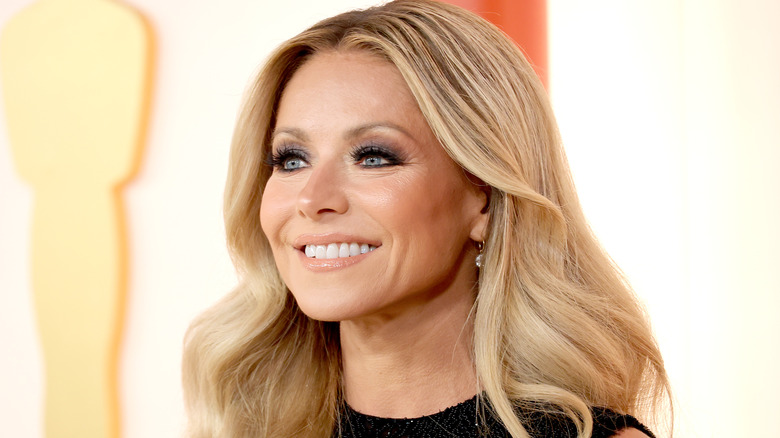 Mike Coppola/Getty Images
Kelly Ripa is an integral part of "Live!" and has endured a lot of change during her 22-year tenure on the beloved daytime talk show. "The hosts have changed, but the overall concept continues on: two people, a man and a woman, and enjoying the chemistry between them," producer Michael Gelman told New York Times. "Live!" keeps it light and breezy, which has been credited for its success. "We're good time Charlies. That's what you're signing up for," Ripa said.
The show initially launched in 1988 as "Live with Regis and Kathie Lee Gifford." Ripa took over the co-hosting hot seat in 2001 following a six-month-long hunt to replace Gifford. Ripa and Regis Philbin hosted for a decade before he said sayonara in 2011. While the real reason Philbin left "Live!" after 28 years will probably never be known, as he died in 2020, the official reason for his departure was age. "There is a time that everything must come to an end for certain people on camera, especially certain old people," he announced (via HuffPost).
However, some speculated that there'd been tension between the co-hosts. And there could be some truth to it as Philbin and Ripa lost touch after he departed the show. "She got very offended when I left. She thought I was leaving because of her," Philbin told Larry King. And it definitely wasn't all bright and breezy off-camera. In fact, Kelly Ripa doesn't have fond memories of her early days at "Live!"
The sexism was alive and raging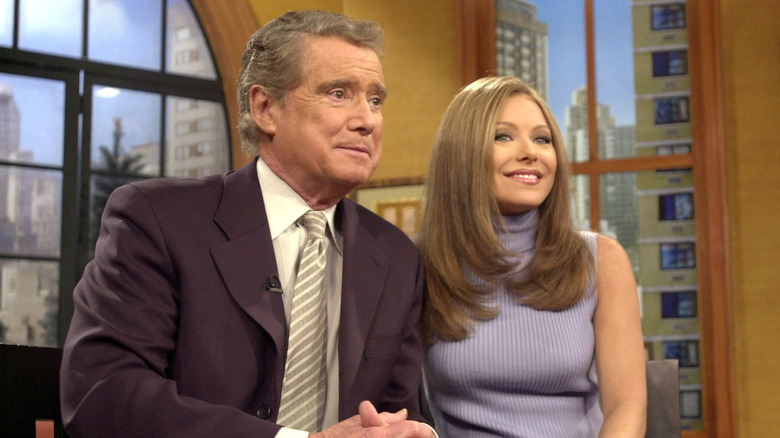 Spencer Platt/Getty Images
Despite boundary-breaking titans like Oprah Winfrey and Barbara Walters smashing through the glass ceiling, it was still a man's world in early aughts TV. But it wouldn't be anything without a woman, as Kelly Ripa proved. Still, it was far from smooth sailing, as Ripa's early days on "Live!" involved a lot of in-your-face sexism. "It was very tough," Ripa told Variety, claiming she still has "a little PTSD" remaining. "Had I known how difficult it would have been, I don't know that I would have gone for it. I just think my ignorance in that situation wound up being my blessing and my superpower."
Ripa said she wasn't afforded any "paid vacation time or maternity leave or a wardrobe budget." She said she was forced to use Philbin's hair and makeup people and had to make do with a janitor's closet as her office. "It didn't make a whole lot of sense, especially because there were empty offices that I could have easily occupied," Ripa explained.
Worse, unlike Philbin, who had his own, she had to stand in line to use the audience bathroom. "As a woman, I stood up and did the job I had to do," Ripa wrote in "Live Wire: Long-Winded Short Stories," her 2022 book. "Playing a character is what all women do, but playing the role on television is the hardest role I've ever had." Thankfully for Ripa, her hard work eventually paid off.
Finally in the cohosting and the driving seat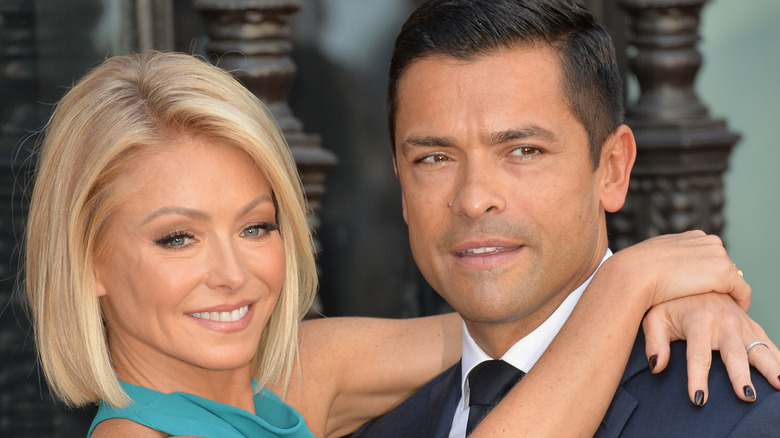 Jaguar PS/Shutterstock
Kelly Ripa was still battling sexism on "Live!" when Ryan Seacrest arrived in 2016. Despite being the show's headlining name, she remained stuck in the janitor's closet as producers reserved the nice big office for Ripa's next new male cohost. But enough was enough. She finally put her foot down and just moved in. As for fair pay? That only came when producers realized they could lose their leading lady.
"I don't think they wanted to pay me," Ripa told Variety. "I think they had to pay me. I was trying to walk out the door and close it behind me. And I think they really figured out rapidly that they had screwed up in a major way, and it was not a good look." It's taken over two decades, but Ripa's finally in the driving seat. According to Celebrity Net Worth, she commands a salary of $22 million a year — and her own office and bathroom.
Meanwhile, fans are eager to see what happens when Ripa's husband joins the show. Billboard reports that he takes over from Ryan Seacrest on April 17. "I couldn't be more honored or excited," Mark Consuelos said about the new gig. Ripa originally resisted Consuelos as her "Live!" cohost. "We're the last people on earth to suggest ourselves to work together for anything," Ripa told Variety she'd informed network bosses, but ABC's head honchos clearly begged to differ.