How Shia LaBeouf Embellished His Complicated Relationship With His Dad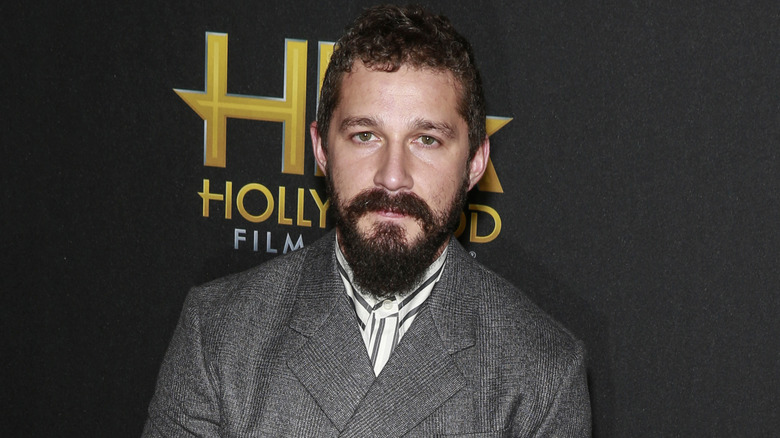 Ovidiu Hrubaru/Shutterstock
Shia LaBeouf and his dad's relationship is more than a tad thorny, as "Honey Boy" shows. His relationships with women are also tangled. LaBeouf and Mia Goth's rocky relationship has involved splitting and reuniting more times than Elon Musk's had children. They got together in 2012 and split in 2015. They married in 2018, then filed for divorce two years later. In 2020, they were spotted back together, and in 2022, they welcomed a child, per Us Weekly.
Meanwhile, FKA Twigs (birth name Tahliah Debrett Barnett) lodged abuse allegations against LaBeouf in December 2020. According to The New York Times, the singer accused her ex of "relentless abuse" and using a "charm offensive" to lull her into a false sense of security. "LaBeouf was engaging in grooming, gradually gaining Tahliah's trust and confidence with the intent of abusing her," her lawsuit alleges.
Then there's his complicated relationship with the truth, as proven by LaBeouf's repeated plagiarism scandals. The actor was accused of ripping off a comic by Daniel Clowes for his online flick, Howard Cantour.com. "I was shocked, to say the least, when I saw that he took the script and even many of the visuals from a very personal story I did six or seven years ago and passed it off as his own work," Clowes told BuzzFeed in 2013. LaBeouf apologized but somehow managed to plagiarize his plagiarism apology. Finally, here's how Shia LaBeouf embellished his already complicated relationship with his dad.
A pity party for one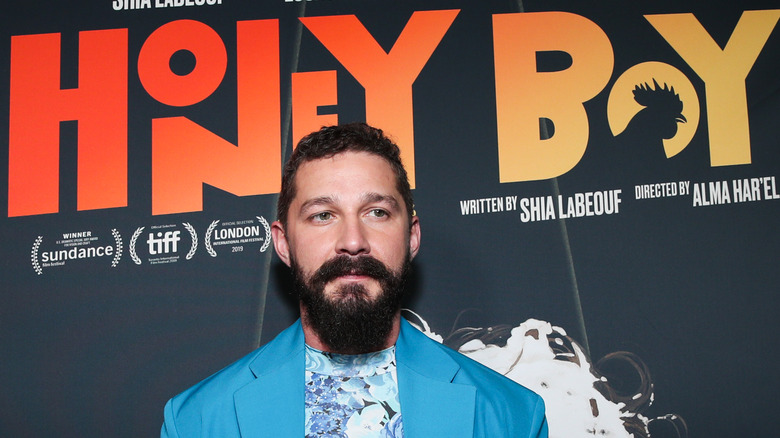 Rich Fury/Getty Images
Shia LaBeouf's dad fell victim to his son's habit of using dramatic license to spice things up. LaBeouf and his dad's relationship was the central theme of 2019's "Honey Boy," and it wasn't portrayed in the best light. "A young actor's stormy childhood and early adult years as he struggles to reconcile with his father and deal with his mental health," the film's synopsis reads, per IMDb. As Entertainment Tonight notes, the indie, which LaBeouf wrote and starred in, is supposed to be "loosely based on [his childhood] and the relationship between him and his father."
LaBeouf depicts his dad as a violent, abusive, deadbeat absentee. The supposedly wronged son admitted his dad was actually the wronged party during an interview on "Real Ones with Jon Bernthal" (via People). LaBeouf confessed that he'd embellished his complicated relationship with his dad to garner sympathy. "Here's a man who I've done vilified on a grand scale," he acknowledged.
"I wrote this narrative, which was just f***ing nonsense. My dad was so loving to me my whole life," LaBeouf continued. "Fractured, sure. Crooked, sure. Wonky, for sure. But never was not loving, never was not there," he disclosed. "He was always there ... and I'd done a world press tour about how f***ed he was as a man." LaBeouf said he'd written the screenplay as "a big 'woe is me' story" while in rehab, and admitted his dad had never beaten him. "He spanked me once, one time," LaBeouf professed.
Shia LaBeouf's dad isn't fazed by the film
Shia LaBeouf admitted to maligning his dad by portraying him as violent and abusive. Shia and his dad's relationship was tangled and complex but never cruel and uncaring. In "Honey Boy," Shia plays the drug-addled James Lort, a fictional version of his dad, Jeffrey LaBeouf. There are multiple factual elements: Shia's dad did work as a professional clown and served three tours in Vietnam, which is enough to leave anybody shell-shocked and struggling. "My dad was a Vietnam vet. He was in Vietnam long enough to come back and be a disaster," Shia told Parade.
Also, Shia's childhood was difficult and tumultuous. "My dad and my mom were both artists who never found an audience for their artwork. And so I lived in poverty," he admitted. Jeffrey's issues worsened after he and Shia's mom divorced. Radar Online reported that he served two years for attempted rape of a minor and then went on the lam in Costa Rica after failing to register as a sex offender.
However, Jeffery appears non-plussed about his "Honey Boy" portrayal. "I'm proud of my son. He's my honey boy, my money, honey!" He told GEN. "But I never hit Shia in the face. I did threaten him one time," Jeffery admitted. "I threw him in an overstuffed chair with my fist on his collar and raised my other fist and said, 'Now you want to try me, you little punk?' or something like that."