Hallmark Stars Nikki DeLoach And Andrew Walker Are Close Off-Screen Too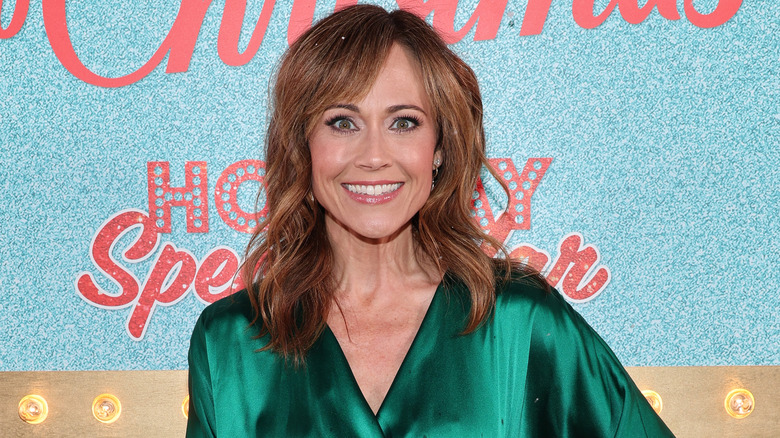 Mike Coppola/Getty Images
Nikki DeLoach and Andrew Walker of the Hallmark Channel maintain a close friendship. The frequent collaborators first acted together in the 2016 Hallmark holiday film "A Dream of Christmas." Leading up to the movie's debut, DeLoach spoke with Ruth Hill about her positive memories of acting alongside cast members like Walker. "I was excited to dive in. My co-stars were aces. Andrew Walker is really such a joy," DeLoach said.
Following this project, the duo has worked together for the films "Sweet Autumn," "The Perfect Catch," and "Curious Caterer: Dying for Chocolate." Their fifth joint venture was the 2023 Hallmark movie "Curious Caterer: Grilling Season." In a February 2023 Digital Journal chat, Walker opened up about his gratitude over being able to continuously perform with DeLoach. "It's surreal to be able to work with the same person over and over again," Walker said. "We love working together so much, and we work for a network that we appreciate so much. This checks off all the boxes, and I just pinch myself." DeLoach and Walker are also companions in their personal lives.
Nikki DeLoach and Andrew Walker hit it off from the start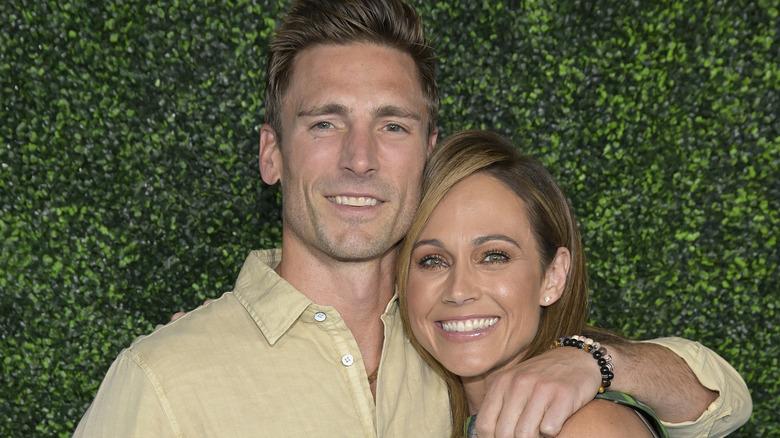 Michael Tullberg/Getty Images
Nikki DeLoach and Andrew Walker formed a bond from the first time they encountered one another. In 2020, DeLoach and Walker shared with People that they became buddies when they met on the set of "A Dream of Christmas," as they found common ground over the fact that they were both parents to young children. "What was really cool is we immediately connected over kids, because we were just being new parents," Walker said before adding, "I think just immediately, we were two peas in a pod. We're very similar in a lot of ways." DeLoach then detailed, "I felt like I had known [Walker] my entire life. There's just such an ease with Andrew."
In February 2023, DeLoach gave Walker an Instagram shout-out while celebrating the release of "Curious Caterer: Grilling Season," and it couldn't have been sweeter. "And finally, to my work husband @awalkk35. Thank you for being the best partner in crime (pun intended)," DeLoach wrote. "Working with you will never, ever get old. Love you, friend." In response, Walker offered kind remarks to his close companion. "So many incredibly talented women out there. To say I'm working with the best is not an understatement," Walker wrote. "Love you Nik." In addition to loving their onscreen reunions, DeLoach and Walker appreciate representing the Hallmark Channel.
Nikki DeLoach and Andrew Walker feel at home with Hallmark
Nikki DeLoach and Andrew Walker are happy to be Hallmark stars. In February 2023, the colleagues talked with Us Weekly about why they enjoy acting for projects on the Hallmark Channel. "This is the only network I've ever worked at in my 30-something years of being in this industry where you truly are family from the top all the way through," DeLoach said. Furthermore, Walker detailed how — despite Hallmark having the occasional scandal — the network has recently prioritized incorporating diversity into its storylines.
"I think that's something that Hallmark has really put forward, is that they want to tell real stories about real people with that same heart and warmth and familiarity that you get in a Hallmark movie," Walker said. "It's just incredible what they've done so far. Feel honored." That same month, the two were interviewed by Entertainment Tonight about teaming up again for "Curious Caterer: Grilling Season." DeLoach mentioned her and Walker's shared professional etiquette, saying, "We both care very much about making sure that people are treated with the respect and kindness that they deserve." When the friends and costars discussed collaborating on several occasions for Hallmark films, DeLoach and Walker both stated, "We're so lucky."