Gwen Stefani's Controversial Fashion Choices Began When She Was In No Doubt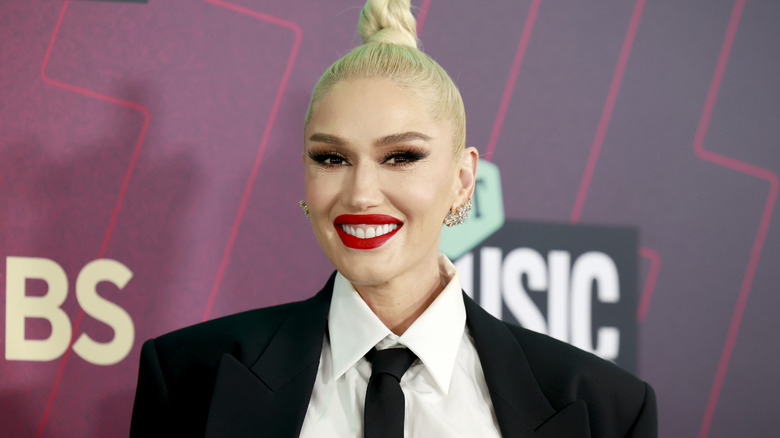 Emma Mcintyre/Getty Images
Rising to fame in the 1990s and early 2000s, singer Gwen Stefani's career in music has been riddled with cultural appropriation faux pas. One particular fashion choice from back in her No Doubt days exemplifies the way Stefani dealt with cultural criticism.
Of course, No Doubt was the California punk band she fronted alongside its members: bassist Tony Kanal, drummer Adrian Young, and guitarist Tom Dumont. Originally creating the group in Anaheim, California, Stefani first recruited her brother, Eric, for the largely ska-inspired band. After a rotation of its members, the group quickly grew to fame amongst the boom of ska music in the 1990s, plus Stefani's star power and surprising, yet well-fitting vocals. The first album that No Doubt released with the lineup they became most recognizable for was 1995's "Tragic Kingdom," which sold a whopping 16 million records.
But it was even this first foray into mainstream fame that brought one of Stefani's most notable instances of using another culture as her accessory.
Gwen Stefani wore a bindi during her No Doubt days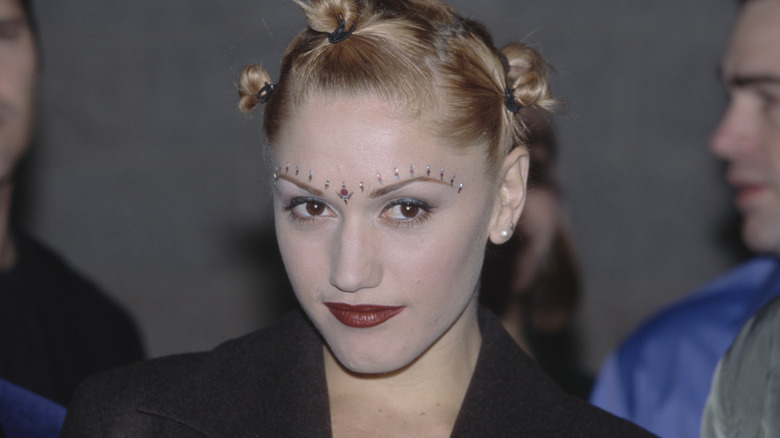 Michael Ochs Archives/Getty Images
In the music video for their breakout song, "Just a Girl," Stefani dons a red and bejeweled bindi just above the middle of her eyebrows. According to the Hindu American Foundation, the bindi is placed on the third eye chakra in order to "[serve] as a constant reminder to keep God at the center of one's thoughts" in the Hindu religion. A red bindi — like the one Stefani wore — is specifically meant to signify marriage.
When the singer appeared on Vogue's YouTube series in 2019 to look back on her memorable looks, one photo featured Stefani wearing a bindi. "I was just so unbelievably fascinated by Indian culture in particular because Tony Kanal ... is from India," she referenced her ex-boyfriend and fellow No Doubt member. She went on to say, "His mom would come down the stairs ready to go to these, like, Indian parties all dolled up with a bindi and jewelry ... And so she gave me a lot of bindis."
Opinions on non-Hindu people wearing bindis vary, but it's widely accepted that it's appropriate to wear if you're aware of its religious significance and wear it in the right religious context. While this may have been more of a gray area in terms of cultural appropriation, this certainly isn't the first time Stefani has been called out.
Gwen's fashion choices continue to get her in trouble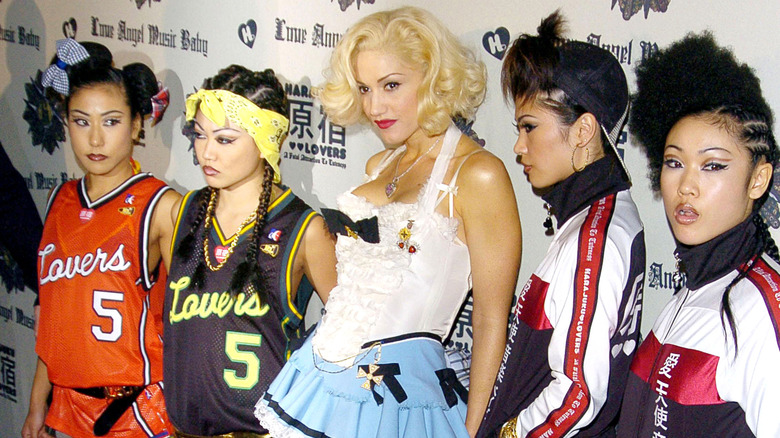 Everett Collection/Shutterstock
Throughout her music career — not just in her No Doubt days — Gwen Stefani has drawn heat for being accused of appropriating other people's cultures. One of her most infamous examples was her institution of the "Harajuku Girls" and her affinity for Japanese culture. For her 2004 solo album, "Love. Angel. Music. Baby.," the singer's aesthetic was heavily inspired by Japanese fashion and she hired four Asian women to accompany her on red carpets as the live-action "Harajuku Girls." While this has drawn criticism from Asian communities over the years, Stefani tried to defend herself in an interview with Allure in January. She told the Allure interviewer, "My God, I'm Japanese and I didn't know it."
"If [people are] going to criticize me for being a fan of something beautiful and sharing that, then I just think that doesn't feel right," she spoke about the "Harajuku Girls" controversy. "[It] should be okay to be inspired by other cultures because if we're not allowed then that's dividing people, right?"
More recently, Stefani was accused of appropriating Black culture when she decided to wear dreadlocks in the music video for her 2022 collaboration, "Light My Fire."