Ted Lasso Star Brett Goldstein's One Public Relationship Was Pretty Short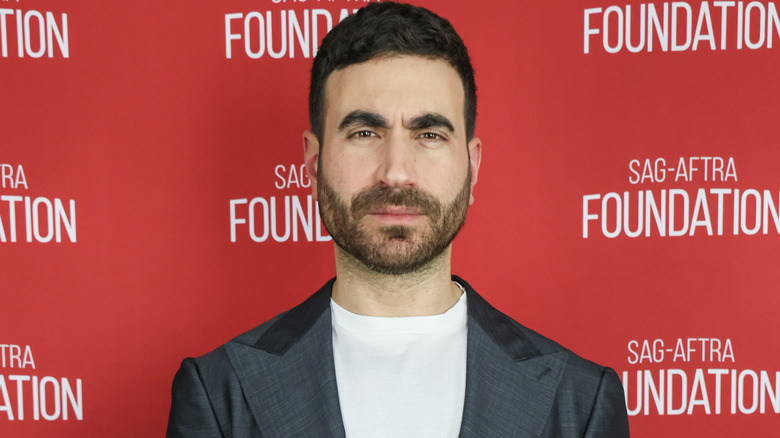 Rodin Eckenroth/Getty Images
When "Ted Lasso" hit Apple TV+ in 2020, it made us look at soccer in a whole new way. That's thanks to the refreshing sincerity of American football coach-turned Premier League gaffer, Ted Lasso (Jason Sudeikis) and his inner circle: AFC Richmond owner Rebecca Welton (Hannah Waddingham), assistant Coach Beard (Brendan Hunt), publicist Keeley Jones (Juno Temple), former soccer player Roy Kent (Brett Goldstein) and more. When we first meet Roy in Season 1, he's the aging star of the AFC Richmond squad; however, a bad knee and Father Time are quick to prompt his retirement. Come Season 2, Roy tries his hand at commentating before realizing that he's better suited to coach his former teammates.
As fans watch Season 3, the big question is whether Roy will reunite with his ex-girlfriend, Keeley. The pair first got together in Season 1 and broke up at the beginning of Season 3, surprising viewers in the process. But no one was as devastated as Goldstein himself. "There are no Roy/Keeley stans out there who are [as] upset as Brett Goldstein, the biggest Roy/Keeley stan of all," co-creator Brendan Hunt told "Today." When discussing the onscreen breakup with Town & Country, Goldstein used words like "devastating," "heartbreaking," "sad," and "difficult." It's true that Keeley's hilarious optimism is the perfect complement to Roy's grumpiness, but could Goldstein's emotions over his fictional split have anything to do with his love life IRL? After all, his one public relationship ended rather abruptly.
Brett Goldstein and Beth Rylance barely dated for a year
Brett Goldstein's most public relationship to date was with fellow actor Beth Rylance, according to PopSugar. The pair went public with their romance in 2021, when Goldstein gave his GF a sweet shout-out during his Emmy acceptance speech. "I was very, very specifically told I'm not allowed to swear, so this speech is going to be f***ing short," the "Ted Lasso" star said, adding, "Beth, I love you." When Goldstein posted a clip of the speech on Instagram, Rylance commented, "I wanna cry so bad, but I don't think I can spare the moisture," according to Vanity Fair. The comedian likewise took the opportunity to hard-launch her relationship with Goldstein, referring to him as "my boyfriend" on Twitter. Around the same time, she also showed off a photo of herself wearing an AFC Richmond jersey with Roy Kent's name on the back, according to Page Six.
Barely a year later however, The Mirror reported that Rylance and Goldstein had called it quits. Rumors swirled that the two broke up as early as April 2022. According to the outlet, a source told The Sun on Sunday, "They're both in exciting times in their careers and really busy and they just couldn't make it work." Though it's unclear when Rylance and Goldstein officially began dating, their romance was short-lived. They no longer follow each other on social media, but here's hoping they stayed friends, since they worked together on some comedy skits before announcing their relationship.
Brett Goldstein's work has influenced his thoughts on love and relationships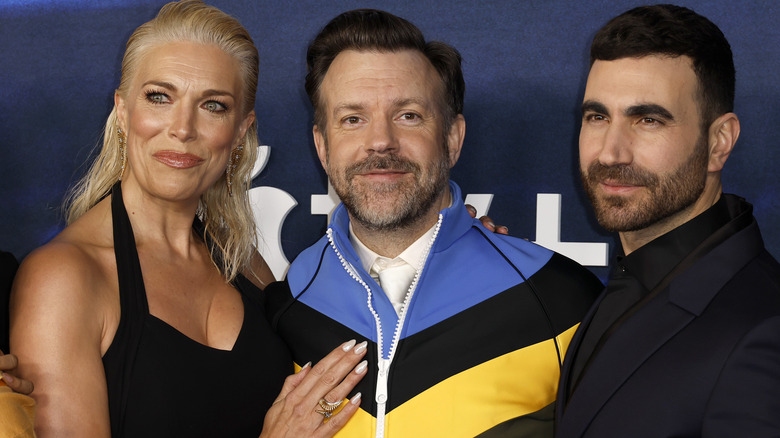 Frazer Harrison/Getty Images
As of this writing, neither Brett Goldstein nor Beth Rylance has commented publicly on the breakup, and Goldstein has been throwing himself into work. In 2022, the actor made a surprise appearance in a post-credits scene of "Thor: Love and Thunder," which was basically an ad for his upcoming Marvel role as Hercules. Meanwhile, he's continued to stay busy with "Ted Lasso" on Apple TV+.
Though Goldstein is best known as the taciturn Roy Kent, fans of the actor might also be interested in "Soulmates," a 2020 sci-fi anthology series that he co-created with William Bridges. "Soulmates" — which explores the consequences of love and relationships in a near-futuristic world — influenced Goldstein's own feelings about romance. "I think in every stage in your life, your view on what love means and what it is changes," he told the Observer. "And even the idea of what a soulmate is, if such a thing were to exist, I think that what I think a soulmate is has probably changed now as well. And that also means it will probably change again."
Currently, Goldstein hasn't announced that he's dating again. Of course, he could just be keeping his cards close to his chest! "I think Brett himself is a very private person, which is something I respect and love about him," his "Ted Lasso" co-star Juno Temple told Rolling Stone. No doubt fans are cheering for Goldstein's happy ending, both onscreen and off.