Melania Trump's Absence After Donald's Arrest Fuels Divorce Speculation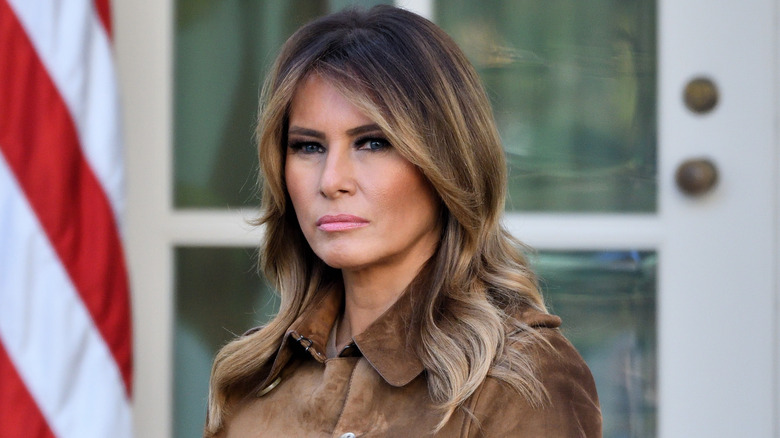 Evan El-Amin/Shutterstock
Amid Donald Trump's legal drama, Melania Trump is keeping her distance. Since getting married in 2005, Donald and Melania — arguably America's most controversial first couple – have hurdled through several tough times together. Their journey includes the former president's numerous infidelities and sexual assault allegations. But if unbothered were a person, it quite literally would be Melania. "I know people like to speculate and media like to speculate about our marriage and circulate the gossip.  It is not a concern and focus of mine. I'm a mother and a first lady, and I have much more important things to think about and to do," she famously told ABC News.
In more recent times, insiders close to the former model have also revealed that despite the circumstances surrounding his current legal troubles, Melania had plans to remain a dutiful wife to the former president. "Melania and Donald were both shocked when they were told," a source told Mirror. "They weren't expecting it, but Melania will support him. That's what she does. They are a family." Things are however unfolding rather differently in the wake of Donald's indictment and arrest.
Ahead of his arraignment on April 4, the Mar-a-Lago owner arrived in New York without Melania by his side as one would expect. And with a track record of supporting her husband even during the most difficult times, fans believe Melania has had enough of Donald's drama and trouble might be brewing for the Trumps.
There might be trouble in Trump paradise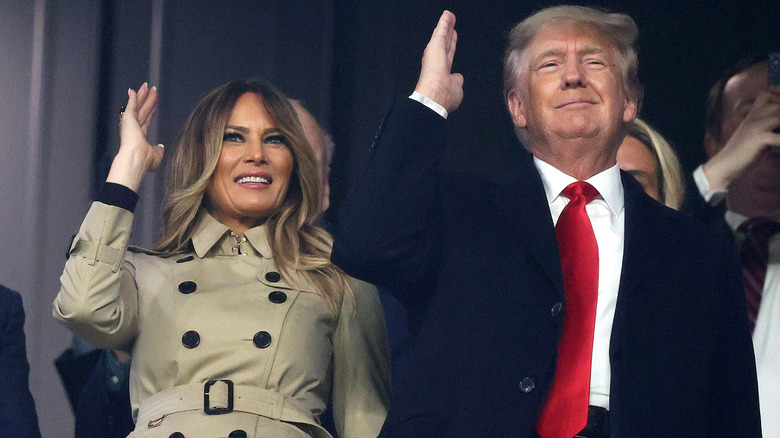 Elsa/Getty Images
Following his arraignment, Donald Trump headed to his Mar-a-Lago where he delivered a speech addressing his legal woes and acknowledging his family for their support. "I have a great family and they've done a fantastic job and we appreciate it very much. They've gone through a lot," the former president said in his speech. But while prominent members of the Trump dynasty including Donald Jr., Eric, and Tiffany Trump were present at the Mar-a-Lago gathering, former first lady Melania Trump was nowhere to be found. "I don't know, I'm gonna go find out," Mike Lindell, a longtime supporter of Donald told the New York Post of Melania's whereabouts.
Unsurprisingly, Melania's absence at Trump's New York arraignment and then the Mar-a-Lago speech has given rise to speculation that she could be planning to divorce her husband of 18 years. "Whose putting Melania Trump files for divorce in 2023 on their bingo card? I definitely am. I wonder what odds I can get," one person tweeted. "Soon #MelaniaTrump will get a divorce!," another user wrote on Twitter.
But perhaps Melania's absence should have been anticipated given previous claims that she was upset over her husband's hush money drama with Stormy Daniels. "She remains angry and doesn't want to hear," a source told People of the former first lady. "She is aware of who her husband is and keeps her life upbeat with her own family and a few close friends."
Ivanka Trump was also a no-show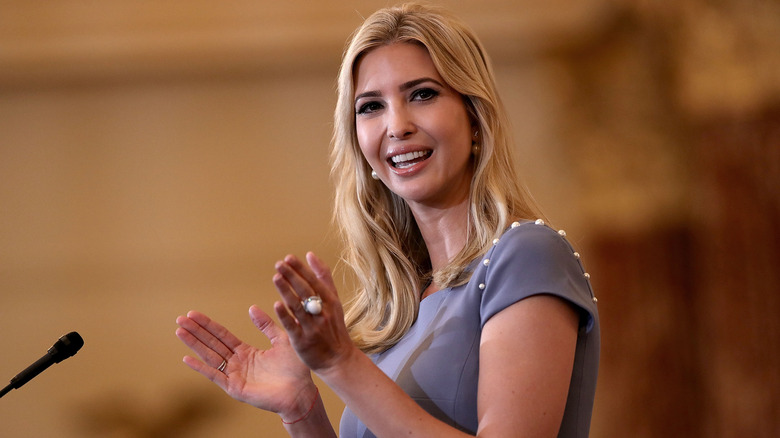 Win Mcnamee/Getty Images
Melania Trump wasn't the only prominent figure in Donald Trump's life who failed to publicly support him amid his current legal troubles. Donald Trump's oldest daughter, Ivanka Trump, was also absent from his arraignment. Given that Trump's legal woes stem from a supposed affair, it's not surprising that Melania Trump didn't opt to show up to Mar-A-Lago on Tuesday. Ivanka Trump's absence, however, raises a few more eyebrows. 
Over the years, Ivanka Trump, who served as one of Donald Trump's senior advisors in the White House, has always supported her father. And while Donald Trump did namecheck her during his speech about his family (which can't be said about his wife), that's as far as her participation went. With that said, Ivanka Trump showed support in other ways. According to Page Six, Ivanka Trump paid her father a visit prior to his arraignment. And while the nature of the visit has been kept under wraps, it suggests that she has decided to support her father away from the scrutiny of the public's intense opinions.
Even Trump's second wife, Marla Maples, appears to be more comfortable offering Donald Trump public support than his wife and daughter. "Yesterday I was feeling the emotions of lifetimes," wrote Maples via Instagram. "As an empath I was feeling the souls and pain of those I crossed paths with along the way. It was deep, it was raw, and I let the tears flow. I'm learning to surrender ... to allow the emotions to flow and then find my way back to my breath and let it sooth my heart." She finished her post with: "Prayers are never wasted."