LSU Basketball Star Angel Reese's Beef With Jill Biden Explained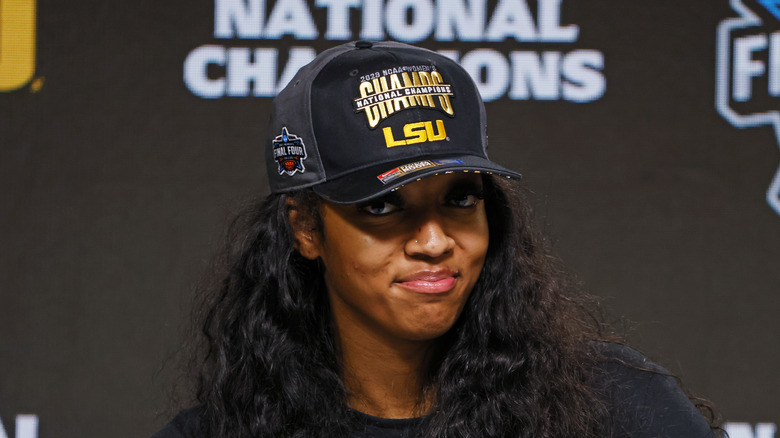 Ron Jenkins/Getty Images
After Louisiana State University's women's basketball win over the University of Iowa, first lady Jill Biden talked about the tradition of having the winners visit the White House. But she added a little twist. "I know we'll have the champions come to the White House," she said (via ESPN). "We always do. So, we hope LSU will come." Biden then mentioned that she would extend that invitation to the second-place team.
The first lady acknowledged how great it was to see women play a well-fought game on the basketball court. "[The game] was so exciting, wasn't it?" the first lady added. "It was such a great game. I'm old enough that I remember when we got Title IX. We fought so hard, right? We fought so hard. And look at where women's sports have come today."
But LSU basketball player Angel Reese — who has recently gained recognition for her taunts at Iowa's Caitlin Clark — isn't exactly happy with the offer Biden laid on the table. She tweeted her disapproval of the first lady wanting to invite both teams to the historic building. "A JOKE," Reese wrote alongside three laughing emojis. And it seems that she's hesitant about going to the White House altogether.
Angel Reese wants the White House visits to stick to tradition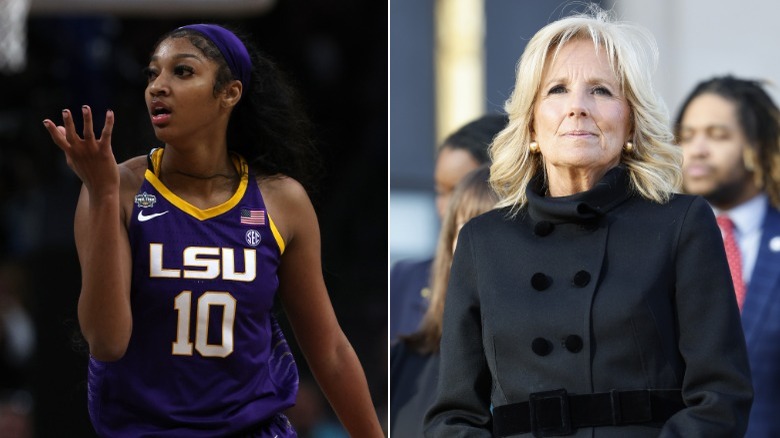 Tom Pennington & Jason Kempin/Getty
During an interview with I AM ATHLETE's "Paper Route," LSU women's basketball star Angel Reese expressed that she was on the fence about visiting the White House after first lady Jill Biden said that she wanted to extend the invitation to the University of Iowa's players. "If we were to lose, we would not be getting invited to the White House," she said, adding that she doesn't feel like the second-place team's players should be given the opportunity to go just because they showed "good sportsmanship."
And it seems that the head coach of Iowa's basketball team, Lisa Bluder, feels the same. "I gratefully acknowledge the First Lady's sentiments, but a day at the White House should belong solely to the champion, LSU and Coach Mulkey," she tweeted. "We would welcome the First Lady and President to come to Iowa's 'House' — Carver Hawkeye Arena — any time!
Biden's press secretary Vanessa Valdivia clarified the first lady's comments, mentioning that it was her enthusiasm toward women empowerment in sports that propelled her to want to congratulate both teams. "Her comments in Colorado were intended to applaud the historic game and all women athletes," she tweeted. "She looks forward to celebrating the LSU Tigers on their championship win at the White House."