Jill Biden Fooled Us All. Here's How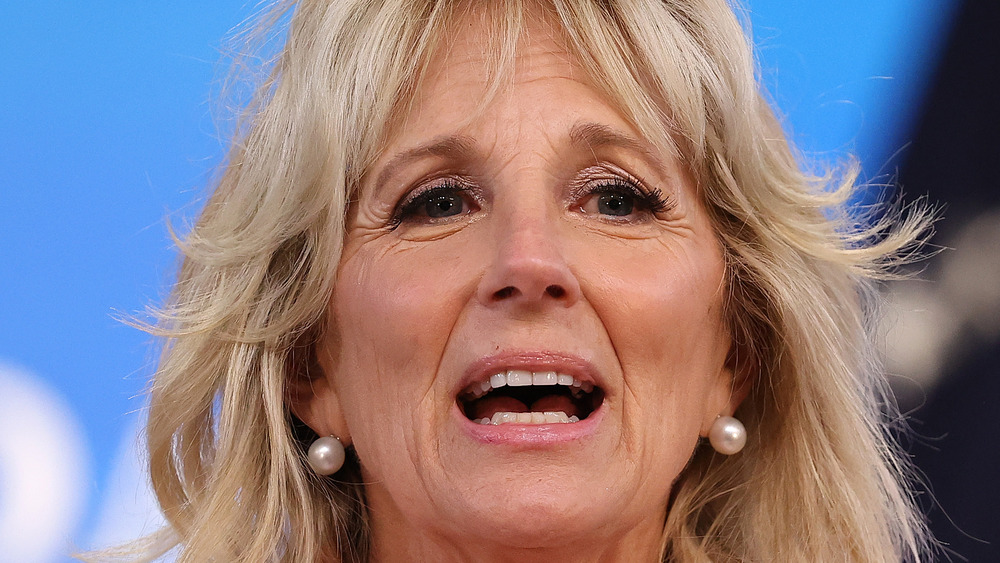 Chip Somodevilla/Getty Images
Dr. Jill Biden is one busy woman: Not only is she the first lady (already hard at work resurrecting the Joining Forces support group for military members and their families that she created with former first lady Michelle Obama, per Yahoo!), she is also a professor at a community college. And if that wasn't enough, she's been visiting schools with secretary of education Miguel Cardona, traveling as part of the Help is Here tour with her husband, President Joe Biden, to discuss the $1.9 trillion COVID-19 relief package (via ABC News).
On April 1, 2021, Dr. Biden traveled to Delano, CA to visit a pop-up vaccination site for farm workers on the birthday of César Chávez, who famously organized the first farm workers union, per the New York Times. She spoke to the crowd of 100 (despite an awkward flub), touching on how their work had been critical to the country during the pandemic and discussed Biden's immigration plan.
While the first lady seemed like she was all business on her latest trip on behalf of President Biden, she did something during her trip that fooled everyone, even her own staff. Read on to find out what it was.
Dr. Jill Biden disguised herself on a flight back to Washington, D.C.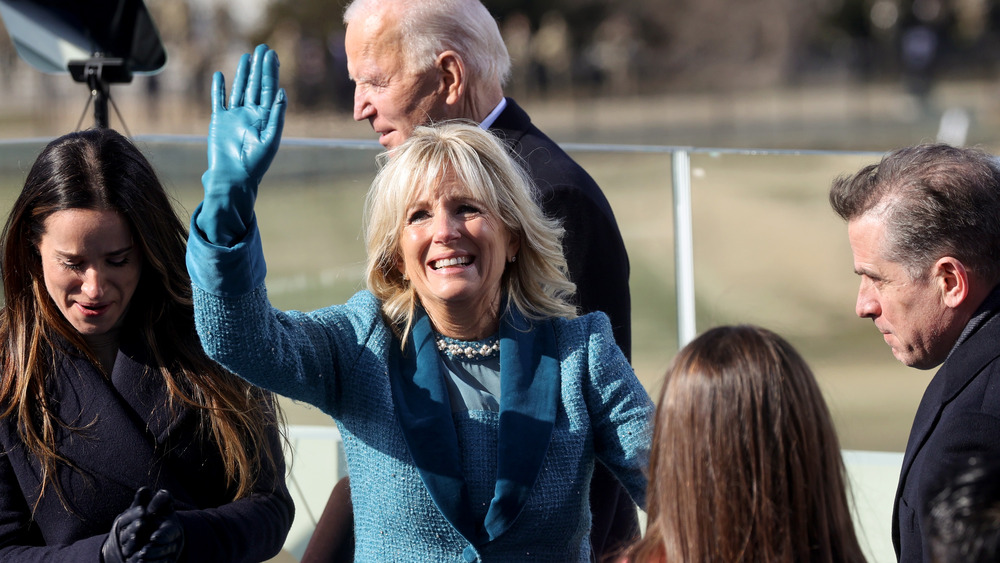 Pool/Getty Images
The first lady's flight back to Washington D.C., was anything but routine. Dr. Jill Biden dressed up as a flight attendant on Executive One Foxtrot, the first lady's plane. She put on a short black wig, a name tag that read "Jasmine," and handed out ice cream bars, per NBC News. She lasted the entire service portion of the flight without being recognized by the media onboard or her own staff. "April Fools'," she reportedly said when she removed her wig five minutes later.
The first lady is no stranger to April Fools' Day jokes. President Joe Biden said on a 2014 appearance on the Rachael Ray Show that the first day of April is "like a tradition" in his family, per HuffPost. "What I worry about when I wake up on April Fools' Day is, 'What in the hell is Jill gonna do this time?'" President Biden said. He even revealed one of her past pranks. "Like for example, one April Fools' Day... we get in Air Force Two, we're flying and I'm saying, 'Where the hell is Jill?'" he recalled. "And I open up the baggage compartment on top, above, you know? And she jumps out of the compartment. This is the second lady of the United States of America jumping out of the overhead baggage compartment."
Clearly, Dr. Biden is a big prankster. Only time will tell what she does next year.