Angelina Jolie's Wedding To Jonny Lee Miller Was Anything But Traditional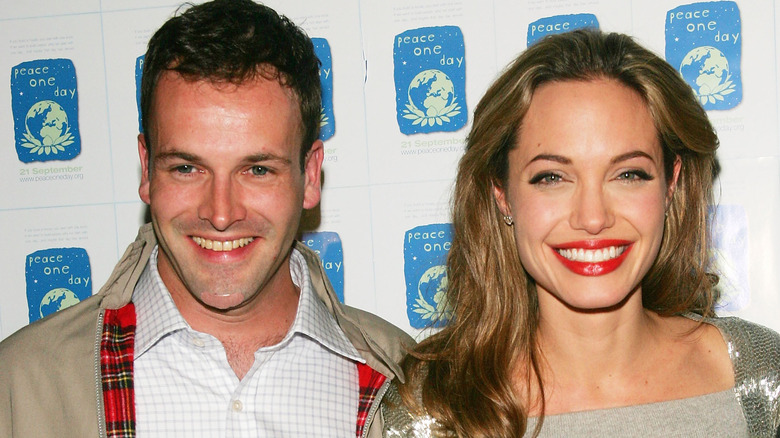 Evan Agostini/Getty Images
Angelina Jolie is known for her failed marriages with Billy Bob Thornton and most recently, Brad Pitt, but many might not recall her very first nuptials with fellow actor Jonny Lee Miller. Jolie and Miller met on the set of "Hackers" in 1995. At the time, Jolie was only 20 years old, while Miller was 23. Jolie had previously appeared in various music videos and "Hackers" was her first big movie break. Miller started his acting career in the '80s and also had minor roles until a stint in the television show "EastEnders." His next role as Dade Murphy in "Hackers" propelled his career forward, and he would go on to star in the hit movie "Trainspotting" the following year.
Jolie and Miller started up a romance while filming "Hackers," but the two went their separate ways after the movie wrapped. They rekindled their romance shortly afterward and got married in March 1996. In true '90s Jolie fashion, the wedding wasn't the typical fairytale dream. In fact, the ceremony was a bit macabre.
Angelina Jolie ditched the white gown for black leather pants and a bloody t-shirt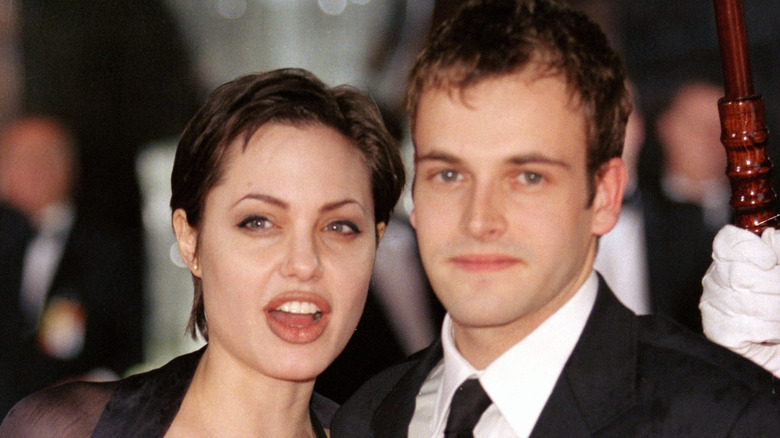 Antony Jones/Getty Images
When Angelina Jolie emerged in Hollywood, she quickly became known for her rebellious streak and dark tendencies, which was apparent in her wedding to Jonny Lee Miller. Instead of the traditional white dress, Jolie married Miller dressed in black leather pants. "I had pants with a zipper that goes back to front. He stuck a veil on me at the last second and put a garter on the pants," she told The Sun, according to InStyle. Along with the leather pants, she wore a t-shirt with Miller's name written on it in her blood.
Jolie and Miller's first marriage didn't last too long. The two separated in 1997 and finalized their divorce in 1999. On what caused their split, Jolie told the Calgary Sun (via the Mirror), "It's not fair to the other person that I'm so busy with my career and that I'm often distant even when I am with someone."
"Jonny and I never fought and we never hurt each other. I really wanted to be his wife. I really wanted to commit," she said, as reported by the Mirror. However, she explained that they were "living side by side" but "had separate lives." Despite their divorce, there seems to be no hard feelings between the two, and the actors have managed to remain friends throughout the years.
Angelina Jolie and Jonny Lee Miller spent time alone together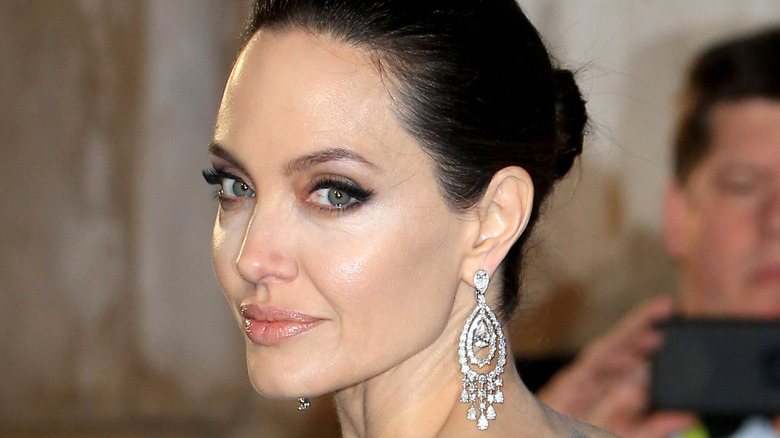 Fred Duval/Shutterstock
Although Angelina Jolie and Jonny Lee Miller's marriage ended in divorce, the "Maleficent" star only has good memories of their shared time filming "Hackers." In a 2014 interview with BuzzFeed, Jolie shared that she feels "love" when thinking about the movie. "That's where I met Jonny, who is still a great friend. So I think of him when I think of that. Although, I'm sure the movie looks so ancient now, but we had a lot of fun making that," she recalled.
In June 2021, Jolie was photographed visiting Miller's Brooklyn apartment with an expensive bottle of wine. She was then snapped leaving after three hours. The following October, the two exes were spotted leaving a restaurant in Beverly Hills together. They drove away together in Miller's car. Both Jolie and Miller have insisted over the years that they are just friends, but we wouldn't be mad at a Jolie and Miller 2.0 redo.