What's Really Going On With Angelina Jolie And Her Ex-Husband?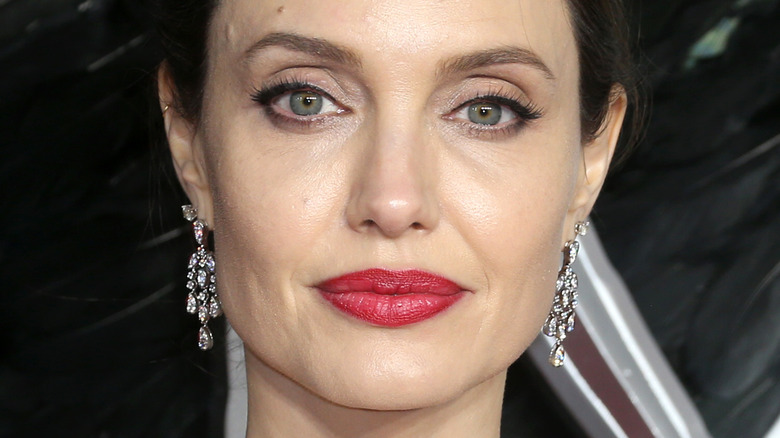 Shutterstock
Could Angelina Jolie be following in Bennifer's footsteps by reuniting romantically with ex-husband Jonny Lee Miller? 
The multi-facted talent has been slowly stepping back into the spotlight after a few years hiatus from directing and acting (for the most part). Unfortunately, mid-2021 began with two setbacks for Jolie. Per Us Weekly, the mother-of-six suffered a major courtroom loss in May against her most recent ex, Brad Pitt, with a judge granting Pitt joint custody of their five minor children against Jolie's concerted efforts to prevent this.
As an Us Weekly source disclosed, Jolie "will never forgive him... She maintains it's far from over and still believes that justice will prevail," even going so far as to allegedly attempting to have the judge in the court case removed. Moreover, her May vehicle — Taylor Sheridan's "Those Who Wish Me Dead" on HBO Max — failed to achieve the critical acclaim desired for a professional comeback. Entertainment Weekly described the thriller as "forgettable," sadly, as Jolie is a "star who so rarely chooses to be on screen these days."
Also in May, Jolie filled E! News in on the status of her love life then, describing herself as picky in choosing partners. "I probably have a very long list [of 'nos']," she admitted, adding, "I've been alone for a long time now." Now mid-June, it looks like that might have already changed... Find out next why some think Jolie is back together with Miller.
Jonny Lee Miller was the first husband to receive a blood-themed gesture from Angelina Jolie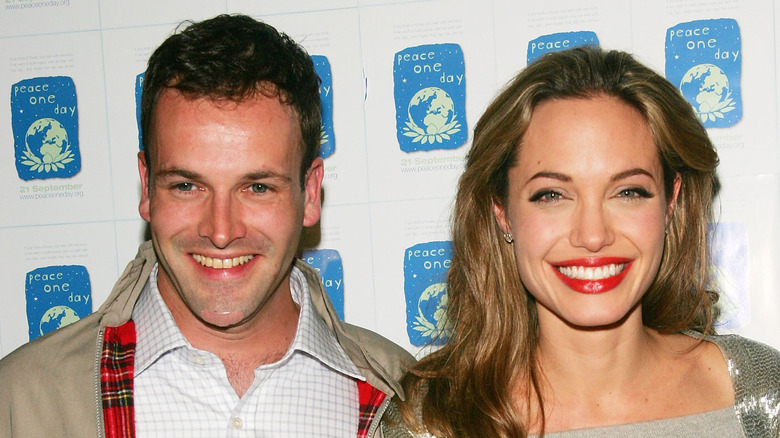 Evan Agostini/Getty Images
Before Billy Bob Thornton and Brad Pitt, there was Angelina Jolie's oft-forgotten first husband, Jonny Lee Miller. Likely to blame for this was their short-lived relationship and subsequent marriage, as the pair separated in 1997 after meeting on the set of 1995's "Hackers" and marrying in 1996, before officially divorcing in 1999, according to Page Six. In photos shared by the outlet, the two seem to be seeing more of each other, with Jolie photographed entering Miller's Brooklyn apartment building all by her lonesome on June 11. Carrying a "pricey bottle of Peter Michael Wine," as Page Six noted, Jolie left Miller's residence three hours later. 
In an uncovered 2004 B magazine interview (per the Mirror), one year after her divorce from Thornton, Jolie called divorcing Miller "probably the dumbest thing I've ever done." It would seem Miller inspired many of the more "out there" antics Jolie carried over into her relationship with her second husband. 
Wearing black rubber pants instead of a dress at their wedding, Jolie had completed the look with a plain white shirt sporting Miller's name — written in her blood — across the back, per the outlet. But don't worry! As Jolie reportedly once told The New York Times (via the Mirror), the blood was extracted "very carefully" using a "clean surgical needle." In an age where reality TV couples are the ones making news for passionate PDAs, perhaps a Miller-Jolie reunion is exactly what we all need.