What Neil Diamond Has Said About His Parkinson's Disease Diagnosis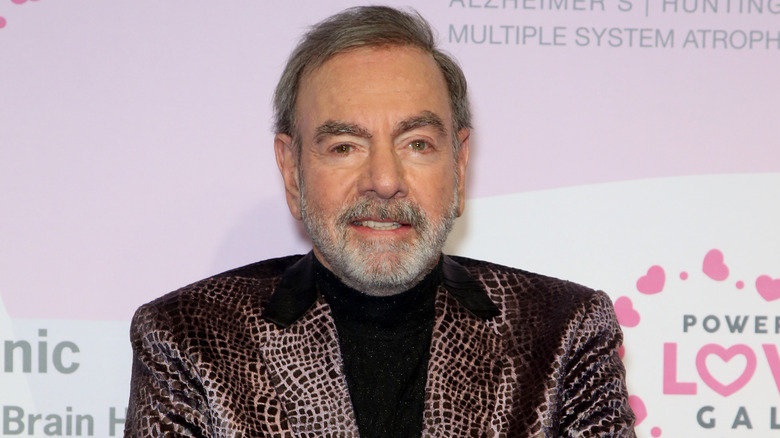 Gabe Ginsberg/Getty Images
Neil Diamond has enjoyed a successful life and career in the music industry, but some aspects of his personal life have been hard to handle, including his Parkinson's disease diagnosis in 2018. According to the Mayo Clinic, Parkinson's "is a progressive disorder that affects the nervous system and the parts of the body controlled by the nerves." In most people, the symptoms present themselves pretty slowly, but progress over time. People with Parkinson's may have slurred speech or suffer from tremors. Michael J. Fox is one of the most well-known celebrities with Parkinson's and now, so is Neil Diamond. 
In 2018, Diamond announced to fans on his website that his Parkinson's diagnosis forced him to cancel the touring aspect of his career, meaning that he had to ax his Australia and New Zealand shows that year. "It is with great reluctance and disappointment that I announce my retirement from concert touring. I have been so honored to bring my shows to the public for the past 50 years," the singer said in a statement. "My sincerest apologies to everyone who purchased tickets and were planning to come to the upcoming shows." Diamond also vowed to remain in the music industry in other capacities and instead of touring, he said he hoped to write and record music. "My thanks goes out to my loyal and devoted audiences around the world," he added. 
Several years later, Diamond is opening up about his Parkinson's diagnosis, and what has changed.
Neil Diamond has come a long way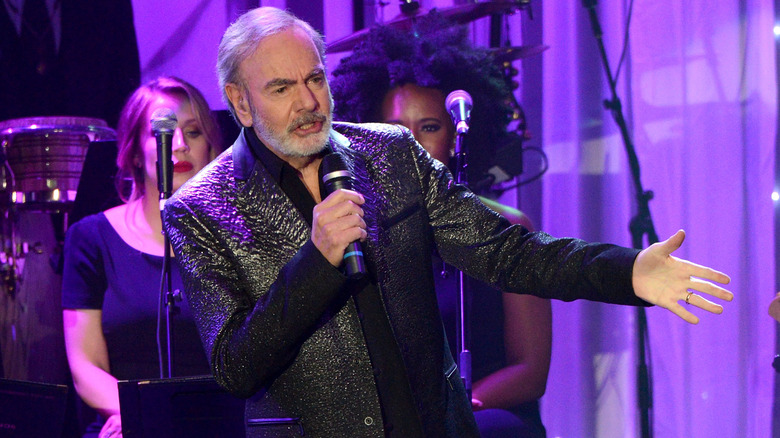 Scott Dudelson/Getty Images
Neil Diamond has been pretty open when speaking about his diagnosis of Parkinson's disease and all that it entails. The legendary singer has publicly shared his thoughts and struggles about the condition, including in an interview with "CBS Sunday Morning" in 2023. While doctors diagnosed Diamond with the disease in 2018, it took him about five years to come to terms with it. In the interview, Diamond revealed that he has been learning to cope with the day-to-day of living with Parkinson's, but it's finally something that he has accepted. "This is the hand that God's given me, and I have to make the best of it, and so I am. I am," he said in the interview. "Somehow, a calm has moved in, and the hurricane of my life, and things have gotten very quiet, as quiet as this recording studio. And, I like it," the singer added. "I find that I like myself better. I'm easier on people. I'm easier on myself. And the beat goes on, and it will go on long after I'm gone."
In 2018, Diamond also spoke about his condition shortly after learning about the diagnosis. "It does have its challenges, but I'm feeling good and I feel very positive ... I'm feeling better every day," he told the Associated Press in an interview. "Just dealing with it as best I can, and just keep the music coming." We've got to applaud him for his positive outlook.
Neil Diamond still has a great career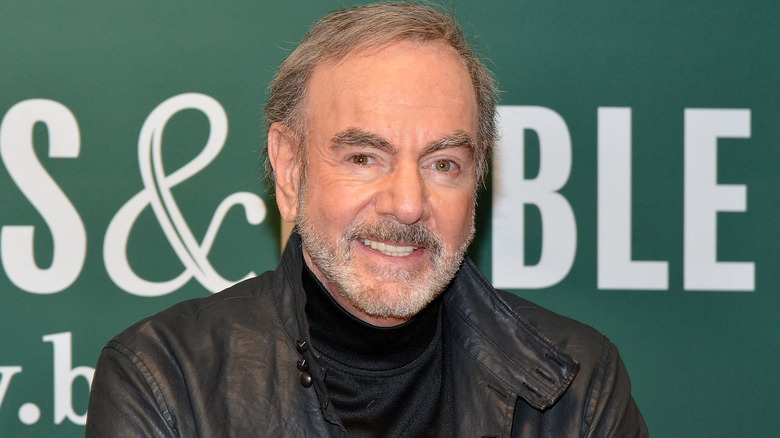 Slaven Vlasic/Getty Images
Even though Neil Diamond has gone through some very trying times, there's no doubt that his carer is still booming. He's got his own show titled "The Neil Diamond Musical: A Beautiful Noise," and as you can tell from the title, it's about Diamond's rise to fame. The show includes some of his most singalong-worthy hits like "Sweet Caroline" and "America," as well as several others that most of us know and love. But even with a major musical about him and an incredible career, Diamond has always remained pretty humble about how far he's come and how he used to doubt himself.
"This show was part of my psychotherapy. And it hurt. I didn't like looking at myself in many of the scenes," Diamond confessed to CBS. The singer also added that while he was "flattered" to have a musical made about him, it still "scared" him a little. "Being found out is the scariest thing you can hope, because we all have a façade, and the truth be known to all of 'em, I'm not some big star; I'm just me."
In 2021, Diamond also spoke with Parade about making new music. "I always have a scrap of paper or a pad around to jot down ideas. Then, when I have more time, I develop them. It's part of my life," he said. At the time, he also shared that he was in "denial" about Parkinson's, but look how far he's come!