Is Kevin Durant In A Relationship?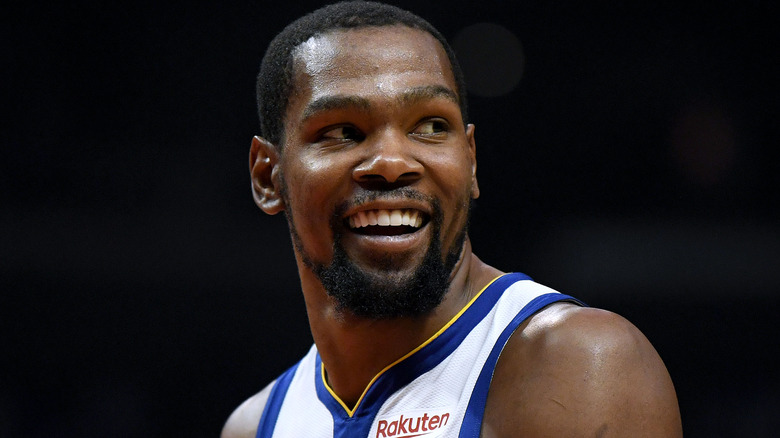 Harry How/Getty Images
It's a universal truth that Kevin Durant loves basketball first and basketball second. The professional hooper has been playing for the NBA since 2007 and has no plans on hanging his jersey up anytime soon. "How do I still keep getting up with that enjoyment and that excitement? ... Simply put, I enjoy hooping," he told The Washington Post of his love for the game. "I like when the ball go through the rim. I like working on my game. I like building with a team. It gives me that joy that I crave — a kidlike energy when I walk into practice, into an arena. So I'm going to keep chasing that feeling. And the second, I guess, that goes away, I'll call it quits."
When it comes to actual people he loves, Durant is known for keeping things under wraps, except perhaps his long-standing attraction to actor Scarlett Johansson, who he once joked he would drink the bathwater of. "I hope she was aware of it," Durant said of his viral tweet on "The Bill Simmons Podcast," adding that "it is strange now because it made me look crazy, but now it made me look real cool because I would. I actually love Scarlett Johansson, and I would do that."
Seriously speaking, though, Durant barely makes public declarations of love to his romantic partners, let alone introduce them to the world. And that is why to this day, no one can tell whether he's single or not.
Kevin Durant's significant other remains a mystery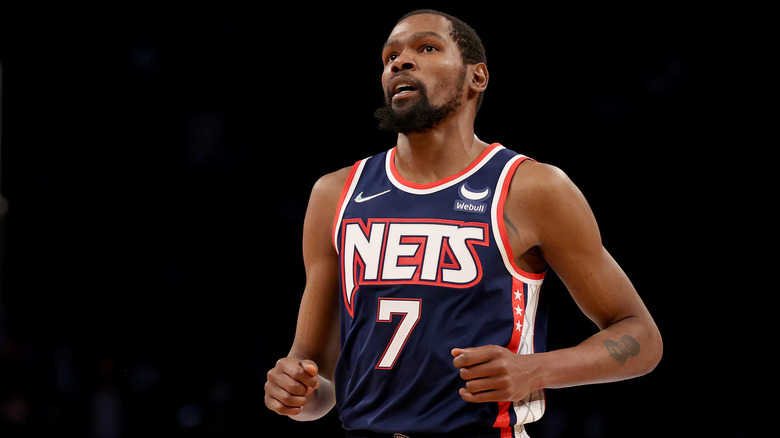 Elsa/Getty Images
No one can pinpoint who Kevin Durant is dating — or if he's actually dating at all! But in June 2022, the Daily Mail reported that the pro baller was seen having a dinner date with Karreuche Tran, although neither party confirmed if anything ever came out of it.
The previous year, social media personality Lana Rhoades inadvertently set off rumors that she had gone on a date with Durant. In an episode of "3 Girls, 1 Kitchen" podcast, she divulged that she once went on a date with a famous player from the Brooklyn Nets who was a Libra, and coincidentally, Durant was the only member of the team at the time with the same star sign.
In terms of serious relationships, however, the last reported girlfriend Durant had was Cassandra Anderson, a realtor from California. In 2018, several sports outlets noted that she was seen sitting in a special section of the Golden State Warriors games where girlfriends and wives usually sit, leading many to come to the conclusion that they were official. Sadly, they reportedly broke up after a year.
Kevin Durant was engaged once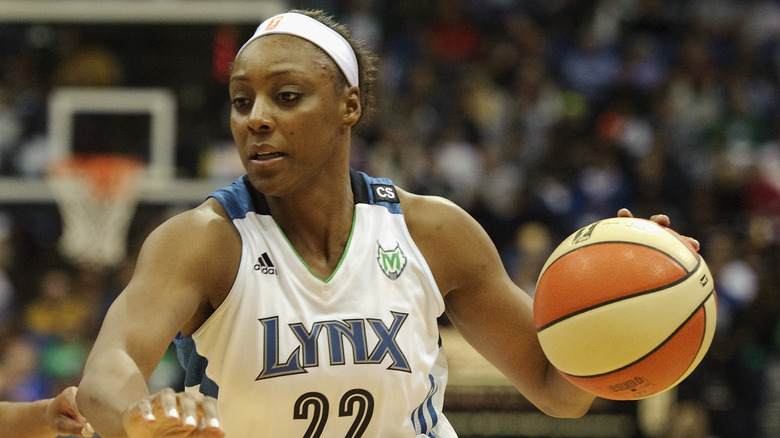 Hannah Foslien/Getty Images
The only time Kevin Durant had been open about the person he's with was when he was engaged to WNBA player Monica Wright. The two were high school sweethearts and got engaged briefly in 2013, but eventually broke up because Durant admitted that he wasn't the best partner at the time.
"I had a fiancée, but ... I really didn't know how to, like, love her, you know what I'm saying? We just went our separate ways," he told GQ, adding that he got down on one knee not because he had prepared for it, but because he just felt like it. "We was just hanging out ... And I just did it ... So I was just like, cool! I love this girl. But I didn't love her the right way."
Wright, for her part, shared at the Minnesota Lynx's Faith and Family event that her priorities didn't align with Durant's. "I was engaged last year. And it kind of changed that relationship big time because I was going in a direction that unfortunately a lot of people aren't willing to sacrifice their lifestyle for," she said. The athlete also told Risen Magazine that her religion played a factor, too. "I had to make a decision about compromising myself as a woman," she recalled. "I had to make a decision to leave a relationship, which a lot of people thought I was crazy to leave. There was a lot of criticism over it. But I think God had my back in it."