What We Know About Lukas Gage And Maude Apatow's Close Friendship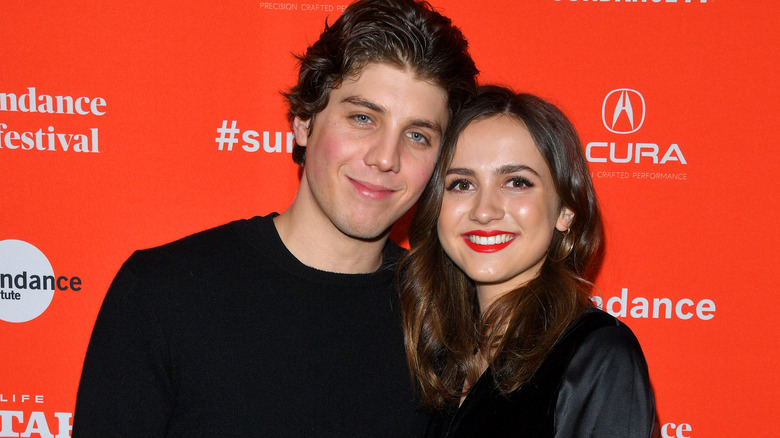 George Pimentel/Getty Images
Whether it's a PR relationship or a cast hanging out during filming, actors can get close to their co-stars one way or another. And while it's tough to tell what's real and what's for show, it can be exciting to see people you enjoy on-screen get together or hang in real life. For Maude Apatow and Lukas Gage of "Euphoria," that has blossomed into a close friendship. So close, in fact, that many fans thought they were dating at one point.
When "Euphoria" premiered, Zendaya was obviously the biggest name attached to the project, and it was a big departure for her. But after the first season, many of the other actors became household names, like Hunter Schafer, Alexa Demie, and Sydney Sweeney. Gage played Tyler, a random guy who hooks up with Maddy at a party and gets beaten and terrorized by her boyfriend Nate afterwards. And while Tyler wasn't in the picture in Season 2, Apatow's Lexi got a starring role (especially when it came to the school play to end all school plays). Regardless, Gage and Apatow hung out a ton, sometimes with their co-stars and sometimes without. So how did their friendship form, and were they ever anything more? We have the details.
Maude Apatow and Lukas Gage are so close that people think they dated
One of the only confirmations that Maude Apatow and Lukas Gage know anything about the dating rumors surrounding them comes from Maude's sister, Iris Apatow. According to Us Weekly, Iris shared a screenshot of an article speculating Maude and Gage's relationship status to her Instagram story with the words, "I can confirm!!" written alongside it. Iris trolled even harder when someone shared her story with Deuxmoi, the highly popular Instagram gossip account. She shared the blind item "tip" that her sister and her "Euphoria" co-star were dating and wrote, "Thanks deux!!! And congrats Maude and Lukas," followed by a ring emoji and a wink.
But these rumors of Maude and Gage dating aren't out of left field. The stars post flirtatious comments on each other's Instagram accounts, typically hyping each other up. And the two have a pretty long friendship history. They met while filming "Assassination Nation," another project from Sam Levinson, the creator of "Euphoria." So between that movie and filming Season 1 of the latter show together, the two obviously got closer. However, Apatow was reportedly dating British talent manager, Charlie Christie, from 2018 until after the pandemic started. As The Things reported, Apatow and Gage seemed to interact more once she broke up with Christie, and they obviously hang in the same circles with similar friends. Between their outings together and their social media activity, you can see why fans might think they were a thing.
Maude Apatow approves of Lukas Gage's new partner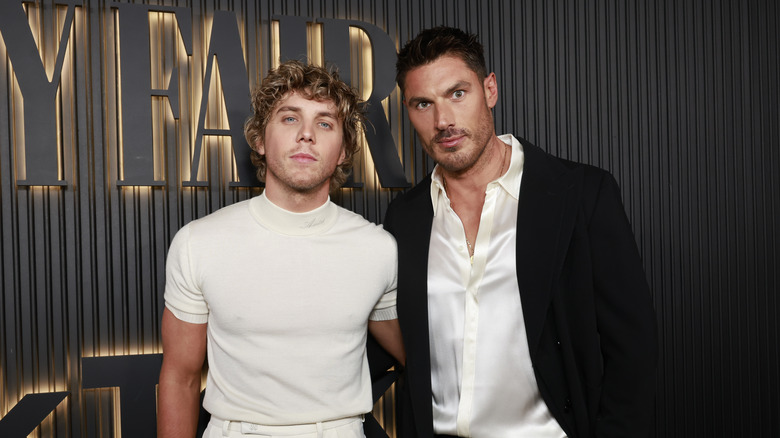 Emma Mcintyre/Getty Images
As Elle pointed out, Maude Apatow has been linked to another co-star, Angus Cloud, who played Fezco on "Euphoria," who Lexi had a romance with. According to the outlet, the two had dinner together on Valentine's Day 2022 and did a great job of stirring the Fexi pot. But since her relationship with Charlie Christie, Apatow hasn't officially been linked to anyone. 
As for Lukas Gage, he's off the market. E! News reported in early April 2023 that the "White Lotus" star was engaged to celebrity hairstylist, Chris Appleton. The two had only just revealed their relationship. "I feel very grateful to be able to share my time with someone very special," Appleton said on "The Drew Barrymore Show" in March. "Love is a really special thing, and I think meeting someone you connect with is really, really special." Gage was equally as delighted by his new beau. "I feel very happy, very lucky, and very much in love," the "You" star told "Today."
Appleton and Gage are very much in their honeymoon stage, posting cute, flirty comments on each other's Instagrams. And, in fact, Apatow seems to be just as happy for her friend, Gage, posting the heart eyes emoji on a February post of the two. And don't worry, Iris Apatow is still the biggest Maude and Lukas supporter. In a post of the two doing an Armani campaign, Iris commented, "Besties."