What We Know About Bad Bunny And Gabriela Berlingeri's Relationship Status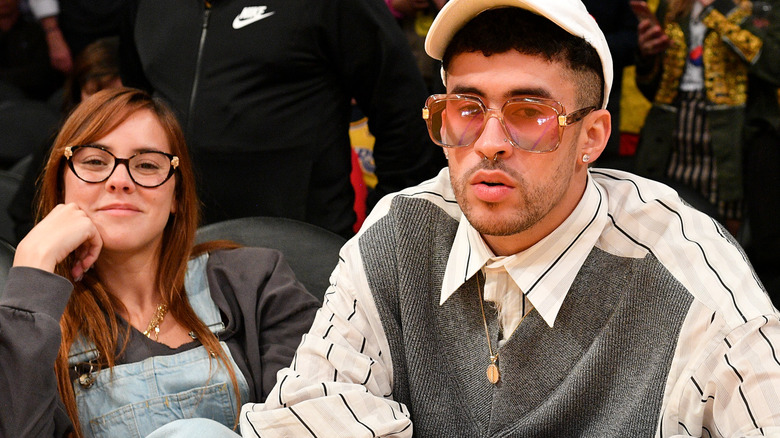 Allen Berezovsky/Getty Images
Bad Bunny, whose real name is Benito Antonio Martínez Ocasio, has made a major name for himself not just in the reggaeton space, but in mainstream music. He won his first Grammy in February 2023 and opened the ceremony with a lively performance that got Taylor Swift up and dancing. And as Time reported, his 2022 album "Un Verano Sin Ti" edged out Swift and Harry Styles for Billboard's top-performing album of the year, and he set records for touring and on Spotify. Benito just has a way of creating buzz around him and his music, with his silly and vibrant personality endearing him to his fans (and getting him enigmatic roles in projects like "Bullet Train").
But more recently, Martínez's dating life has been a big interest for the internet at large, mostly due to the fact that he's been hanging out a lot with Kendall Jenner. After his Grammy win, People reported that they were "having fun" together, and TMZ posted pictures of Bad Bunny horseback riding with Jenner in early April 2023. But before Benito was seen with a Jenner or before he even made it big at all, Bad Bunny was dating Gabriela Berlingeri. Berlingeri is a singer, photographer, and, as her Instagram bio notes, she is the owner of a jewelry brand called, Diciembre Veintinueve (D29). And while they dated for five years, it's still not totally clear if the two of them are fully broken up at the moment.
Bad Bunny and Gabriela Berlingeri have been seen with other people recently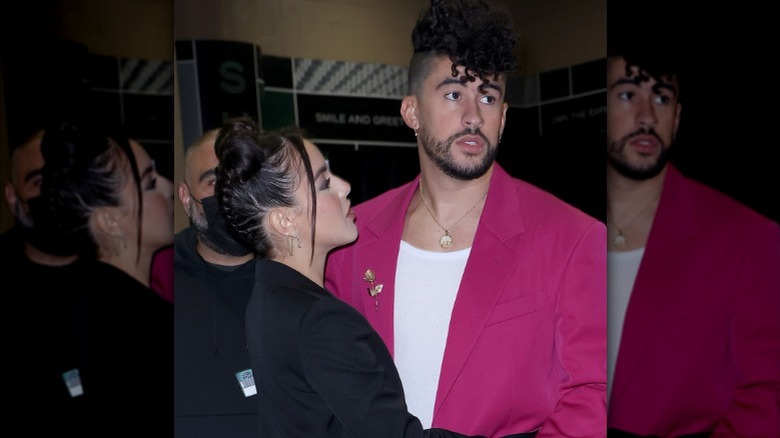 John Parra/Getty Images
As Cosmopolitan reported, several TikToks and fan reports came out between August 2022 and early 2023 that Bad Bunny and his (potentially former) girlfriend, Gabriela Berlingeri, were seen out and about with other people. From reports of Benito kissing other women in clubs to Berlingeri partying and cozying up to another man. And in a modern way to unofficially announce a breakup, Remezcla reported that Berlingeri deleted all of her photos with Bad Bunny on her Instagram in November 2022.
However, Berlingeri performed on stage with Bad Bunny in Mexico City a month later, singing her part in Bad Bunny's song, "El Apagón." It was on his latest album, "Un Verano Sin Ti," which featured Berlingeri heavily in its promotion and in its concept. "I wanted to include her. This new album revolves a lot around my life, around her as well," Bad Bunny told Alofoke Radio in June 2022 (via People). "She has always been a big part of my projects, my ideas, behind everything. I always ask for her ideas, her opinion and she's an important part."
Of course, as mentioned before, Martínez has also been seen with Kendall Jenner, cozying up in a pretty romantic way. So while Bad Bunny and Berlingeri have a long history together and she's a massive inspiration for his music, recent months prove they're either broken up or are possibly in an open relationship.
Bad Bunny met Gabriela Berlingeri in 2017 in a normal setting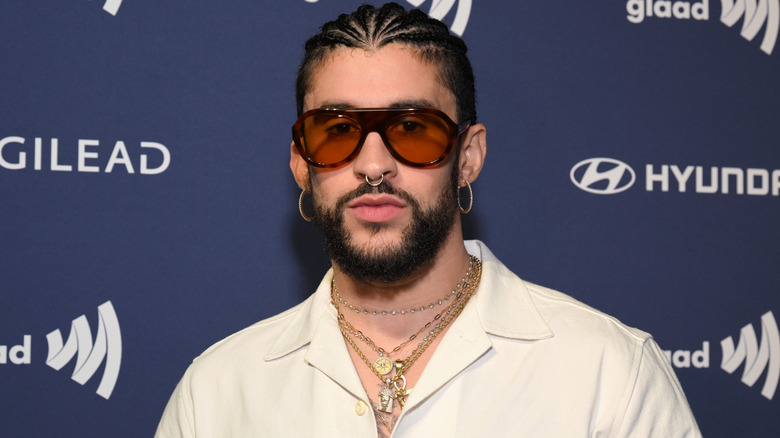 Michael Kovac/Getty Images
As Bad Bunny told Alofoke Radio (via People), he doesn't "overthink" including Gabriela Berlingeri on his projects. In addition to her contributions on "Un Verano Sin Ti," Berlingeri was also the photographer for his Rolling Stone cover in May 2020. "I am with someone, she is very special in my life," he said about how he was spending lockdown with Berlingeri. "This quarantine has made me understand that she is the best companion I could have." He said that they met in a restaurant in 2017 and immediately started dating. It did take a while for Bad Bunny to share his relationship publicly; they made their official red-carpet debut as a couple in 2021 at the Billboard Latin Music Awards.
Bad Bunny declined to talk about any dating rumors, Jenner-related or not, with TIME in March 2023. But he did mention how he's just a "chamaquito," or young boy, and goes through ebbs and flows of caring for or thinking of certain things, like his "ex or a girl I like." And while that might hint that he's single, he also isn't one to care if fans don't like who he's connected to. "When I read comments that say, 'Bad Bunny now I'm not going to listen to your music,' that's fine," Benito said. "I'm not going to do something else for you to like it. There are plenty of artists, and perhaps you'll find someone you'll like."