Does Ben Affleck Have A Close Relationship With Jennifer Lopez's Kids?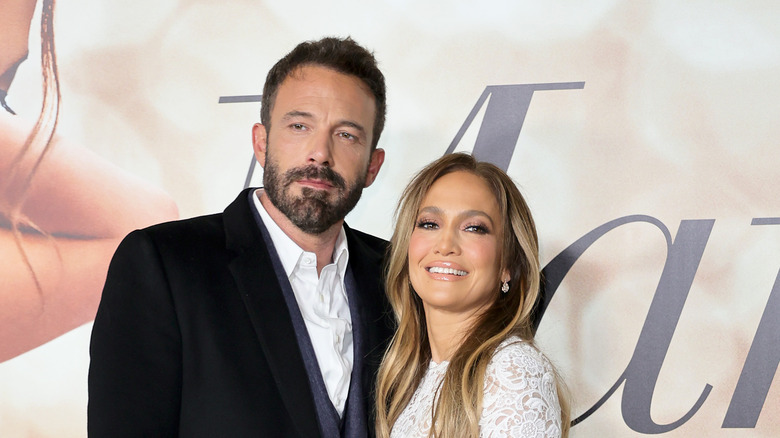 Momodu Mansaray/Getty Images
Between the time Ben Affleck and Jennifer Lopez first dated in the early-2000s, and when they reconnected and eventually married, they both had children from previous marriages. Affleck had three children with ex-wife Jennifer Garner: Violet, Seraphina, and Samuel. While Lopez had twins Emme Muniz and Max Muniz with her ex-husband, Marc Anthony. That meant that the "Gone Girl" actor and Lopez looked to blend their families when they rekindled their romance.
The thought of their respective children weighed heavy on the thoughts of the Hollywood power couple when they started dating for a second time. "We had our kids and we had to tread lightly and carefully so they could come along with us," Lopez told Apple Music's Zane Lowe in November 2022 when discussing her and Affleck's second-chance romance. In regards to the kids, Affleck had strong views on parenting. "It's important to have two parents for the rearing and upbringing of a child," he told The Wall Street Journal in December 2021.
In June 2021 — soon after the "Gigli" stars reconnected — Lopez brought her kids out for dinner with her then-boyfriend to Nobu in Malibu. "Ben and her kids seemed comfortable together," a source told People at the time. "Ben seemed great. He was smiling and laughing." That same month, People reported that the "I'm Real" singer's twins were "onboard" with the idea of moving in with Affleck. Not long after, he became a stepdad to Lopez's kids which appeared to impact his relationship with them. 
Ben Affleck's bond with Jennifer Lopez's kids
On February 22, Jennifer Lopez took to Instagram to celebrate the birthday of her twins Emme Muniz and Max Muniz. "Happy birthday to my beautiful, brilliant coconuts ... You bring so much joy and happiness to my heart and soul," she wrote in the caption alongside a video that featured photos and clips of special moments with the kids. Ben Affleck was briefly featured in the montage, and it offered insight into the "Way Back" actor's relationship with his step kids. Lopez added one group photo in the clip which featured herself, the twins, and Affleck posing together. The birthday post also included an adorable snap of Max sound asleep in Affleck's arms
Not long after that birthday post, the "Tender Bar" star spent some quality time with Emme. The pair were photographed out on a shopping excursion together in photos published by Page Six in April 2023. Snaps showed Emme bursting out in laughter as they walked down the street with their stepdad, while both of them held shopping bags. It seemed to be a bonding moment for Affleck and his stepkid, as neither Lopez nor Max came along. The "Town" director looked to be enjoying the one-on-one time with Emme.
Affleck and Lopez's kids built a good rapport, but so has the entire blended family. "Jen's relationship with Ben's kids is natural and same goes for Ben's bond with Jen's kids," a source told Entertainment Tonight in December 2022, but how did Lopez feel about Affleck's ex?
Jennifer Lopez calls blending their families an 'emotional transition'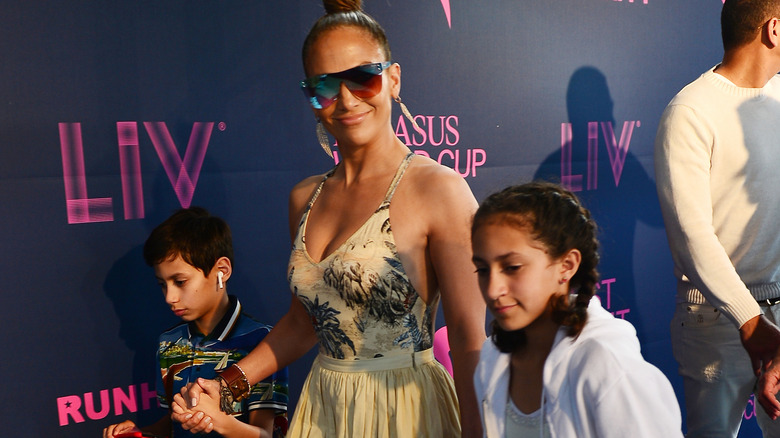 Johnny Louis/Getty Images
An integral part of Ben Affleck and Jennifer Lopez's blended family was not only getting along with each other's children, but maintaining a relationship with the other parents of the kids. The "Hustlers" star had been effusive when discussing her husband's ex, Jennifer Garner, and went so far as to call her "an amazing co-parent" during an interview with Vogue in November 2022. Lopez also spoke about the importance of creating a full family unit. "What I hope to cultivate with our family is that his kids have a new ally in me and my kids have a new ally in him," she said while mentioning how one advantage of being a step-parent was that it allowed for more objectivity.
Building those relationships with each other's children took effort on everyone's parts. During a joint interview with Affleck, Lopez described the families coming together as an "emotional transition," but spoke glowingly of the experience. "It's just been a phenomenal year. Like, my best year, I think, since my kids were born," she said while appearing on "Today" on January 16 alongside her husband.
Affleck's efforts in fathering his kids and Lopez's did not go unnoticed by the "On the Floor" singer. She gushed over him on Father's Day 2022 while uploading a video to Instagram that featured many of the couple's memorable moments together. "Happy Father's Day to the most caring, loving, affectionate, consistent, and selfless Daddy ever," Lopez wrote.