Details We Know About Bill Hader's Divorce From Ex-Wife Maggie Carey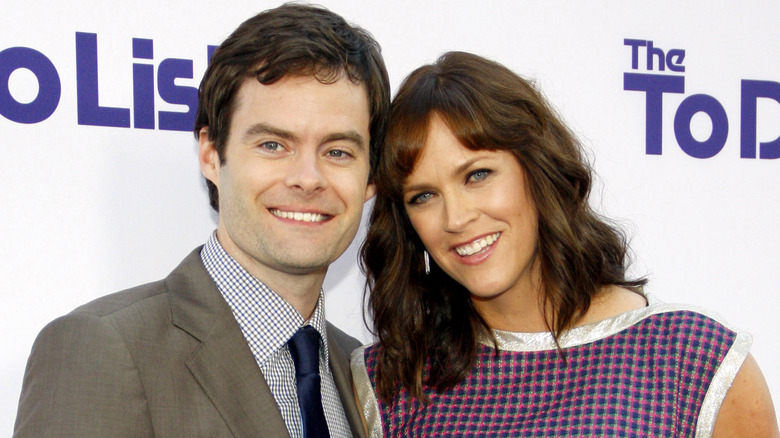 Tinseltown/Shutterstock
It's hard to imagine a time when everyone didn't have a crush on resident funnyman Bill Hader. But such a time did exist, and it was back when he was still married to director Maggie Carey.
On paper, Hader and Carey appeared to be the perfect couple. Both thrived in the comedy scene, with Hader having a years-long tenure on "Saturday Night Live" and Carey directing movies like "The To Do List." Speaking with Magic Valley, the director revealed that she fell for Hader almost as soon as she laid her eyes on him. "We met in L.A. I went to college with a guy in his sketch group. They didn't actually have a theater they were affiliated with — they put on shows in their friends' backyard. In one of the sketches, Bill was wearing overalls and no shirt. I'm from Idaho, and that's a total turn-on," she recalled. "After the show, I was, 'Who is that funny guy in the overalls?'" Meanwhile, the "SNL" alum knew Carey was the one when he first visited her apartment. "She had 'Star Wars' curtains. I walked in there and in my head, I thought: This is awesome, and we will be married,'" he told The Washington Post.
And marry they did, with the two even sharing three kids together. But their relationship all came crashing down in 2017 when they announced that they were divorcing after over a decade of marriage.
Bill Hader and Maggie Carey's split was amicable
Bryan Steffy/Getty Images
Bill Hader and Maggie Carey were incredibly private about their relationship, but in 2015, Hader revealed to Elle that he got everything down on lock with Carey despite a few road bumps here and there. "I never liked the saying "Relationships are a lot of work." I'm not saying we don't have stresses," he told the outlet. "But I have friends who are like, "I got kicked out of the house again." It's like, Jesus Christ. I thought that happened on sitcoms because it moved the story forward."
But two years later, their reps confirmed that they called it quits, with The Blast reporting that the "Barry" star listed irreconcilable differences as the key cause for the divorce. At the time, Hader sought to have joint custody of their children and was more than willing to provide spousal support for his ex. And while neither party opened up about the real reason behind the split, the comedian shared with Variety that there's absolutely no animosity between them. "I'm friends with my ex-wife," he said.
Hader also admitted that the only thing he hated about the split was that he no longer gets the chance to be with his daughters as much as he liked. "It's this weird thing where when you're in this industry, you don't have time to be with them, and it's really, really difficult," he confessed.
Inside Bill Hader's dating life after marriage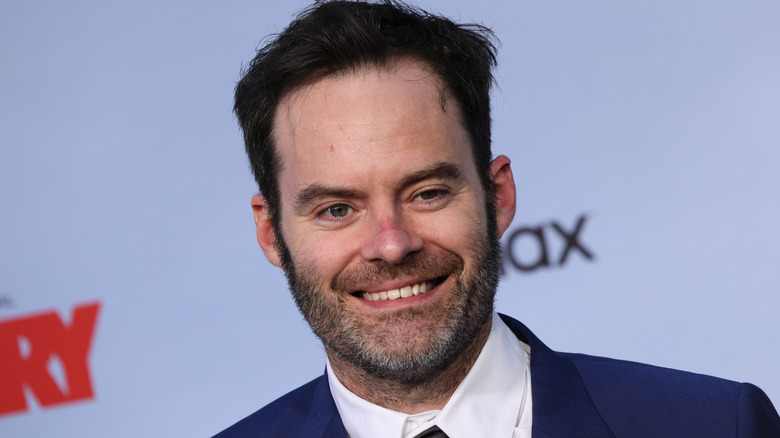 David Livingston/Getty Images
Since Bill Hader's split with Maggie Carey, he has been romantically linked with three women: Rachel Bilson, Anna Kendrick, and Ali Wong. People reported that Hader and Bilson dated between 2019 and 2020, and when they parted ways, "The OC" star took it hard. "I could not leave my house, you know what I mean? I had nothing else to do but sit in it, and deal with it and feel it," she shared in an episode of "Broad Ideas," a podcast by Mandy Moore. "It was probably the hardest thing I've ever done⁠, harder than childbirth."
Hader then moved on to the "Pitch Perfect" actor, whom he dated for over a year. "Bill and Anna clicked right away," a source told Us Weekly of their relationship. "They dig each other's sense of humor." Shortly after, he got into a fling with fellow comedian Ali Wong, but that, too, didn't last. "They dated very briefly. They're just super busy with things, but [the split] was certainly amicable," an insider shared with Page Six. "They're certainly friends."
But amid all his dating escapades, Hader remained quiet. According to him, it's because he wants to protect his daughters to the best of his ability. "They just want me to be their dad," he shared with The Hollywood Reporter. "They just want me to sit and watch 'Encanto' over and over and over again. So that's what I do."