Ryan Seacrest's Ex-Girlfriend Shayna Taylor Has Been Busy Since Their Split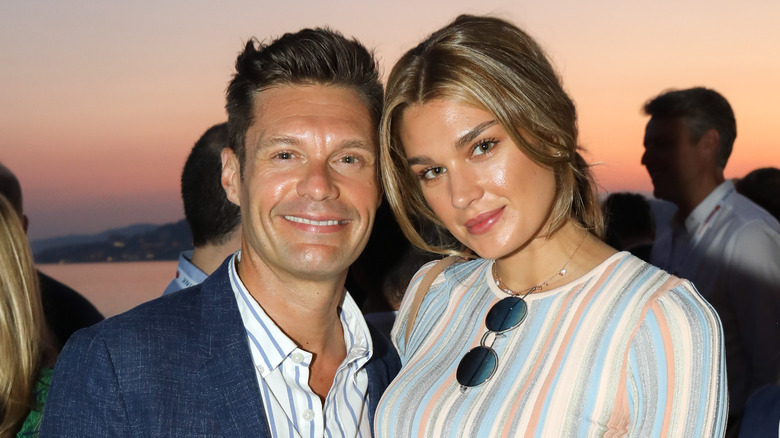 Toni Anne Barson/Getty Images
Before Ryan Seacrest announced that he was leaving "Live with Kelly and Ryan" after six years of co-hosting the show, he had to adjust to another big life change: the end of his relationship with Shayna Taylor.
Seacrest and the wellness influencer dated on and off for seven years before they called it quits for good in 2020. "Ryan and Shayna decided to end their romantic relationship amicably some time ago. They remain good friends, each other's biggest supporters and will always cherish their time together as a couple," Seacrest's rep told the Daily Mail when the exes decided to make their breakup public. Seacrest had just been photographed vacationing with a woman who was not Taylor, so the statement was timely.
Taylor really went through it after their split. In a July 2020 post on her Instagram Story, she shared a photo of what appeared to be a page in her journal. "When I run after what I think I want my days are a furnace of distress and anxiety," it read in part. Around that same time, a source told The Sun that Taylor was recuperating from an undisclosed illness while being cared for by her mom. But by the following month, she was posting about how she was enjoying a solo date night by treating herself to a home-cooked meal and a candlelit bath. With as much as she had going on in her life after her split from Seacrest, that relaxing night in was well-deserved.
Shayna Taylor wants to do it all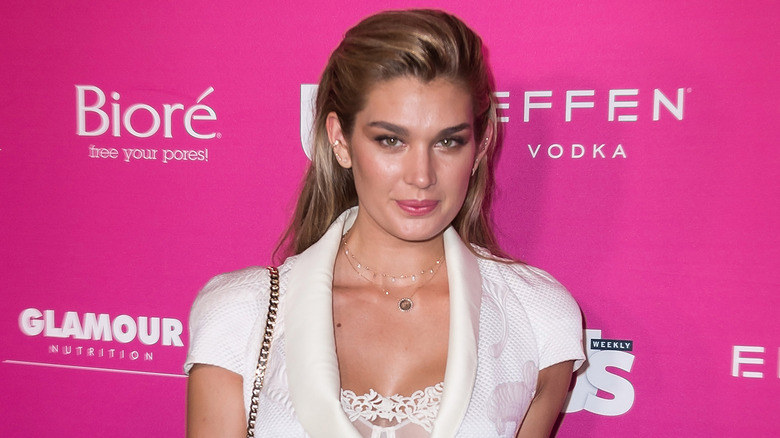 Michael Stewart/Getty Images
Shayna Taylor told Naluda Magazine that she decided to pursue a career as a chef immediately after she graduated from high school. However, a chance meeting with a Wilhelmina modeling scout temporarily sent her down a different path. Witnessing firsthand the unhealthy methods some of her fellow models used to lose weight inspired Taylor to find a way to encourage others to nourish their bodies. She did this first by working as a personal chef and later began sharing her favorite healthy recipes and wellness tips on her Shayna's Kitchen website.
Taylor has since built on her brand by creating her own matcha blend and a line of CBD products called Bottle & Stone. The latter uses hemp grown on a Vermont farm, and in a December 2021 interview with The Sage, Taylor revealed that she's a regular visitor there. "I've spent a lot of time at my hemp farm and learned a lot about the right way to do farming and growing," she said. This is just one example of the influencer's involved approach to running her businesses, which sounds like it can get pretty overwhelming. "My personal challenge has been to find a balance between being the CEO, the public face of my brands, and balancing my personal life," Taylor told The Peacock Magazine. Taylor reps her brands and stays engaged with potential customers by constantly creating new Instagram content. She also has her own wellness podcast, "A Sense of Well-Being."
Shayna Taylor's big move
In 2020, a source told OK! that Shayna Taylor probably wouldn't reconcile with Ryan Seacrest again. "She feels he still doesn't appreciate how much she sacrificed four years ago to move to New York for him," the insider said. The following year, Taylor decided to make another big move, and this time, it was something she did solely for herself. She ditched her digs in Los Angeles and started preparing to settle in Nashville, but while vacationing in Italy, she fell hopelessly in love with her surroundings. "I felt so called to step into a random real estate office and happened upon a property that made me feel like home," she wrote in a June 2022 Instagram post.
Taylor later shared her plans to turn her new Italian countryside property into a biodynamic farm. "Biodynamic farming focuses on encouraging the entire natural ecosystem," she explained. "Birds, worms, all animals, vegetables, the breaking down of vegetables, even the lunar cycle (and so much more) all serve your purpose of leaving the land better than before." Taylor's goal is to someday use what she grows on her farm to create products to sell on her website. And this isn't her only ambition; she told Naluda Magazine that she'd love to star on her own Food Network series. She also said that she has a crush on Harry Styles, so he knows who to call if he ever wants to try his hand at being a farmer.