The One Movie Hugh Grant Would Happily Shred From His Filmography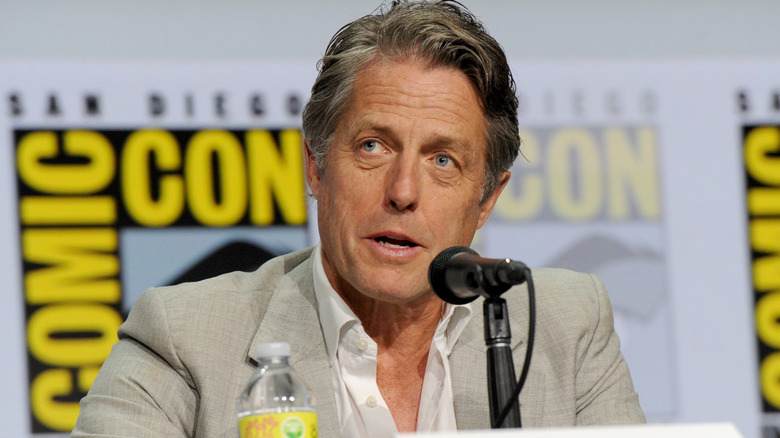 Albert L. Ortega/Getty Images
Hugh Grant is the king of '90s and early 2000s romantic comedies — "Love Actually," "Notting Hill," and "Bridget Jones's Diary," just to name a few. But the acclaimed actor has proven that he's not just a one-trick pony. After winning over the hearts of rom-com lovers in Hollywood blockbusters, he began signing up for more dramatic projects, like the 2020 HBO miniseries "The Undoing," alongside Nicole Kidman.
Grant — who is just as charming behind the scenes as he is on-screen — has let fans in on the process of playing some of his most iconic roles. In a 2018 segment for GQ, the star recalled busting out the moves for "Love Actually." He said, "The dancing scene was a terrible cloud hanging over the whole production for me. It's hard enough to dance if you're English and middle-aged and even with six pints inside you." Grant revealed that he dreaded filming the scene in the early hours. He added, "Not only that, but I thought that the scene had the capacity for being the most excruciating scene ever committed to celluloid."
While Grant may have been embarrassed about this particular moment in "Love Actually," it seems he doesn't have any regrets about starring in the film. But the same can't be said for the rest of his past work, as there's one movie that seriously made the actor cringe.
The Lady and the Highwayman was a miss for Hugh Grant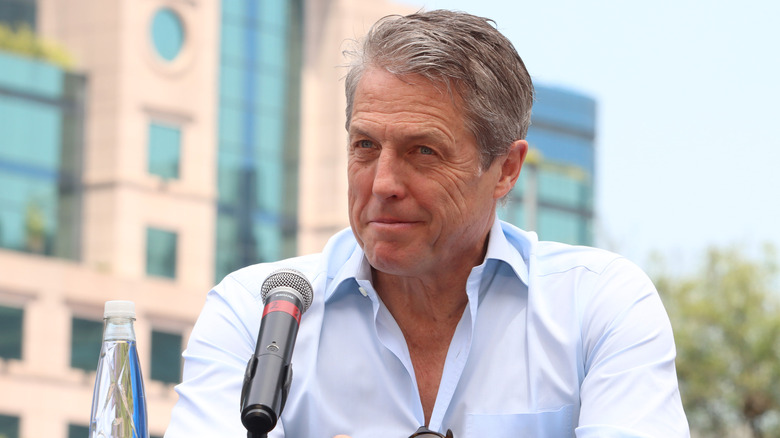 Adrián Monroy/Medios Y Media/Getty Images
In a March 2023 episode of James Corden's "Spill Your Guts or Fill Your Guts," Corden asked Hugh Grant, "You're gonna erase one movie from your IMDb page, what would it be?" Grant expressed that he didn't want to oust any of his co-stars. Then, he replied, "The Lady and the Highwayman." The audience erupted in cheers, as Grant looked down and nodded his head. He then elaborated on why this role was such a miss, adding, "I'm a highwayman. I'm meant to be sexy. Low budget. Bad wig, bad hat. I look like Deputy Dawg. When I'm tense — I don't know if this happens to you when you're acting — my voice goes up two octaves." "The Lady and the Highwayman," a 1988 made-for-TV film, takes place during the Restoration of Charles II. Featuring Grant as the lead, the movie interweaves themes of romance and treachery.
While Grant wasn't a fan of "The Lady and the Highwayman," there's one particular film that the actor had no regrets about participating in. In a 2021 appearance on "The Drew Barrymore Show," Barrymore raved about their 2007 film "Music and Lyrics." Grant chimed in, "I agree with you. 'Cause I love to hate the films I've been in, and I do hate some of them. But 'Music and Lyrics' — it's impossible to hate." According to him, the film's success was in part due to Barrymore and Grant's remarkable on-screen chemistry.
Why Hugh Grant stopped filming rom-coms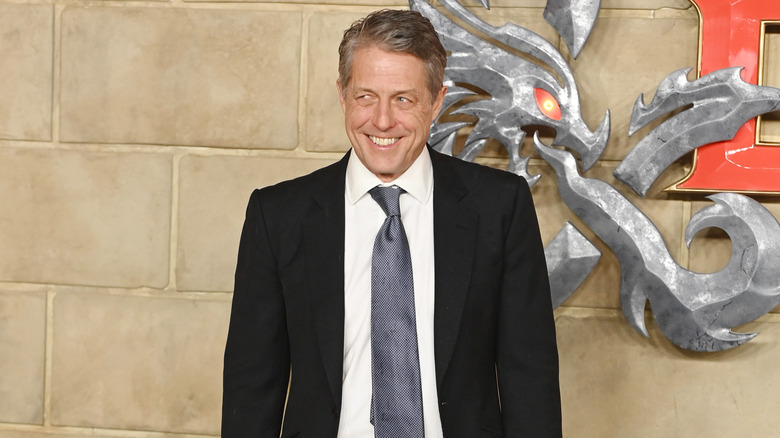 Kate Green/Getty Images
Over the years, fans have swooned over Grant's beloved characters in romantic comedy films. But according to him, those days are long over. And it's not because they fell flat like "The Lady and the Highwayman." In a 2019 Drama Actor Roundtable for The Hollywood Reporter, the interviewer stated, "Hugh, you've said that you permanently have an inferiority complex because you are 'just the guy from romantic comedies.' Is that true?" Grant responded, "Well, yes, but less now because I've gotten too old and ugly and fat to do them anymore, so now I've done other things and I've got marginally less self-hatred."
Grant once took a hiatus from filming, with the star admitting he needed some distance. In a 2020 interview with The Los Angeles Times, he said, "I developed a bad attitude from about 2005 onwards, shortly after 'Music and Lyrics.' I just had enough." But he re-entered the picture just a few years later. He continued, "Then I went back in 2009 and made another film. At that point, it wasn't me giving up Hollywood. Hollywood gave me up because I made such a massive turkey with that film with Sarah Jessica Parker ['Did You Hear About the Morgans?']." While Grant felt a bit of a let-down, he was happy to have the free time to pursue other endeavors — including those in politics.