Dua Lipa's Romance With Paul Klein Fizzled Out Quick (& She Got Back With Her Ex)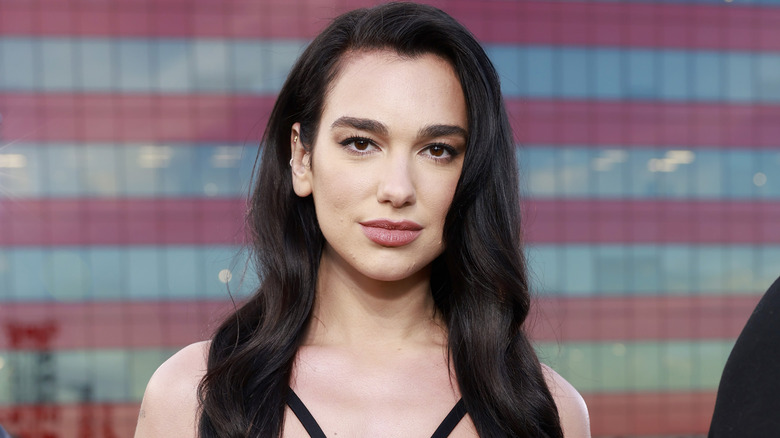 Emma Mcintyre/Getty Images
Dua Lipa rose to fame with the success of one of her biggest singles, "New Rules." It became the song of the summer in 2017, and the release of its music video made every girl want two things: a vibrant girl's sleepover and to set fire to their ex's numbers. The English-Albanian singer's catchy tune talks about how she has rules for herself, and they all revolve around not contacting her ex after they break up. The rules consist of "One: Don't pick up the phone [when he calls] ... Two: Don't let him in ... Three: Don't be his friend" because otherwise "you ain't gettin' over him." But Lipa is like all of us and doesn't always take her own advice, including after her relationship with Paul Klein.
In theory, Lipa's song makes so much sense and should be in any girl's arsenal of tips in today's dating frontier. But even after this banger was released, Lipa went back on her rules. Klein is one of Lipa's most well-known boyfriends, even if they dated for a handful of months. And after they broke up, she got back together with her ex-boyfriend Isaac Carew. Here are all the details about this modern-day dating tragedy.
Dua Lipa and Paul Klein dated for just a few months
Pascal Le Segretain/Getty & Leon Bennett/Getty Images
Even though Dua Lipa and LANY frontman, Paul Klein, only dated for less than half a year, they seemed to fall hard and fast for each other and were all over each other's Instagrams. They started dating in the summer of 2017, according to Elite Daily, reportedly meeting at the British Summertime Festival. At one point, Klein called Lipa the "light of my life" in a caption. They spent Thanksgiving together right before the news of their breakup came out later in January 2018.
A source told The U.K. Sun in January 2018 that the two singers broke up, saying they "had a really good time together" but, as with a lot of relationships, "things just didn't work out." Klein did loosely comment on the relationship in July 2018 when he came back to Instagram after deleting it on January 4, 2018 (probably right after the breakup) and having his friends post on his behalf. His reason? "... My heart got ripped right out of my f***ing chest and the internet was the last thing i needed." The post was an announcement for his new song "Thru These Tears," which is reportedly about the breakup with Lipa. The song talks about how it "hurts like hell" but he knows it's "gonna get better." Despite the heartbreak, he said it made him "not just a better writer and a better artist," but also a "better person."
Dua Lipa broke one of her 'New Rules' and went back to her ex, Isaac Carew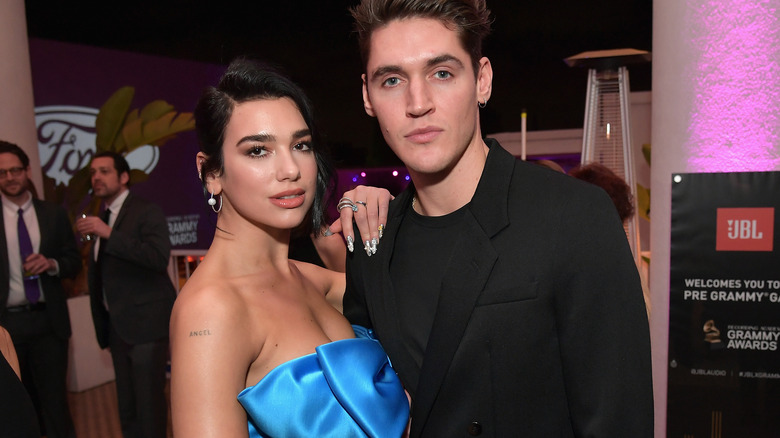 Neilson Barnard/Getty Images
After Dua Lipa's breakup with Paul Klein, the "New Rules" singer seemed to completely forgo one of her major rules: she started talking to her ex again (which was part of her massive rise to fame in the summer of 2017). The U.K. Sun reported that Lipa's breakup with Klein "brought back memories" of Isaac Carew, and she started messaging her ex again.
Lipa started dating Carew in 2015, according to Cosmopolitan, and they were together until 2017 when they broke up and Lipa started dating Klein. However, they just weren't meant to be and after getting back together in 2018, they broke up for good in 2019. The Sun reported that even though they did want to be together, her schedule just made it hard. 
Lipa went on to date Anwar Hadid for years after she broke up with Carew for good. But even they didn't last, breaking up in 2021. As of March 2023, Lipa has a new beau in the form of French music video director and filmmaker Romain Gavras, according to Elle. They've been very hush-hush about their relationship, though, which is very different from Lipa posting about Klein or Hadid on her Instagram.