Willie Nelson Has Been Arrested More Times Than You'd Think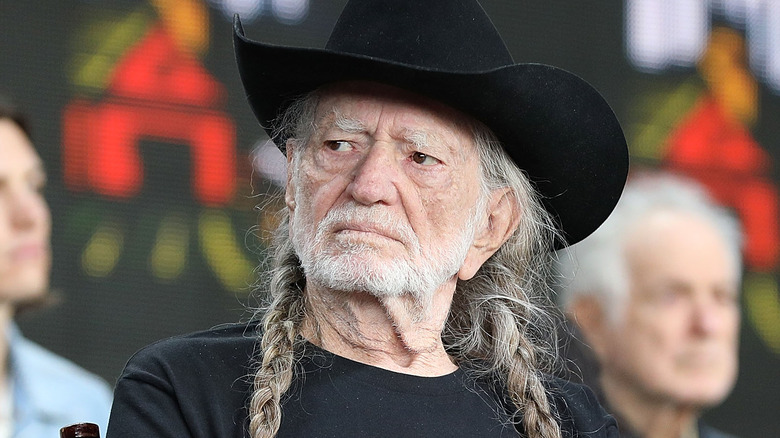 Taylor Hill/Getty Images
Willie Nelson has long advocated for the legalization of marijuana, something he's been fond of for decades. Nelson was a member of the board of the National Organization for the Reform of Marijuana Laws and has been outspoken about the need for reform. "It's a matter of time," Nelson said in 2008, "a matter of education, a matter of people finding out what cannabis, marijuana is for, why it grows out of the ground and why it's prescribed as one of the greatest stress medicines on the planet." Nelson even created his own weed company, called Willie Reserve, and the musician said on "The Tonight Show Starring Jimmy Fallon" that he had given himself the role of chief testing officer. "I haven't run across any that I didn't like," Nelson said.
But Nelson's penchant for pot has also gotten him into legal trouble many times over. He's been arrested five times because of marijuana and had troubles with the IRS in 1992. He hadn't paid his taxes and owed over $16 million, so Nelson came out with an album called "The IRS Tapes: Who'll Buy My Memories" to help cover his debt. The album was able to raise some of the necessary funds, and he settled his tax debt. This is just the beginning. His arrests around weed are equally interesting. 
Willie Nelson's many arrests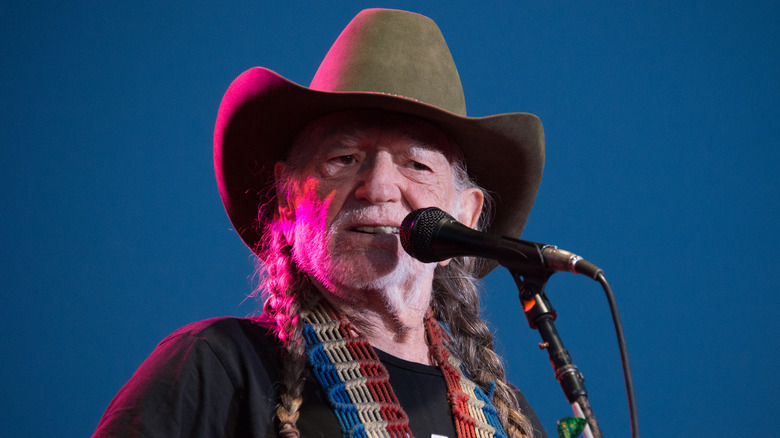 Randy Miramontez/Shutterstock
Willie Nelson was first arrested because of marijuana in Dallas, Texas, in 1974. As noted by the New York Post, he hit issues again in the Bahamas, where he spent time in jail because of marijuana possession and was banned from the country upon his release. When he returned to the United States, he visited the White House, where then-President Jimmy Carter said, "I'm glad everything turned out well for you in the Bahamas, Willie." According to Wide Open Country, he got busted again in 1994 while in Waco, Texas. The "Always on My Mind" musician was driving back from an all-night poker game when he decided to pull off the highway and sleep. Police Sgt. Michael Cooper arrested him after spotting a joint in the vehicle, and in a later account, Nelson said that the cop clearly wanted the clout of apprehending the star. "I do think that once he found out who I was, he thought this might be good for his career," Nelson later said, according to UPI. However, Nelson was later found not guilty.
It happened again in 2006, when Nelson and others on his tour bus, including his driver and sister, Bobbi Nelson, were arrested after police found substantial amounts of marijuana and hallucinogenic mushrooms. In 2010, TMZ reported that Nelson was busted again for marijuana after police found weed on his tour bus at a border checkpoint. While the amount of busts is almost humorous, some have found Nelson's legal treatment shows a special privilege.
Willie Nelson's favoritism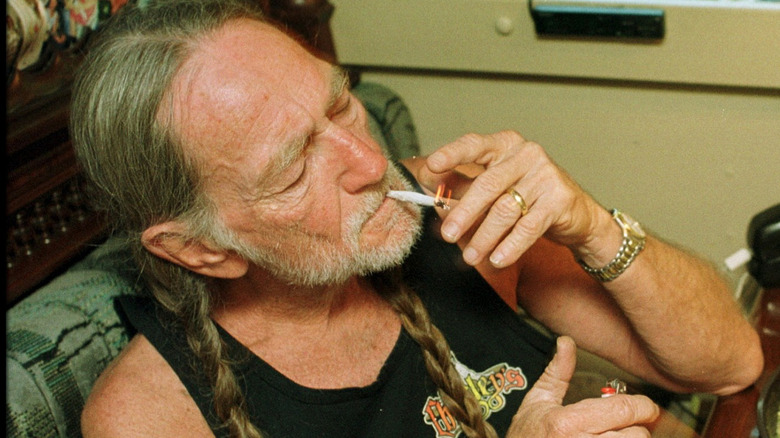 Hulton Archive/Getty Images
Willie Nelson has managed to get off scot-free from his many arrests related to marijuana, and the penalties have been light. When he and those on his tour bus were arrested in 2006, he paid a fine of $1,024 and was put on probation for six months, according to The New York Times. Some have called out law enforcement for showing favoritism to Nelson. After all, 40,000 Americans were incarcerated on marijuana charges in 2020, not to mention the criminal records they are left with. And Black Americans are hit much harder on these charges than white Americans. Law enforcement involved with Nelson has denied that they give him preferential treatment. "We treat him like anybody else," Sheriff Arvin West said after Nelson's tour bus bust.
However, Nelson feels that each arrest led to something good. In his memoir, "Willie Nelson's Letters to America," he wrote, "Across our nation, there was more awareness and then resistance to long and unjust jail sentences. Not everyone gets to sing their way out of possessing a few joints. Over the years, Black Americans have been four times more likely to get arrested than their white neighbors. White or Black, those sentences destroy lives and families, and it costs tax dollars to lock people up for nonviolent crimes ... I believe that within a decade, medicinal and recreational marijuana will be legal in all fifty states." He's certainly aware of his privilege.