Nick Cannon Eyes Newly Single Taylor Swift As Mother Of His 13th Child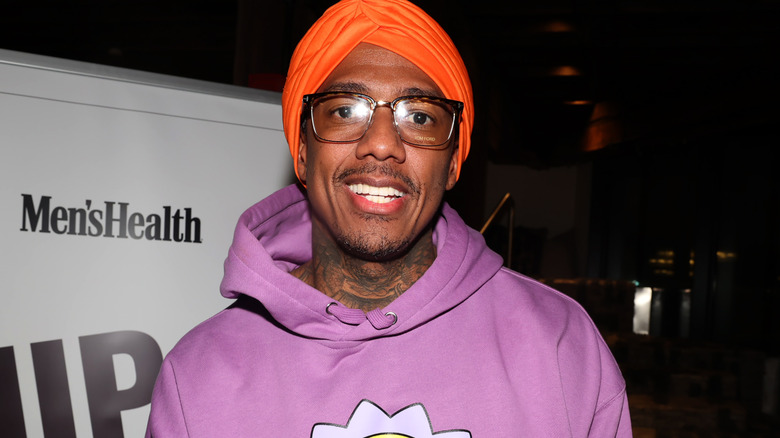 Shareif Ziyadat/Getty Images
In March, Nick Cannon announced that he and Kevin Hart were working on producing a new show called "Who's Having My Baby?" But it turned out to be a small prank to promote the real show they were excited to be teaming up on — "Celebrity Prank Wars." And although that was all fun and games, Cannon seems to be looking to a recently-single, high-profile celebrity to be the mother of his next child — Taylor Swift.
The Taylor Swift and Joe Alwyn breakup is still fresh in Swifties' minds. On April 8, it was announced that the two had split after six years of dating. "They've had rough patches before and always worked things out, so friends thought they would take some time apart but eventually come back together," a source told People. "Ultimately [they] weren't the right fit for one another." The insider added that Alwyn struggled with the singer's fame, and it all became a bit too much once COVID-19 restrictions loosened up, and concerts and tours were happening again.
The source then mentioned that they were on different pages when it came to life, as Swift didn't see a future with the British actor. However, it was also reported that the split was "not dramatic" and amicable. "They are friendly," the insider said. "They just grew apart. Taylor is staying very focused on her tour right now. There is a lot of respect still between them." Meanwhile, Cannon has also shared his thoughts on Swift's single status.
Nick Cannon believes he and Taylor Swift would 'understand each other'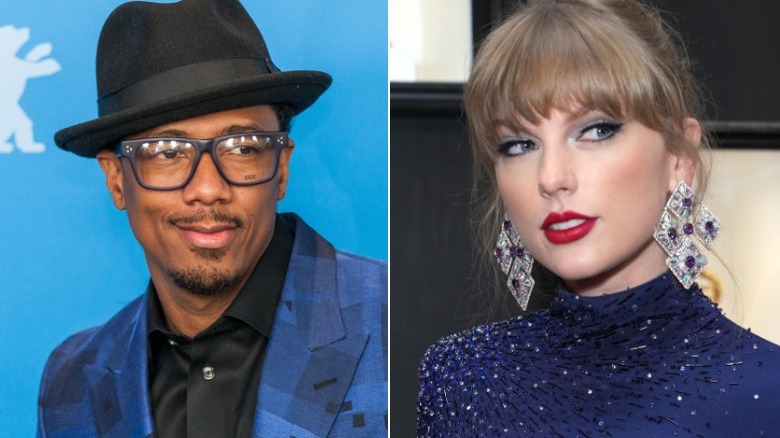 Kevin Mazur/Getty & taniavolobueva/Shutterstock
In an April 10 appearance on "The Howard Stern Show," Nick Cannon was asked — hypothetically speaking — if he would consider having a baby with the newly-single Taylor Swift. "I'm all in," the rapper responded. "First of all, she's an amazing songwriter." The former "America's Got Talent" host mentioned that he believes he would get along great with the "Champagne Problems" singer, as they both have famous love lives and know what it's like to live in the public eye. "That would be amazing," he added.
As for Swift, it was reported that she and her most recent ex, Joe Alwyn, did get to the point in their relationship where they discussed marriage and children. As far back as 2012, the "Never Grow Up" singer expressed her desire to have kids in the future, even saying she wanted 10 little ones running around her house.
Cannon seems happy with the 12 children he already has, but the thought of having more isn't exactly off the table yet. "God decides when we're done, but I believe I definitely got my hands full," he told ET in February when he was asked if he was capping the baby count at a dozen. "And I'm so focused. I'm locked in. But when I'm 85, you never know. I might."