Essential Jonas Brothers Facts For Every Fan
Kevin Mazur/Getty Images
The '90s paved the way for the stratospheric popularity of boy bands thanks to the success of groups like the Backstreet Boys and *NSYNC. When the bands and their fans started to age, a new generation of talents in the form of three siblings from the US swooped in to become the next faces of pop. Kevin, Joe, and Nick Jonas found their first big success as the Jonas Brothers with their single "Year 3000" peaking at number 31 on the Billboard Hot 100 in 2007. Keeping the tradition of boy bands alive, the song was a cover of the track by British band Busted. The hits continued to come, in addition to their 2008 Disney Channel Original Movie "Camp Rock" with the brothers singing alongside Demi Lovato.
The Jonas Brothers also grew in popularity beyond their music, becoming tabloid staples for their celebrity love lives and spouses. Not that it was easy along the way, with hurdles like expanding beyond their family friendly past. Even more, the group broke up only to reunite later. Fortunately, they came back stronger than ever and the Jonas Brothers landed their first number one Billboard hit in 2019 with "Sucker." Showing no signs of slowing down, the Jonas Brothers had a huge 2023 by earning a star on the Hollywood Walk of Fame, playing "Saturday Night Live" as the musical guest, and releasing their sixth studio album "The Album." Get ready to rock with essential facts for all Jonas Brothers fans.
Life for the brothers before the music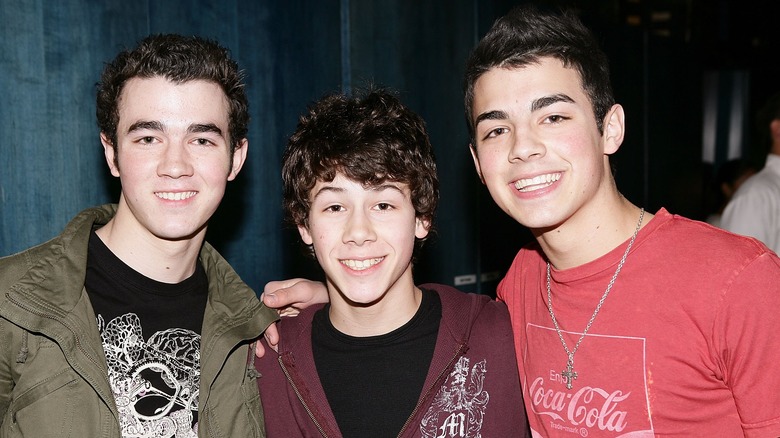 Scott Gries/Getty Images
It's not surprising that three musical siblings came from a house filled with musicians. Denise Jonas was a singer and the Jonas Brothers' dad, Kevin Jonas Sr., incorporated music into much of his career. He began singing professionally when he was only 7 years old and continued this passion into adulthood as a music program director at Christ for the Nations Institute. In his role, Kevin Sr. taught students about songwriting while continuing to write his own original Christian music. By the early '90s, Kevin Sr., wife Denise Jonas, Kevin Jonas Jr., and Joe Jonas traveled around the country in a van for the patriarch's job. "Their crib was in the back of a van, we would set up a little play area in the back when Kevin was little, and Joseph's first car seat was literally the strongbox where we kept the finances," Kevin Sr. told People.
After accepting a job as a pastor in Wyckoff, New Jersey, the family settled on the East Coast. When it came to raising the boys, Denise wanted to provide a solid foundation no matter what their career path would be. "To me, there's nothing more frustrating than being around a child who's annoying. We taught our kids proper manners," she told Good Housekeeping. Fortunately, this didn't mean stifling the creativity of her young boys. "It's important for parents not to be afraid of their kids' talents," Denise explained.
How the Jonas Brothers broke through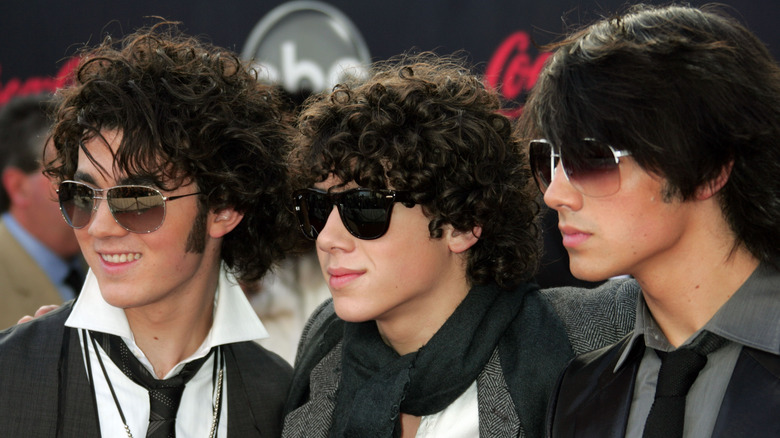 David Livingston/Getty Images
From an early age, Nick Jonas' parents knew that their son had star potential. One day, Denise Jonas took Nick with her to the hair salon and the young boy began singing. Unsurprisingly, the fellow patrons at the salon were floored by Nick's voice. "He needs a manager," someone at the salon told Denise, she recalled to Good Housekeeping. Sure enough, Nick was talented enough to land a record deal with the prestigious Columbia Records. He recorded a solo album in 2004 but before the release, Columbia discovered demos with Nick, Joe Jonas, and Kevin Jonas all playing together. As a result, Columbia shelved the solo effort from Nick and instead had the three brothers record an album together as the Jonas Brothers. 
In the summer of 2006, the Jonas Brothers released their debut album "It's About Time." More than just the music, the JoBros began their career with an ambitious three–part music video for their lead single "Mandy," directed by filmmaker Ondi Timoner. The siblings made the perfect music for their fans, as the coming-of-age experience was still so fresh for all three of them. "A lot of it is about typical teenage love stuff like 'Oh, what am I going to do if I can't see her today?' It's not stuff that we don't know about," Nick told PR Newswire. 
They scrapped the original group name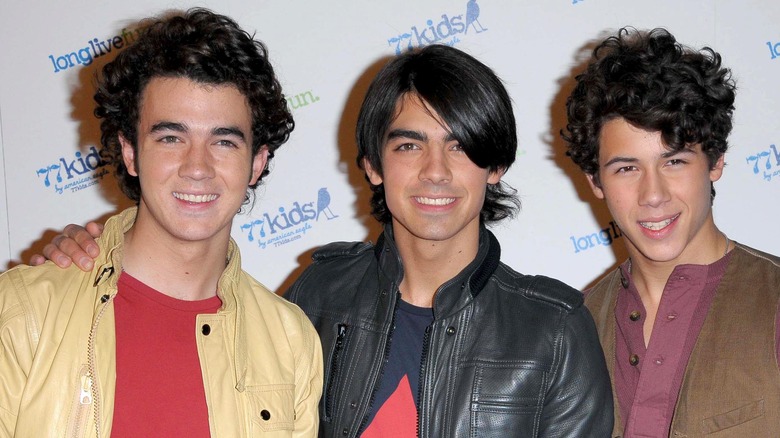 s_bukley/Shutterstock
In addition to writing many of their own songs for the debut Jonas Brothers album "It's About Time," the three teens worked with an impressive roster of producers. This included Michael Mangini and the late Fountains of Wayne member Adam Schlesinger. The Jonas Brothers also had Johnny Wright as their manager. Wright knew a thing or two about pop, as he was the former manager of Britney Spears. He knew even more about boy bands, as a previous manager for New Kids on the Block, the Backstreet Boys, *NSYNC, and Menudo, the group that once featured a young Ricky Martin.
"When Backstreet started with that Max Martin sound, it became the teen sound with Britney and *NSYNC. Then Avril came out with a more rock sound, and now it's these garage bands that are the new face of teen music," Wright told MTV. Convinced he may have found the next big act in pop, Wright signed the three Jonas brothers while he was still working with the Backstreet Boys. His original plan was to name the trio Sons of Jonas. The manager also recognized that he needed to adapt for the next generation of boy bands. "A pretty face isn't all it takes anymore. Fans understand now and can't be force-fed a formula," he explained.
By 2009, Wright was still confident that boy bands would never go away. "People are wrong when they say the bubble has burst. It's just changing," he told The New York Times.
The end of the Jonas Brothers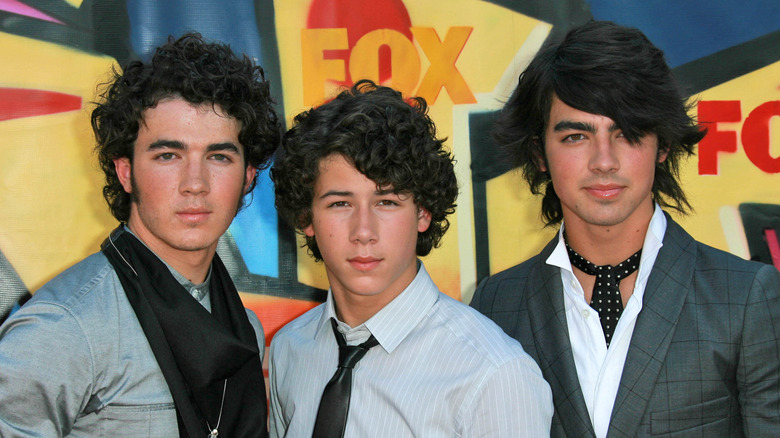 s_bukley/Shutterstock
In 2013, the Jonas Brothers appeared to still be riding high and enjoying life as one of the most popular boy bands in the world. Fans waited in anticipation for their tour... until the group dropped shocking news only two days before the first concert date: the tour was canceled. Even worse was the reason for the cancellation. "There is a deep rift within the band," a spokesman of the band told People. "There was a big disagreement over their music direction." The spokesman didn't offer much reassurance for a potential reconciliation and added "it remains to be seen" about the status of the brothers as a music act. A few weeks later, the group officially announced they were splitting up.
"To call it creative differences is almost too simple," Nick Jonas later told Rolling Stone about the group's breakup. "And I think a lot of people lost the appetite for what we were putting into the world. So, you know, we were putting up shows that weren't selling. We were making music that I don't think we were all super proud of, and it wasn't connected," he admitted. More than just putting an end to playing arenas full of adoring fans, Nick faced the turmoil of whether or not the guys would even work as brothers ever again. "I feared that, you know, we – they would never speak to me again," he said of older brothers Kevin Jonas and Joe Jonas.
What the brothers really think about Disney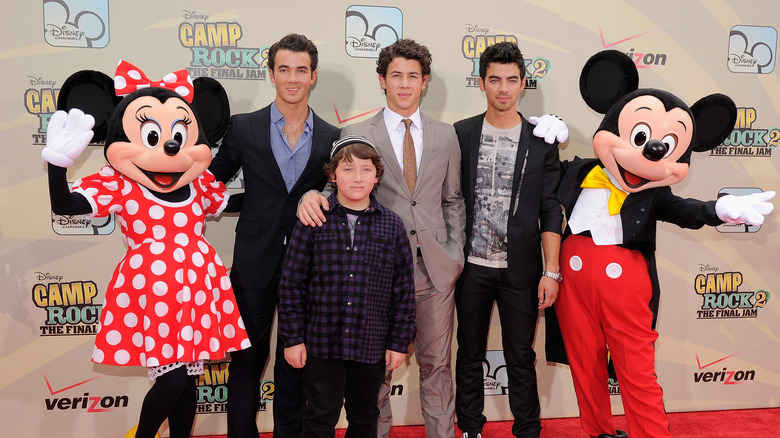 Jemal Countess/Getty Images
2008 was a great year for the Jonas Brothers. Their Disney Channel Original Movie "Camp Rock" was the most-viewed cable program of the year. The trio also appeared in the concert film "Hannah Montana/Miley Cyrus: Best of Both Worlds," which earned an astounding $65 million that year. As a result, Disney went all in on the Jonas Brothers. This included their own concert movie called "The Jonas Brothers: The 3D Concert Experience" as well as a Disney Channel sitcom titled "Jonas." While the group could clearly ride the Disney wave, the Jonas Brothers seemed poised to stay independent in their music career. "We consult with Disney, but Disney doesn't tell us what to do," the band's manager Johnny Wright told The New York Times in 2009.
After the Jonas Brothers parted ways with the network, the truth about their experiences began to surface. "I went through media training, and I hated it," Joe Jonas recalled to Vulture. "They'd teach you how to change the subject, whenever you were asked an uncomfortable question, by saying something like, 'Oh, that reminds me of my dog! I have a great story about my dog!' Playing dumb is the best way of getting out of anything," he said. While the House of Mouse launched his career, the tipping point was inevitable. "Being a part of the Disney thing for so long will make you not want to be this perfect little puppet forever," he said.
The charitable side of the Jonas Brothers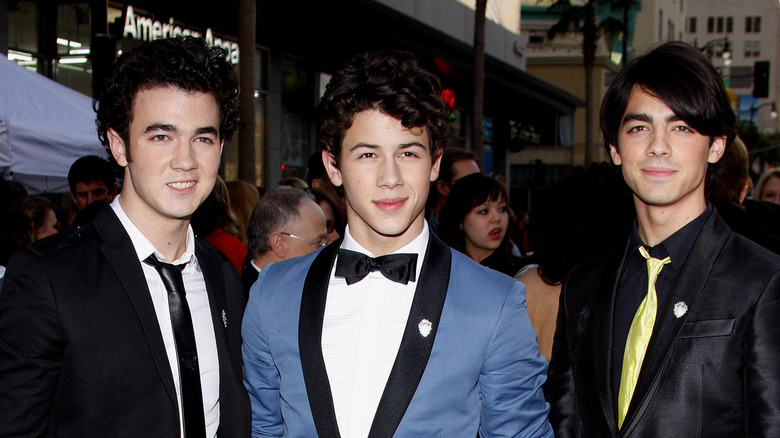 false/Shutterstock
In addition to delighting fans with their catchy tunes, the Jonas Brothers have also been involved in philanthropy throughout their career. The group helped with the 2008 Salvation Army Red Kettle Christmas campaign by playing the Thanksgiving Day halftime show. "It's very important for us to give back. We'd like to thank Jerry Jones, the Dallas Cowboys, Israel Gaither and the Salvation Army for inviting us to be part of this awesome Thanksgiving tradition," Kevin Jonas told reporters, per MTV News.
Nearly a decade later, the guys once again helped Texas following the devastation caused by Hurricane Harvey in 2017. Nick Jonas revealed that he was working with the Houston Food Bank. "I've donated already and would love for your help in donating what you can too. Praying for you Houston," Nick posted on Twitter. Even though the group was broken up, the Jonas Brothers appeared to put past differences aside to help the efforts for Houston. Joe Jonas' band DNCE teamed up with Nick and Demi Lovato to raise funds for the Houston Food Bank.
The Jonas Brothers also created the Change For The Children Foundation. At first, the focus was on helping underprivileged children. Then, after he was diagnosed with diabetes, Nick said the charity expanded to diabetes research. "We each have something we're passionate about within it. Kevin is with volunteers and Joe with the Special Olympics. We've all been able to do some great things with those organizations," Nick told MTV.
The merry wives of Jonas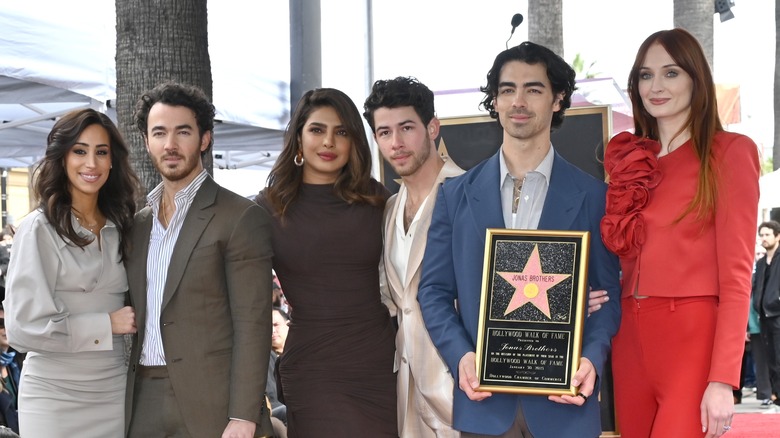 Featureflash Photo Agency/Shutterstock
The music video for the Jonas Brothers song "Sucker" shows the three brothers having fun at a castle. Equally featured in the video are Priyanka Chopra, Sophie Turner, and Danielle Jonas — aka the three wives of the Jonas brothers. In addition to participating in the delightful visuals for the guys' music, the women are crucial to the success of the band. All three ladies felt that "Sucker" should be the lead single from their album "Happiness Begins" while the brothers thought another song would be better. "Of course, they were right," Nick Jonas said to E! News. "I think all of us definitely share our music with our other halves. They're all better music critics than we are, especially for our own stuff, and have a good sense of what will work," Nick added about the group's significant others. 
If it looks like the ladies are having fun in the music video, it's because they have developed a connection beyond the familial relationship. "It's nice to have built-in girlfriends who are actually really cool, who I can hang out with and we can really talk to each other about, like, how crazy the boys' lives are," Turner said in Elle of marrying into the Jonas clan. "I've never had a sister, so it's really nice to have Danielle and Sophie, and just inheriting the family by proxy," Chopra said in Elle about her two sisters-in-law. Chopa also revealed that with Sophie, "we have the most fun when we go out together."
The Jonas Brothers' religious upbringing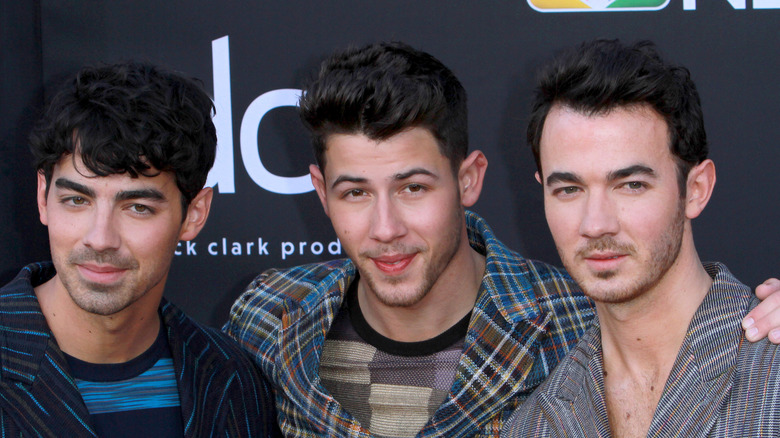 Kathy Hutchins/Shutterstock
All of the Jonas Brothers grew up with religion, which shouldn't come as a surprise given that their dad was a pastor. "I sat in the first pew of the church, and I had to wear a suit every Sunday, because my parents wanted me to be this role model that I didn't always want to be," Joe Jonas told Vulture. Joe admitted that he struggled to figure out what spirituality meant for him and shared that a financial scandal at his family's former church shifted his outlook. "After that the concept of church really upset me for a long time. I mean, I believe in God, and that's a personal relationship that I have, but I'm not religious in any way," he confessed.
When Nick Jonas signed a solo record contract in 2004, many of the songs he recorded were religious in nature, including his lead single "Joy To The World (A Christmas Prayer)." The album was supposed to feature the song "Dear God" but instead, the record company added Joe and Kevin Jonas into the mix to turn the album into the debut of the Jonas Brothers. When Nick and Priyanka Chopra decided to become husband and wife, they had two different ceremonies in India focused on two different religions. The first was a Christian ceremony with his dad officiating the wedding. The following day, the couple had a traditional Hindu ceremony.
The Jonas Brothers fell for fellow stars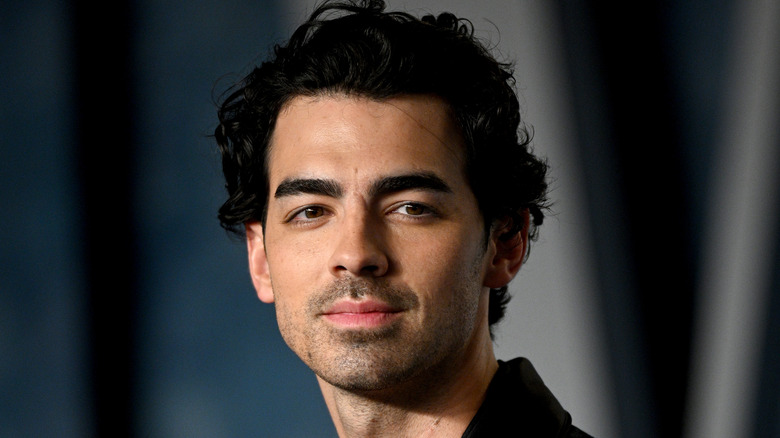 Lionel Hahn/Getty Images
In the summer of 2008, Joe Jonas and Taylor Swift struck up a relationship. There may have been sparks when Swift played her song "Should've Said No" in the 2008 movie "The Jonas Brothers: The 3D Concert Experience." She and Joe even share a few moments of duetting vocals. These two pop stars were all over the news not just for the romance but for the spectacularly quick ending after only a few months together; Joe famously broke up with Swift in a 27-second phone conversation. Of course, Swift would go on to date other stars and Joe would later find long-lasting love with another A-lister, "Game of Thrones" actor Sophie Turner. Joe and Swift's drama seems to be water under the bridge, and the two are apparently friendly now. 
Nick Jonas connected with actor Priyanka Chopra, who also happens to have a music career. After becoming a huge Bollywood star, she aimed to become a crossover sensation with her single "In My City." Even when the song became an NFL anthem for Thursday night games, she stayed humble. "I'm a new artist and nobody knows me here and I'm not delusional about it. I know I have flaws," she told the Los Angeles Times. With a few mutual friends, Nick first reached out to Chopra in a private Twitter message. The couple went on their first date in May of 2018 and within months the two announced their engagement and married by the end of the year.
Yes, there is a fourth Jonas brother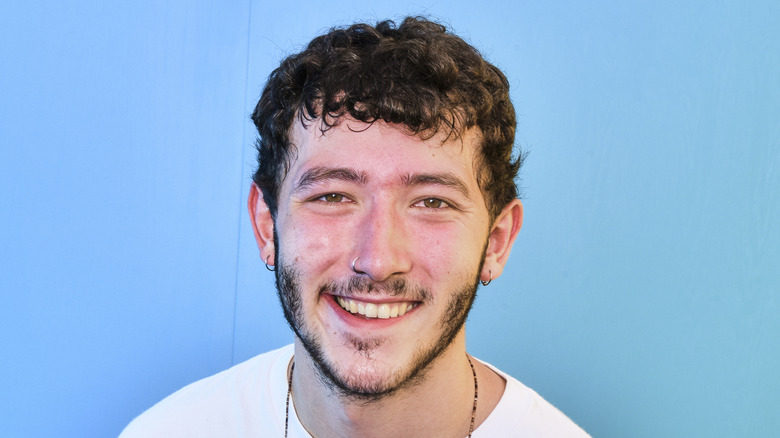 Irvin Rivera/Getty Images
For all the talk about the three Jonas Brothers, there is actually a fourth boy in the family. Franklin Jonas is the last of the siblings, eight years younger than the next oldest Nick Jonas. His nickname is Frankie and he made several cameos with his brothers in the Disney sitcom "Jonas." Still, many people don't know much about Frankie and if they do, it's a sense of sympathy for missing out on the spotlight of his famous siblings. "I had a little girl hand me a note last week and say, 'This is for Frankie. I feel sorry for him.' I'm like, 'Don't! He loves his life. He's not complaining," mom Denise Jonas told Good Housekeeping. Denise and Kevin Jonas Sr. had big plans for their fourth born. As Frankie said in Bustle, "They were trying for a girl. My name was supposed to be Destiny."
Just don't refer to him as the "Bonus Jonas." While he may not have found success as a musical artist, Frankie still became famous in an unexpected way – as a TikTok star. As of 2023, his TikTok account @iamfrankiejonas had just under two million followers. Part of his appeal was brutal honesty when it came to talking about therapy and life outside of the Jonas Brothers. "He's done a lot of healing behind the scenes, and this is his way of bringing you into his own universe. He has a lot of fun with it. The guy is the social media star we honestly need," Joe Jonas said.
Nick Jonas' Broadway career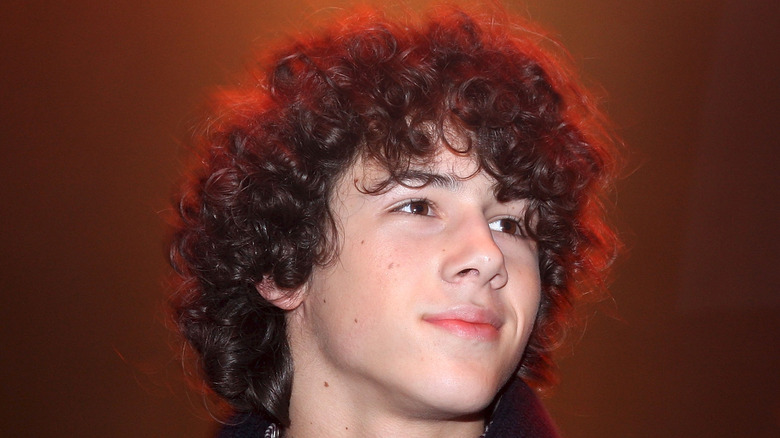 Stephen Lovekin/Getty Images
Nick Jonas showed signs of his future as a singer when he used a turkey baster as a microphone as a toddler. As he shared in People, he remembered telling his grandmother, "I need to practice. I'm gonna be on Broadway." He also grew up watching musicals — his favorite was "Peter Pan" with Mary Martin in the titular role. 
Just as he predicted, Jonas soon hit the Great White Way. In 2001, he made his Broadway debut in "Annie Get Your Gun." After that, he appeared in a production of "Les Misérables" as Gavroche. His other early Broadway credits include "Beauty and the Beast" and "A Christmas Carol." And in 2010, he headed to London's West End to play the role of Marius in "Les Mis."
After leaving the theater and becoming a music star, Jonas returned to New York City in 2012 to show his live acting abilities as J. Pierrepont Finch in the musical "How to Succeed in Business Without Really Trying." Even having just performed in the musical "Hairspray" in Los Angeles, Jonas admitted it was difficult learning some of the more complicated dance routines for Broadway. "I feel a little bit more comfortable with my body. I'm still trying to figure it out," he said at a press conference, per Entertainment Weekly. He once again returned to Broadway in 2023 for a limited six-night engagement with each night dedicated to a different Jonas Brothers album.
The truth about the Jonas Brothers' purity rings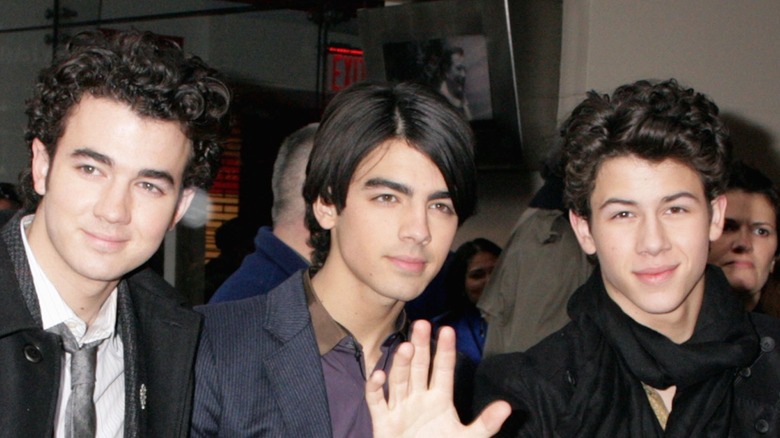 Everett Collection/Shutterstock
Coming from a religious family, it was conflicting for the Jonas Brothers to all of a sudden have millions of adoring fans hoping to become romantically involved with each of the heartthrobs. On top of that, they were Disney stars and needed to keep up squeaky-clean reputations. So, they leaned into it and all started wearing purity rings.
"Our parents asked if we wanted to, and we were, like, 'Yeah,' so it's awesome," Joe Jonas told Newsweek about their jewelry. Still, mom Denise Jonas knew that there would be temptations. "They are men. They have desires. They have testosterone. If they make a mistake, I'm not going to hate them. I don't think they are above or below being seduced," she said in Good Housekeeping.
The rings didn't last forever, and Kevin Jonas was the first to remove his ring. Looking back, the guys said that what started as a wholesome idea turned into a running joke about the band. "We just kind of decided at one point, 'look, this is not who we are. We don't need to be wearing this anymore. This is annoying. People are making fun of it anyway,'" Joe explained on "The Late Late Show With James Corden."
How the brothers went from teen stars to dads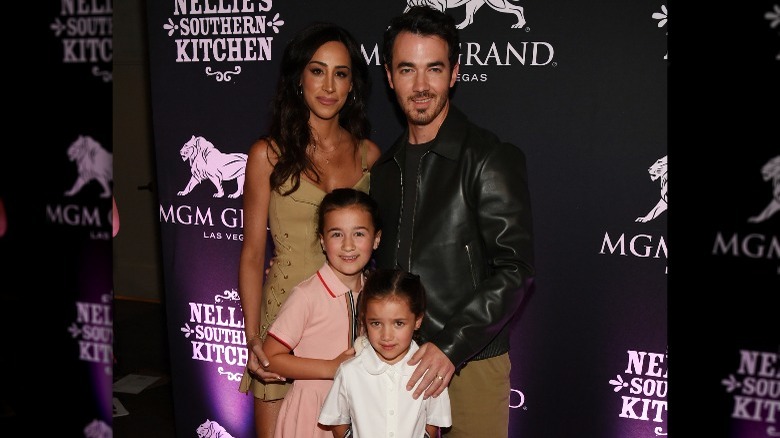 Denise Truscello/Getty Images
Though millions of fans likely dreamed of marrying a Jonas brother and starting a family, only a select few were part of this reality. The first Jonas to have a child was Kevin when he and wife Danielle Jonas welcomed daughter Alena Rose Jonas together in 2014. Two years later, the couple had their second daughter together, Valentina Angelina Jonas. For Kevin, he loved the change from what he was used to growing up with only boys in the house. "I'm getting to relearn what young women want in their life from an early age, which is so cool to see because I didn't experience it. It's all new to me," he told People. 
Joe Jonas had two daughters as well with his wife Sophie Turner. The first was Willow in 2020, and due to restrictions related to the COVID-19 pandemic, the singer spent extra time with his family. "To be in one place for a solid amount of time and just having my feet on the ground and be with my immediate family, is time I don't think I'll get back. I'm so thankful and grateful," Joe told CBS. In 2022, Joe and Turner had a second daughter. That same year, Nick Jonas and Priyanka Chopra Jonas brought home their daughter Malti who spent 100 days in the NICU after her birth. Nick shared the news with a touching Mother's Day post on Instagram with an adorable photo of his family.
Inside the private life of Kevin Jonas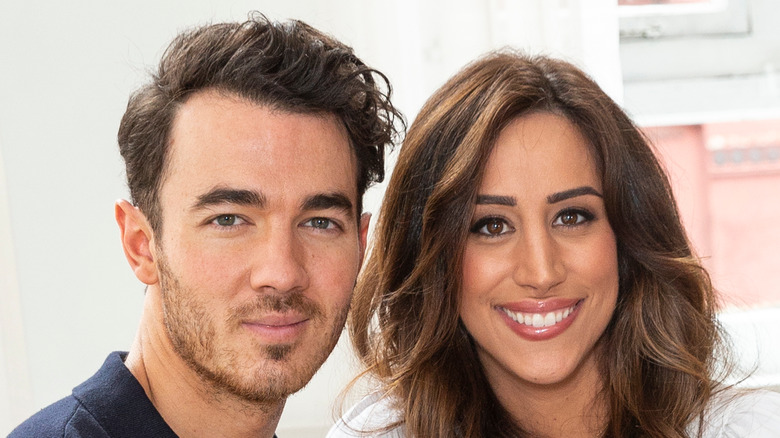 lev radin/Shutterstock
The oldest Jonas brother, Kevin, was actually born with the given name Paul Kevin. In addition to the band, Kevin found success as a reality TV star when he and his wife Danielle Jonas starred in the E! series "Married to Jonas." When talking about her famous husband, Danielle said that most people want to know if Kevin serenades her at home. "Yes, he plays the guitar a lot, especially when he's not watching his TV show," she joked to PR.com. Yet, just when she wants alone time? "Then he wants to come out with his guitar and play." 
Even with Kevin's fame, the relationship actually started from a young age and he was the one to pursue Danielle. "I didn't want her out of my sight. She actually ran away twice," Kevin joked. After tying the knot, the couple wrote a children's book together called "There's a Rock Concert in My Bedroom" inspired by their two daughters. "The love and care they show each other on a daily basis inspired this story, and we are so proud to share how these girls not only uplift us and each other, but are creative, caring rock stars in their own right," the couple told People.
Sticking with reality TV, Kevin became the co-host of the ABC competition series "Claim to Fame" in 2022 alongside his youngest brother Frankie Jonas. The show was such a success that the network renewed the show for a second season.
Why the Jonas Brothers reunited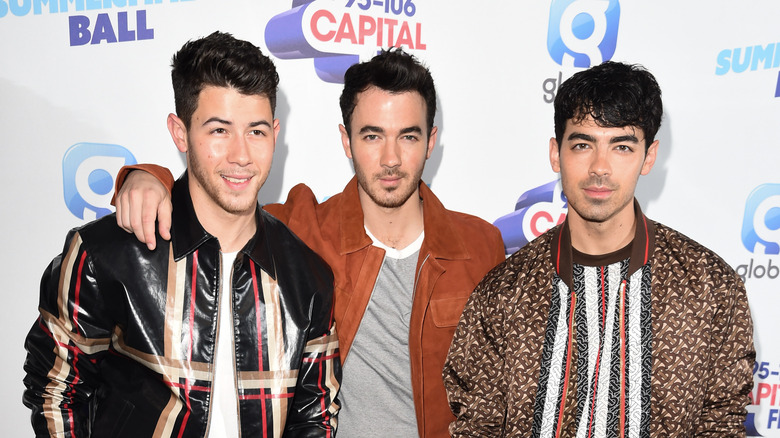 Featureflash Photo Agency/Shutterstock
After they split up in 2013, it appeared the Jonas Brothers were done for good. What's more, the youngest brothers Nick Jonas and Joe Jonas went on to have thriving side projects in music. Nick released his fourth solo album "Spaceman" in 2021 in addition to another album with the band Nick Jonas & the Administration. Joe found success as the lead singer of "DNCE" including their hit singles "Cake by the Ocean" and "Toothbrush." 
But in 2019, the brothers were ready to give their band another shot. "It started as a seed planted in my brain by a few Twitter comments," Nick told Entertainment Weekly. "There was a few comments about how badly someone wished we would come back together," he added. Even more, he saw these fans singing along to the debut single "Year 3000," which started all their success. However, the band stopped playing some of these early songs and lost sight of who they were as a group. "We were so at odds with our authentic selves and our creative center ... that we had started to let our insecurities lead the conversation," he said.
The guys credited Nick for breaking up the band but also being the first to suggest they reunite. After working on a documentary about their previous glory, the guys spent much more time together and felt that old spark only offered by their combined talents. "We felt like we want to feel that magic again," Nick explained on SiriusXM.