Jeremy Renner's Sense Of Humor Shines In First Late Night Appearance After Snow Plow Accident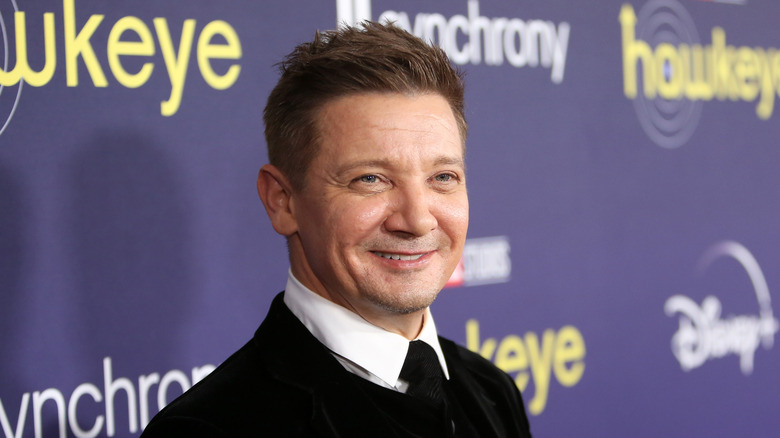 Jesse Grant/Getty Images
Despite his recent snow plow accident, Jeremy Renner hasn't lost his sense of humor. In a video posted to Twitter, the Marvel actor shared that it wasn't a great day for him in the hospital, so his mother and sister treated him to a "spa day" to lift his spirits. "First shower in definitely a week or so," he said in the video before quipping: "Gross!"
The "Hawkeye" actor is the life of the party — even his superhero co-stars know that. During an appearance on "Jimmy Kimmel Live," he and his fellow "The Avengers" castmates were asked who among them was tasked with social gatherings. Robert Downey Jr. joked that he was in charge of brunch while Renner was tasked with night activities — referring to his fellow Avenger as "Pluto, Lord of the Underworld," because "that's what it's like if you go out with him."
In a candid interview with Diane Sawyer, Renner refused to be defined by his accident. "I shift the narrative of being victimized or making a mistake or anything else," he said. "I refuse to be f***ing haunted by that memory that way." He highlighted his family's endurance, calling it "real love." Now, Renner is letting his sense of humor shine through again during his first late-night appearance after his snow plow accident.
Jeremy Renner thought the ICU was haunted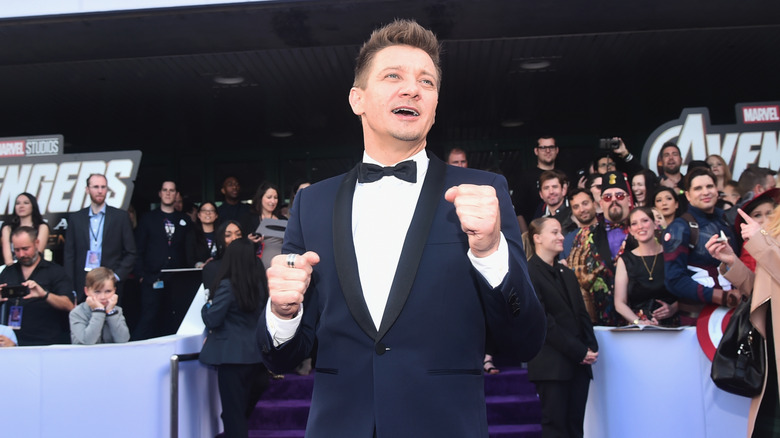 Alberto E. Rodriguez/Getty Images
During his recent appearance on "Jimmy Kimmel Live" on April 10, Jeremy Renner showed that his sense of humor remains intact despite the harrowing snow plow accident that landed him in the ICU. The actor spoke about his experience in the hospital, admitting that he was kicked out of the first ICU he was placed in. "They put you on so many drugs, and it was sort of an 'under construction' ICU," he said. "So they put me in, like, a janitor's closet."
The "Avengers" actor added that there was no bathroom, the lights flickered, and he was surrounded by people he thought were dying — humorously speculating that the place was haunted. He then joked that the letters "I-C-U" could very well translate to "I see you," further confirming his theory. "I am going back to this hospital this week to apologize to every one of those nurses," Renner admitted.
Renner took to Instagram to promote his first interview since the New Year's Day incident, expressing gratitude to those who supported him. He even light-heartedly offered "Free Snowcat Rides" at his house, joking about getting his snow plow up and running again. Too soon, Jeremy Renner, too soon.