Why Shemar Moore's Estranged Father Spent Time In Prison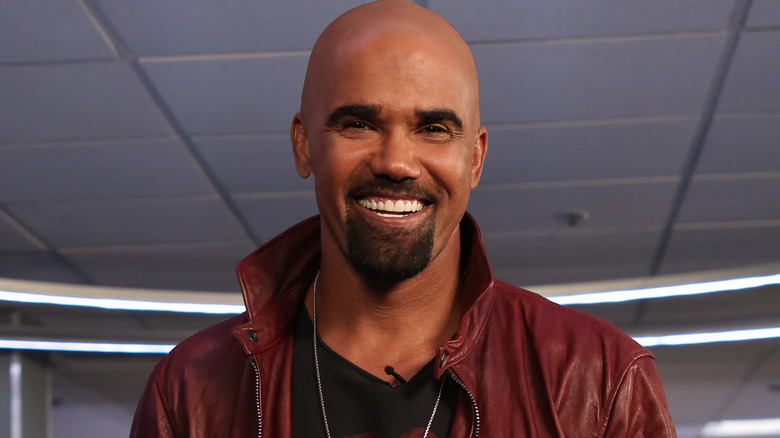 Paul Archuleta/Getty Images
Shemar Moore is his mother's No. 1 fan. Even before Marilyn Wilson died in February 2020, Moore often showed off their close bond on social media. "DREAM VACATION!!!! ..... Journey of TWO Dreamers..... 'Partners in Crime,'" he captioned a June 2019 Instagram post that featured the two enjoying each other's company at a bar. The "S.W.A.T." star had many reasons to be close to Wilson.
As an only child, Moore spent his formative years living abroad with his mother, who worked as a math teacher in Denmark, Bahrein, and Ghana. But Wilson's work wasn't the only reason she left the United States with her young Black son. "My mother didn't want to raise me in a racist environment any more than she had to," Moore told Ability Magazine in 2009, explaining that he was born in 1970, not long after the assassination of Martin Luther King. "It was tough. But ... she was able to get me out of that kind of racial unrest."
The bond between "The Young and the Restless" star and his mother continued to strengthen and remains strong to this day. After welcoming his first child in January, Moore made sure to include Wilson in his announcement. "Grandma Marilyn is in heaven puff puff passing, drinking her wine, and doing her happy dance... I LOVE and MISS YOU everyday Mom," he captioned the Instagram post. It's clear Moore has nothing but love for his mother. His relationship with his father, however, is a lot more complicated.
Civil unrest influenced Shemar Moore's relationship with his father
Shemar Moore's mother did her best to shield her son from the civil unrest of the 1960s, but her efforts could only go so far. Shemar's father was absent during his early years due to being incarcerated. "My father ran with the Black Panthers in the '60s," he said on "The Kelly Clarkson Show" in 2020. "And he got himself into some trouble. And he ended up doing four years in San Quentin." But Sherrod Moore's involvement in the civil rights movement wasn't the only reason Shemar didn't have a strong relationship with his father. 
Sherrod wasn't the best partner to Marilyn Wilson, Shemar said on "Larry King Now" in 2016. Because of this, the "Criminal Minds" alum felt the need to choose a side. "I defend my mom," he told King. "He wasn't good to my mom." While Wilson moved abroad to take Shemar out of a racially inflamed situation, she also had other reasons for leaving. "We did that to protect the family unit ... my father was erratic in being consistent and doing right by my mom," he added, describing his mother's decision.
Despite his father's absence, Shemar believes that his time in prison had a positive impact on him. "That's where he had time to think, make decisions, reform himself," he said on "The Kelly Clarkson Show," adding: "He came out a different person. Not perfect, but seeking basic goodness."
Shemar Moore had a relationship with his father
Despite Sherrod Moore's absence during Shemar Moore's childhood, the actor still desired a relationship with his father in adulthood. "We're not very close, but ... my father is in my life, but on my terms," he said on "Larry King Now." Shemar has been able to overcome some of their differences and support his father during challenging times. "I made a decision to help him because he was in need," he told King. "So I bought him a place to keep him safe."
Shemar held no ill feelings but understood he couldn't make decisions for his father. "I wish the best for him, but it's up to him to live his life," he said. Despite not being close, Shemar appreciates Sherrod for his elemental role in his life. "The man who helped bless me with this beautiful thing called Life," Shemar captioned a Father's Day Instagram post in 2013. Shemar also showed admiration toward his father in other respects. "He is not perfect by any means but He has lived and is still living an extraordinary Life ... He Is truly one of a kind!!!!"
Sherrod died in January 2020, just weeks before Shemar's mother. In a Facebook post, Shemar paid his respects and mused about his feelings for his old man. "I wish we had made time to get to know each other... but... we didn't," Shemar wrote. "I am grateful for you giving me life."