Melania Trump Shuts Down Rift Speculation After Laying Low Amid Donald's Arrest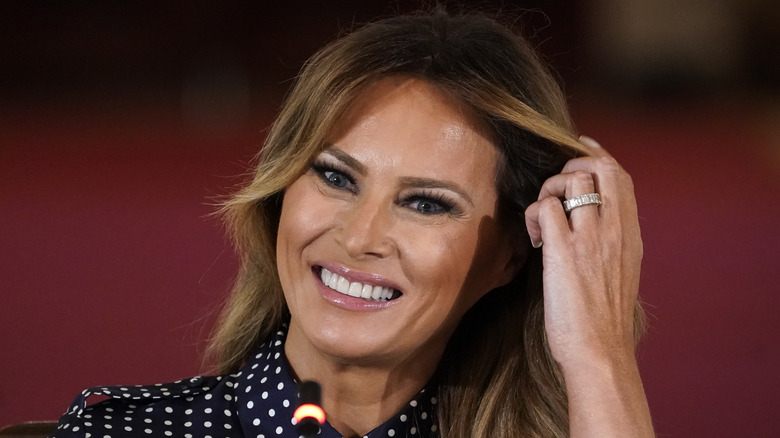 Drew Angerer/Getty Images
Former First Lady Melania Trump has broken her silence after rumors of a rift in her relationship with her husband, former President Donald Trump. On April 4, Donald was indicted on 34 counts relating to his business. According to Manhattan District Attorney Alvin Bragg, who brought forth the papers to charge Donald, he falsified business records. The first count alleges Donald's "intent to defraud and intent to commit another crime and aid and conceal the commission thereof, made and caused a false entry in the business records of an enterprise, to wit, an invoice from Michael Cohen." This count is regarding Donald's former attorney Cohen allegedly paying hush money to adult film star Stormy Daniels, and is undoubtedly the most widely publicized piece. 
Donald pleaded not guilty to all of the charges brought against him, and while the scandal has earned him a lot of press, so has his wife's absence. According to The Independent, the former first lady did not accompany Donald to his hearing in Manhattan nor his speech at Mar-a-Lago. In March, a source told People that Melania is basically living her own life. "She remains angry and doesn't want to hear [the alleged hush money payment] mentioned," the insider claimed. "She is aware of who her husband is and keeps her life upbeat with her own family and a few close friends."
But Melania has had enough of the negative headlines regarding the alleged rift, and is clapping back at the press.
Melania Trump's office claps back on social media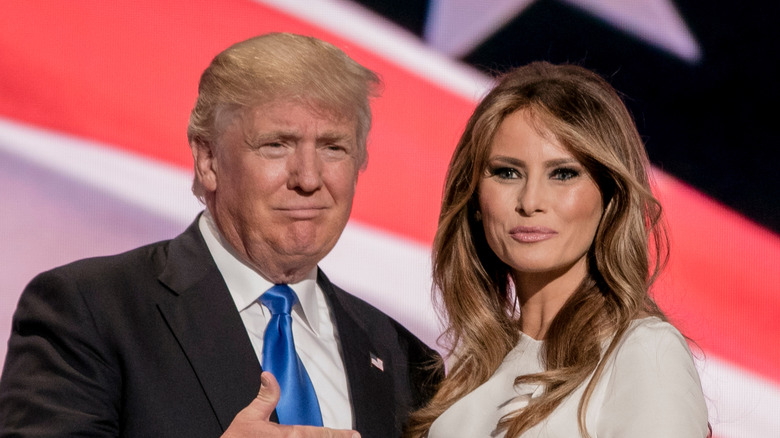 mark reinstein/Shutterstock
Melania Trump sets the record straight following her husband, former President Donald Trump's legal woes. After Manhattan District Attorney Alvin Bragg's decision to charge Donald with 34 felony counts of business fraud, the former first lady took to her official Twitter page to address the speculation that there is a rift between herself and Donald. "News organizations have made assumptions about the former First Lady's stance on subjects that are personal, professional, and political over the past few weeks," the statement read. "In these articles, unnamed sources are cited to bolster the author's claims." A follow-up tweet asked readers to exercise "good judgment" when determining the credibility of the claims in various publications. 
Many social media users took to the comments section to weigh in how authentic they thought the post was, and reviews were split. "I would Never believe anything written about Melania Trump unless it was clearly her quote or demonstrably her voice. God Bless you, I honestly believe that you are our finest First Lady in US history," one person wrote in Melania's defense. "So, why no mention of your husband's indictment and arrest?" one of her critics added.
The post marks the first on Melania's "Office of Melania" account since she retweeted a post about her "Be Best Initiative" on March 9. The day before, she shared a post from her personal page in honor of International Women's Day. Interesting, to say the least.