RHONJ: Where Dolores Catania Stands With Dina Manzo Today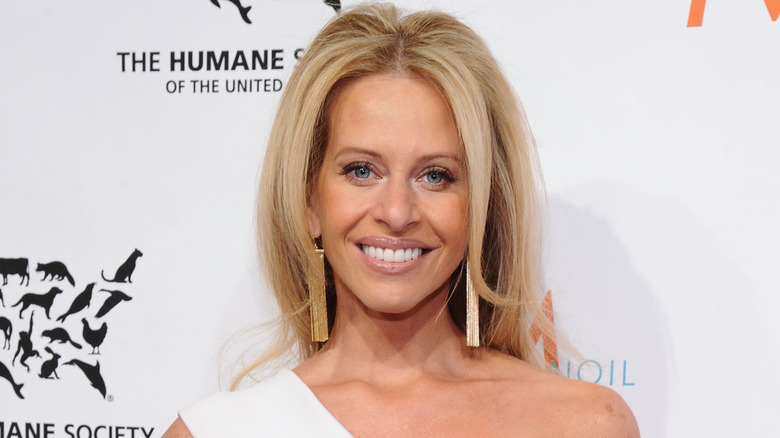 Ilya S. Savenok/Getty Images
Since the "The Real Housewives of New Jersey" franchise started in 2009, fans have immersed themselves in the show's various feuds and friendship breakups. One fractured relationship that has continued to attract viewer attention is the former friendship between Dina Manzo and Dolores Catania. While the two reality stars were once close friends, fans began to notice the two weren't on the best of terms ahead of Teresa Guidice's wedding to Luis Reulas. Back in May 2022, it was revealed that Catania was absent from the "Standing Strong" author's engagement party. 
After the news made headlines, "RHONJ" enthusiasts discovered that she was left out due to Manzo's attendance, which was confirmed on "The Slut Pig Podcast" by Guidice during an interview. "I know her and Dina do not speak. But Dina's in California, and Dolores is here. So I can have relationships with both of them," she explained. "But because it was a small, intimate party, I was like, '[Dolores] is going to be at the wedding; she's going to be fine.'" In an additional interview with Us Weekly, Catania concurred with Guidice's statement before admitting to not having "any thoughts" on the matter. "If I wasn't invited to the wedding, that's a different story," she told the news outlet. Join us as we look deeper into Manzo and Catania's feud and where they stand with each other today.
Dolores Catania and Dina Manzo refute claims of a big fight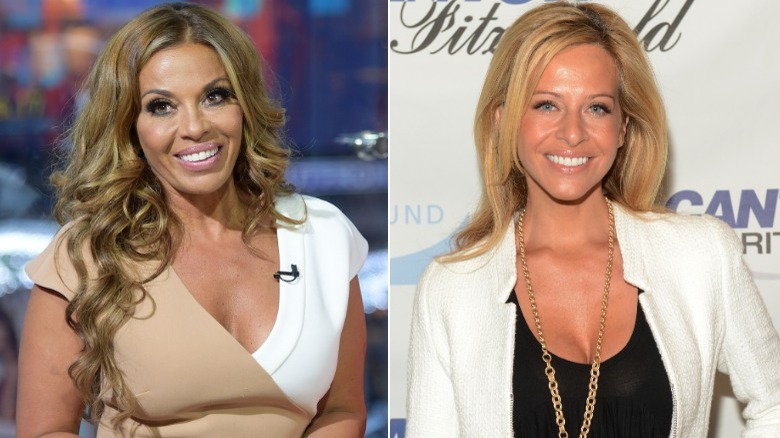 J. Kempin & Noam Galai/Getty
Despite various claims of dramatic falling out, Dina Manzo and Dolores Catania have shut down the rumors in interviews. During an appearance on "Watch What Happens Live!," the reality star informed Andy Cohen that there were "no issues" between the two. "We just kind of separated ways, and our friendships just dissipated... it's not a thing," she added. A year before her admission, Catania attributed their fractured friendship to Manzo moving away from the east coast. "She moved to California, I'm here on the show, she's not. Long before she moved to California, she was on the show, and I wasn't, and I was doing different things," she told Page Six.
Catania also added that their friendship didn't survive due to her being on a "different journey" than Manzo. "But we didn't have a fight. ... sometimes friends have expiration dates." Manzo echoed similar sentiments during a Q&A video interview posted on All About TRH's Instagram. "Let me first say that Dolores and I have been in the same room since our falling out of friendship," she explained. "We didn't have, like, we didn't have this huge fight. We both saw each other at Teresa's mother's funeral. We were so nice to each other." While Catania and Manzo are no longer close, the demise of their friendship was a long time coming.
Dina Manzo says friendship with Dolores Catania started to crumble after a phone call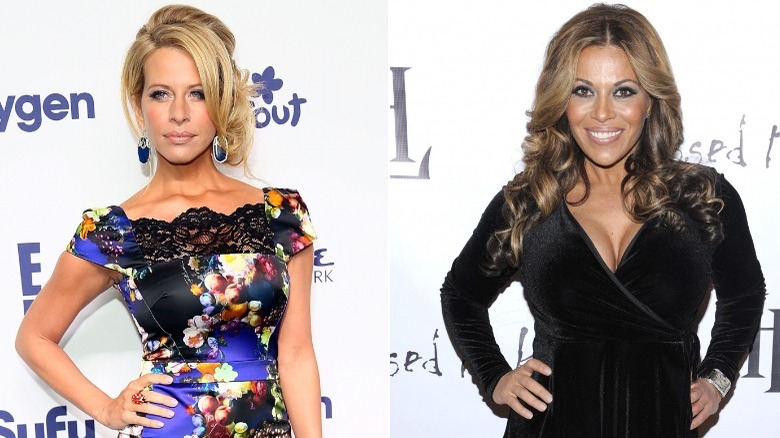 Matthew Eisman & Astrid Stawiarz/Getty
While Dolores Catania has refrained from giving details about her nixed friendship with Dina Manzo, the latter has held nothing back. In a 2018 interview with Jeff Lewis, the former reality TV star seemingly hinted that Catania broke her trust. "Dolores and I were super close. Like season one, she was actually one of the original cast members that was supposed to come on as my best friend because we were best friends," she recalled according to Reality Blurb! Dina then explained that their friendship started to crumble after she heard Dolores bad-mouthing her ex-husband, Tommy Manzo, on the phone. "That's what made me take a step back from our relationship, but I didn't say anything because I was like, now I know, let me just downgrade the friendship," she explained.
Four years after her interview with Jeff Lewis, Dina seemingly hinted at another reason behind her friendship breakup with Catania, which ironically involved Tommy. Back in 2021, Dina's ex-husband was charged and indicted with robbery and assault after authorities connected him to her violent 2017 home invasion. In an effort to clear his name, individuals wrote character witnesses in support of Tommy, including Dina's sister Caroline, as noted by NJ.com. However, in the comment section of the "Real Housewives" Instagram account, Dina revealed that Catania also wrote a letter, which seemingly put an end to their already fractured friendship.