What Bella Hadid Has Said About Her Lyme Disease Diagnosis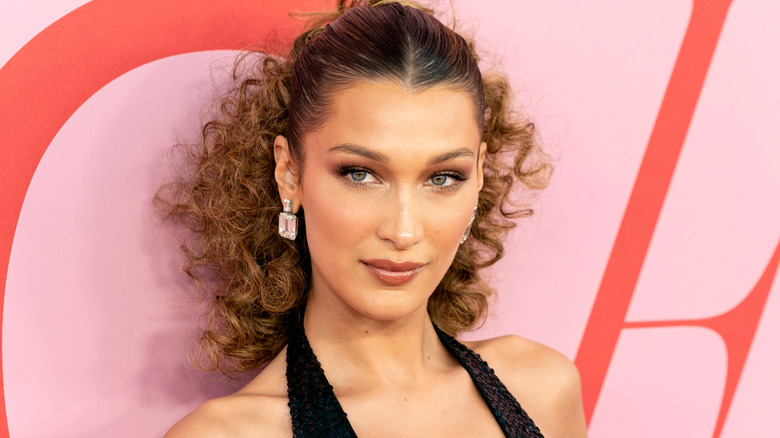 Ovidiu Hrubaru/Shutterstock
Beyond the glitz and glamour of Hollywood, celebrities, of course, deal with the same things "regular" people do. This includes health issues and illnesses, including one disease that impacts a handful of well-known people: Lyme disease. The disease can lead to several debilitating symptoms including fatigue, severe headaches, rashes, face paralysis, and arthritis. Celebrities like Amy Schumer, Kelly Osbourne, and Ben Stiller were all diagnosed with Lyme disease at one point. Justin Bieber also was struck with the disease, which led to fatigue and body aches so severe that he canceled his "Justice" tour in 2022. 
One famous family that has really spoken out about the disease is the Hadid family. Bella Hadid, her brother Anwar Hadid, and their mother Yolanda Hadid all have had Lyme disease and were all diagnosed in 2012. Yolanda shared with People in 2019 that she was in remission, but her time with the disease was "so painful." However, she has determined to continue to bring awareness to the disease. "It's very real. And [a] lot of people are suffering," the TV personality admitted. But God put me on this path to make a difference. That's what keeps me going."
Bella still deals with the disease and recently shared major health complications that were made worse because of her condition.
Bella Hadid had to have a tooth removed because of Lyme disease complications
@babybella777

Tooth update! There was a low-grade infection underneath the tooth, NEXT to the tooth I thought was suffering(she's good) which is the one I got a root canal on a year ago. It continued to spread down,causing a low grade infection in my jaw. I have felt in my heart for months that I needed this tooth out, to heal the rest, and if not, it was going to take me out!Please listen to your bodies my friends please!!! This made my Lyme flare up, which means the Lyme is attacking the places that are suffering ie tooth, jaw, gut, brain, spine, bones, etc oh and the entire nervous system💕 Any minor trauma to the body whether it's physically or mentally can cause Lyme to flare up. My jaw has been so inflamed, and would flare up/inflame randomly when I was/am overly stressed or over working. Lyme flare ups happen all the time, so that doesn't worry me, it's more-so the jaw situation and how radiating the pain is especially with the Lyme. Some days okay! and some days are difficult. but when my jaw/nerves started to hurt on an aggressive level; it just went 0-100. And now we're here! I am ok though!! i feel better when I'm riding! (And after starting the 2 rounds of anti-biotics) (that in itself is a wild ride) I think my horses just really take my mind off the pain. This is the reason i stopped riding 10 years ago, and i wasn't going to let it get to me at my first show back🤭anyways , moral of the story , I'm getting this tooth extracted tomorrow! Going to heal that infection! Ive never been so excited go to the dentist..thank you for checking in on me I see you all!! wish me luck!!!

♬ PRETTY BOY FLOW - STURDYYOUNGIN
In a TikTok video from April 2023, Bella Hadid shared with followers that she had a "low-grade infection" underneath one of her teeth. The infection spread downward, causing the infection in her whole jaw. "This made my Lyme flare up, which means the Lyme is attacking the places that are suffering, i.e. tooth, jaw, guy, brain, spine, bones, etc. Oh, and the entire nervous system," she revealed in the caption. Hadid revealed that she had an appointment to get the tooth extracted. 
The model also revealed that "any minor trauma" she might "physically or mentally" face could cause her Lyme disease to "flare up." Hadid has had this issue for months and she was given pain medication and antibiotics to help with her jaw in March 2023. She has found that the disease would also flare up when she was "overly stressed or overworking" as well. Hadid also shared that, at the time, she looked "sick as a dog."
As the middle Hadid child wrote to users in her comments, Lyme disease has made her "sick since [her] teens" and she experienced anxiety about missing out on events or experiences because she was just always so "sick and depressed" all the time.
Bella Hadid's Lyme disease has impacted her whole lifestyle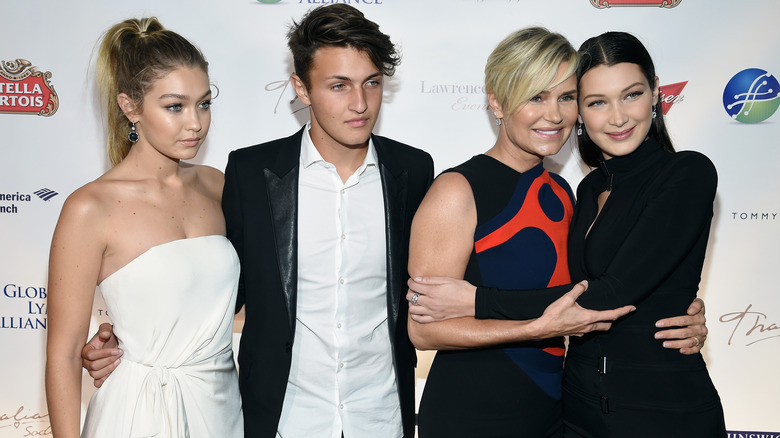 Dimitrios Kambouris/Getty Images
Bella Hadid has given several key updates and thoughts on her condition since being diagnosed. In 2021, Hadid shared a mirror selfie on Instagram that showed her IV hookup. In 2022, Hadid revealed how bouts of anxiety and depression persist in her life because of her Lyme disease, which is partly why she doesn't have a personal stylist anymore. "In the last year, it was really important for me to learn that even if people talk about my style or if they like it or if they don't, it doesn't matter, because it's my style," she told WSJ Magazine. "When I leave the house in the morning, what I think about is: Does this make me happy? Do I feel good in this and do I feel comfortable?"
How does a supermodel work through episodes and bouts of chronic sickness? Hadid told People in 2016 that she usually needs a week off to recuperate after big events like Fashion Week. When she's not on the job, she's sleeping, and that's how she gets through it. In sharing all that she does, Bella wants to show people that things are not what they seem. "The hardest part of this journey is to be judged by the way you look instead of the way you feel," she admitted.