Ariana Grande Once Chimed In About Millie Bobby Brown's Past Relationship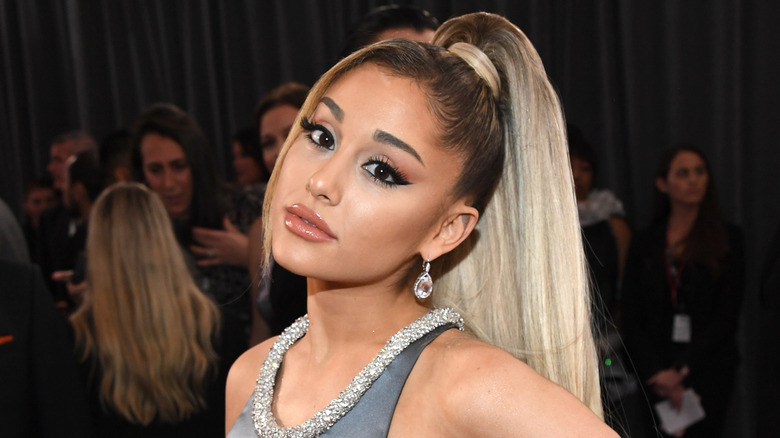 Kevin Mazur/Getty Images
One of the most entertaining things about celebrities is that they have opinions about other celebrities. Sometimes, we get lucky and they make their feelings known via Instagram comments. This was the case with superstar Ariana Grande, who commented on a since-deleted 2018 picture of Millie Bobby Brown passionately smooching her ex, Jacob Sartorius. Brown, of "Stranger Things" fame, dated Sartorius for about 7 months, according to Teen Vogue. Though their breakup was initially amicable, fans thought Sartorius may have shaded Brown in his song "We're Not Friends," which seemingly alluded to her questionable friendship with Drake, according to Us Weekly. "Girl, I wanna give you more than good advice," he sings on the EP, which listeners took to be a dig at Brown's comment that she turns to Drake for boy advice.
Since Sartorius, Brown has moved on with Jon Bon Jovi's son, Jake Bongiovi. The two, who have been linked since 2021, took a huge step in their relationship by reportedly getting engaged in 2023. "I've loved you three summers now, honey, I want 'em all," Brown captioned a black-and-white Instagram shot of her in Bongiovi's arms (and rocking that sparkler). Naturally, the Internet went wild. The big news prompted many unsolicited opinions that, at 19 years old, Brown is too young to get married. It also thrust Grande's comment from 2018 back into the spotlight in a hilarious way.
Ariana Grande was the most relatable with this comment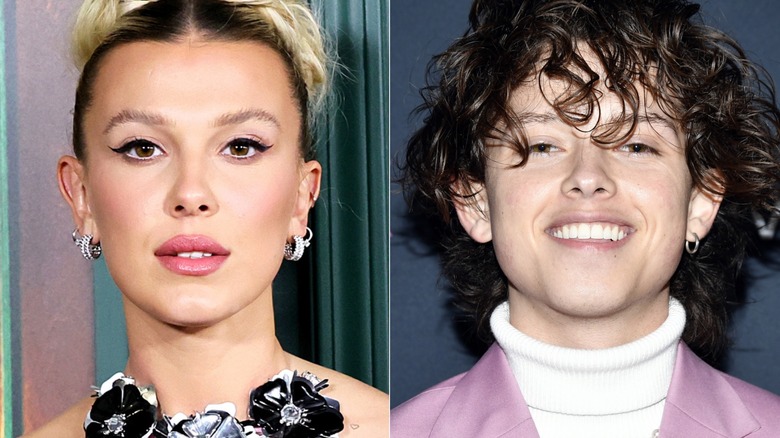 Theo Wargo & Michael Tullberg/Getty
When Millie Bobby Brown posted that shot of her frolicking on the beach and kissing Jacob Sartorius, she was around 15 years old. Lots of parents differ on when their kids can and can't date, but maybe things are different when you are a child star like Brown. One thing's for sure: Ariana Grande's parents didn't feel that her status as a pop star merited any special treatment. "I wasn't even allowed to leave my house til I was 20," Grande commented on Brown's photo. At the time, the Internet was entertained. "GRILAHFKSKA SAME," one person responded to Grande, according to Teen Vogue). "Lmfao this is the best thing I've seen in so long," someone else said.
Currently, the photo in question has been deleted, but the internet has not forgotten the "God Is A Woman" singer's hilarity. Instead, the debate about whether or not Brown is too young to be engaged to Jake Bongiovi has only made Grande's old comment go viral. "I'm feeling like ariana grande now that millie bobby brown got engaged," one fan wrote on Twitter. Others seemed to think that Grande herself was implying Brown isn't ready to settle down (which doesn't seem likely, since her comment was posted long before Brown's engagement). "IM ON ARIANA'S SIDE ON THIS ONE," another person chimed in. "WHAT DOES A 20 YEAR OLD KNOW ABOUT MARRIAGE???? TAYLOR SWIFT WAS WRITING ALL TOO WELL AT THAT AGE BYE."
Mille Bobby Brown's parents allow her a lot of freedom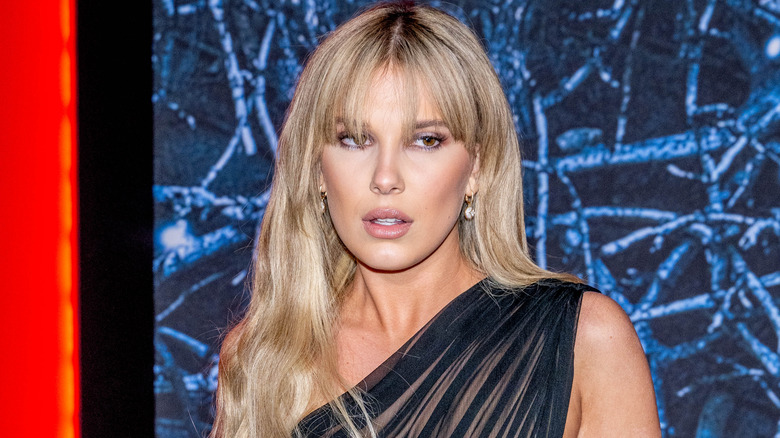 Roy Rochlin/Getty Images
Ariana Grande was probably joking with her comment to Millie Bobby Brown, but it's no joke that her parents and half-brother Frankie are very involved in her life. For example, when Grande got engaged to comedian Pete Davidson in 2018 after a whirlwind courtship, Grande's family was concerned. "They are ... super-worried that she is going to get her heart ripped out," a source told Radar Online at the time. "Everyone thinks that [Pete] is using her ... the red flags are everywhere and Ariana refuses to see any of it." For those wondering, though, there's no mention of her parents locking her in her bedroom until she was 20, LOL.
Brown's parents are equally involved in her life, and the "Stranger Things" star previously spoke to Allure about how their encouragement has been crucial to her success. However, Brown's parents have also been criticized for allowing their daughter too much leeway. Let's start with the fact that Brown, then around 14 or 15 years old, spoke about texting with Drake, who is nearly two decades her senior. There's also her controversial relationship with TikToker Hunter Echo, who admitted to grooming Brown when she was 16 and he was 20, per BuzzFeed. Because child stars grow up in the limelight, they can be notoriously difficult to parent, and it looks like Grande and Brown's parents took two different routes. Even so, are we the only ones wondering what Brown's parents think about her engagement to Jake Bongiovi?