Diamond Expert: Millie Bobby Brown's Unexpected Engagement Topped By Ring Price - Exclusive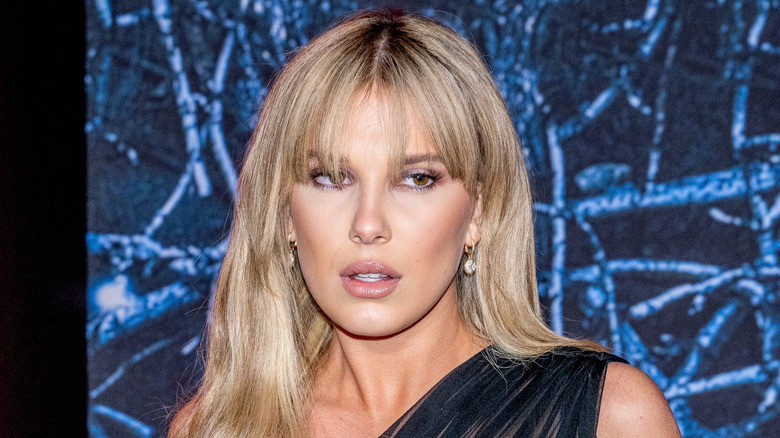 Roy Rochlin/Getty Images
Jake Bongiovi liked it, so he put a ring on it. The son of Jon Bon Jovi has been in the spotlight for quite some time, seeing as his father is one of the most famous rockers of all time, but his romance with "Stranger Things" star Millie Bobby Brown has been one of the biggest storylines of his life. In an interview with Wired, Brown revealed that she and Bongiovi initially connected through social media. "We met on Instagram ... And we were friends for a bit, and then, what can I say?" Brown said. She's posted about their romance several times on Instagram, sharing snaps of the pair walking the red carpet and videos where they're out to dinner. Brown also happened to share the biggest news of her life on... social media!
On April 11, the actor surprised us all by sharing a black-and-white filtered image with Bongiovi wrapping her up in his arms. She smiled big as she put her hands on Bongiovi's arm and showed off a massive diamond on her ring finger. Brown did not specifically mention an engagement, but her caption basically confirmed it. "I've loved you three summers now, honey, I want 'em all," she wrote on in the caption of the image. Many fans commented on the post to wish the couple the best, while several others couldn't help but point out the huge diamond on Brown's finger. So, how much did that set Bongiovi back? A pretty penny, to say the least!
Millie Bobby Brown's engagement ring costs as much as a luxury vehicle
Jake Bongiovi spared no expense when proposing to Millie Bobby Brown. After the "Stranger Things" star posted a photo of a diamond ring on, ahem, that finger, the internet went wild. While there are plenty of questions surrounding the details of the proposal, there's one big, sparkling question that remains — how much does the ring cost? According to Mike Fried, CEO of The Diamond Pro, Brown's sparkler appears to be around 5 carats, meaning it's pricey. "I'd estimate the value is close to $150,000, the cost of an Aston Martin Vantage. While close-up photos of the ring aren't available yet, the diamond seems to be either a round cut or a cushion cut," Fried shares. "The ring appears to be a solitaire setting, giving it a classic appearance and allure. I bet a lot of careful planning went into designing a ring of this caliber."
So how can Bongiovi afford it? According to Shahab, the social media star has a net worth of $700,000, and right now, he's finding his career path. In turn, his dad, Jon Bon Jovi has amassed a huge net worth thanks to his career in music. Celebrity Net Worth reveals that the rocker is worth $410 million. Brown also does well for herself and Seventeen reports that her net worth is right around $14 million thanks to "Stranger Things" and her business ventures. Like we always say, it pays to be a celeb.