What Hilary Swank's Husband Philip Schneider Really Does For A Living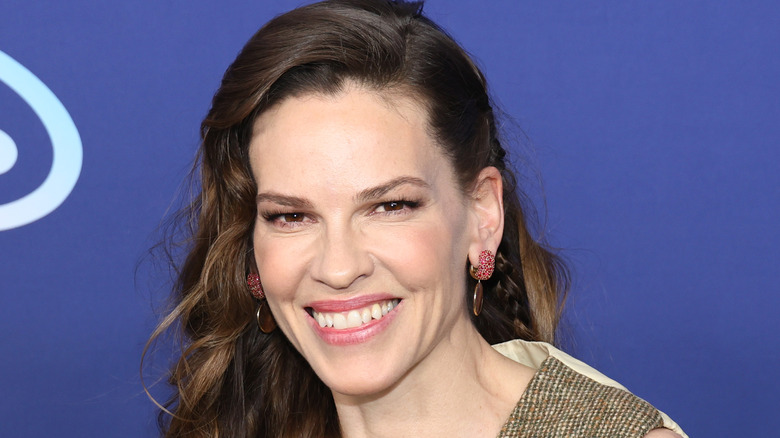 Dia Dipasupil/Getty Images
Life seems to be going well for Oscar-winner Hilary Swank. Besides starring in the brilliant ABC drama "Alaska Daily," Swank and her husband, Philip Schneider, welcomed twins on Easter Sunday, April 9, 2023. That's right, the 48-year-old "Million Dollar Baby" star gave birth to not one, but two of her own million-dollar babies. "It wasn't easy. But boy (and girl!) was it worth it," Swank captioned on Instagram. "Happy Easter! Posting from pure Heaven."
Though Swank had wanted kids since she was little, telling People in 2006 that it was "definitely something that I've always thought about as a very, very young girl," she knew she didn't have the right partner then. At the time, Swank was getting divorced from Chad Lowe. The right partner turned out to be Schneider, but they didn't meet until 2014 when the wife of "Supernatural" star Misha Collins set them up on a blind date. They immediately hit it off. "We met at 10:00 a.m. and parted ways at 11:00 p.m.," Swank told Vogue, adding, "We clearly enjoyed our time!" Schneider proposed a year and a half later, in 2016, in a beautiful sanctuary that the nature lovers found in the Colorado mountains. Only Swank's dogs witnessed the proposal, and the couple kept their relationship quiet — so much so that no one knew they were engaged until their August 18, 2018, wedding. They're still very private about what information they share, so there isn't much available about what Schneider does for a living, but let's take a look.
Not much is known about Philip Schneider's career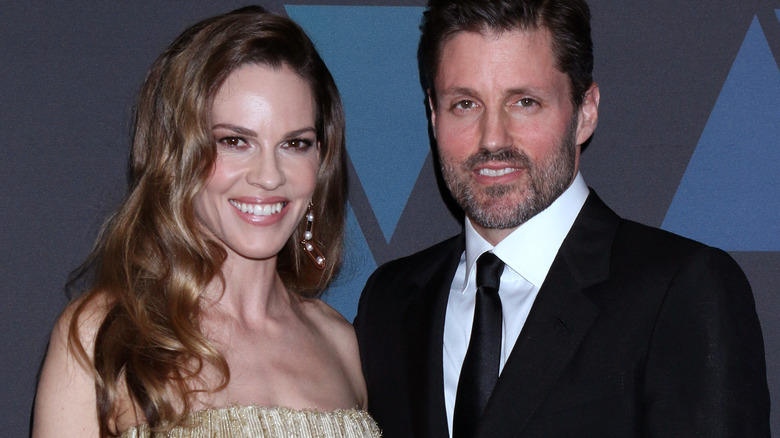 Kathy Hutchins/Shutterstock
Hilary Swank and her husband, Philip Schneider, have always kept their relationship private, so there is very little known about Schneider outside of Swank, particularly regarding his career. Making matters worse, many publications seem to have confused him with someone else.
According to Vogue, Schneider is a social venture entrepreneur, which Forbes describes as "combining capitalism with a do-gooder mentality." Social entrepreneurs use their business savvy to improve the world by taking on global issues, such as climate change, food shortages, improving education, or assisting low-income families. It is not known what type of business Schneider does or how he helps the world, though it seems likely it has to do with nature conservancy, sustainability, or animals. "Both Philip and I are nature lovers and whenever we get the opportunity to be outdoors, that's where we like to spend it," Swank told Hello!. The pair celebrated Schneider's 50th birthday in the Alaska wildlife. "We went fly-fishing, hiking, exploring, looking for wildlife," Swank told People. "Nature is my favorite, and Alaska is like nature on steroids."
However, Philip Schneider is a very common name, with LinkedIn listing more than 300 of them. Many publications say that Swank's husband is also a Hollywood property master, with nearly 60 IMDb credits, starting in 1987. Considering Swank's Schneider turned 50 in October 2022, and an article in Vinepair called the props master "a 40-year industry veteran," it seems unlikely they are the same person. Though, Schneider did include "writer, film producer," and "zoophilist" on his Instagram bio, according to some outlets.
The outdoors was a big part of Hilary Swank and Philip Schneider's wedding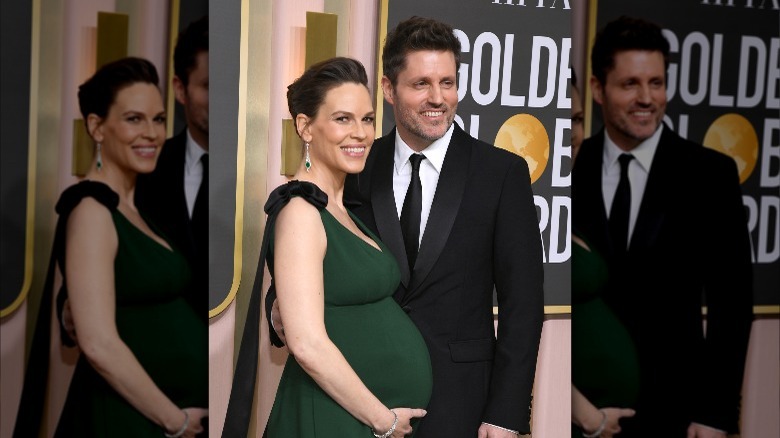 Jon Kopaloff/Getty Images
Since Hilary Swank and Philip Schneider both love the outdoors, they were delighted to find the perfect location for their August 2018 wedding at the Santa Lucia Preserve in Carmel, Calif. "It's a stunning private community surrounded by 20,000 acres of conservancy and an intimate redwood grove populated with trees that are over 800 years old," Swank told Vogue. Sustainability is also important to the couple, and among the food served to their wedding guests was sustainable salmon, spinach, kale salads, beef tenderloin, and vegan grilled cauliflower steak — not to mention a vegan and gluten-free chocolate cake. 
Schneider and Swank also performed a fun tap dance routine, choreographed by master tapper Chloe Arnold, as their first dance. Fulfilling a long-held desire for Swank, it was a big surprise for all their guests — including Swank's best friend and bridesmaid, Mariska Hargitay. The physically active Schneider held his own while dancing with his new wife, as fans could see on "The Drew Barrymore Show".
The couple also incorporated their love of nature and desire to live off the land into building their new Colorado home. "We felt it was really important to use the materials of the land and to be as sustainable as possible," Swank told Architectural Digest, also specifying that she and Schneider planned to grow their own food. "I find nature to be my happiest place, and animals are my other happiest place," she said, surrounded by her five rescue dogs. "And to be with both of them is everything to me."