Hilary Swank Welcomes Fraternal Twins With Husband Philip Schneider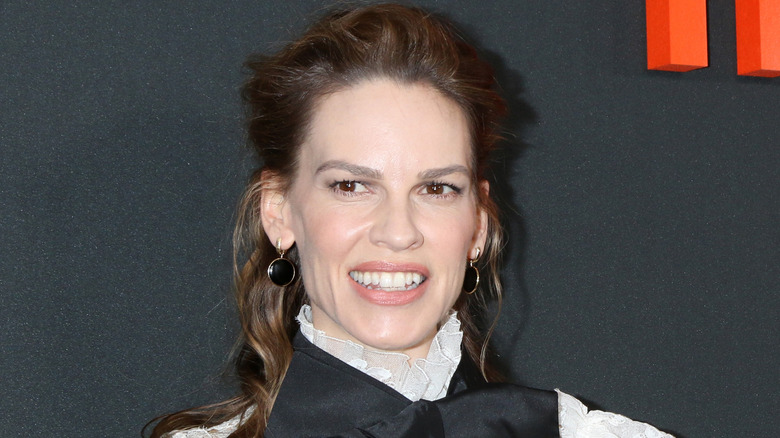 Kathy Hutchins/Shutterstock
Hilary Swank has some really amazing news to share! The star has been making headlines for her pregnancy with twins, and it's been quite the journey. Last October, the "Million Dollar Baby" star announced that she and her husband, Philip Schneider, were expecting not just one but two little bundles of joy. "This is something that I've been wanting for a long time, and my next thing is I'm gonna be a mom," she said during an appearance on "Good Morning America." The star added, "And not just of one, but of two ... I can't believe it. It's so nice to be able to talk about it and share it."
The 48-year-old also got candid about why she decided to wait until a little later in life to expand her family. "I was having a career, and not having the right relationship until ... four years ago, and all the elements needed to come together and be right," she said in an "Extra" interview. The star noted that she dreamed of being pregnant since she was younger, so to have it all happen in real life was really exciting for her. Swank also revealed that the road hasn't been a cakewalk and she's experienced a few pregnancy symptoms including morning sickness.
One more cool thing to note? The babies' due date falls on her father's birthday, and since he is no longer alive, that's pretty special. Now, they're here and the star couldn't be more thrilled!
Hilary Swank gets the best Easter gifts ever!
Hilary Swank just welcomed two super adorable new members to her family with husband Philip Schneider! On April 9, the new mom took to her Instagram feed to share exciting news with her 1.5 million followers. "It wasn't easy. But boy (and girl!) was it worth it," she wrote in the update. "Happy Easter! Posting from pure Heaven." The upload included a photo of Swank with her back facing the camera as she gazed off into the distance at a large body of water. She cradled both babies near her shoulders, and there's no doubt it proved to be a picture-perfect moment.
Many of Swank's famous pals flocked to the comments section of the update to wish Swank and her new, mini-family members well. "Welcome home angels," Mariska Hargitay wrote. Viola Davis also chimed in, writing, "Aaaaahhhh!!!!! Congratulations" with a series of red heart emoji. And Sharon Stone was not short on words. The actor said, "God bless honey This is the most extraordinary journey ever so happy for you all." Kate Hudson also wished Swank a "Happy Easter Mama."
Swank has yet to share the twins' names, but it's likely only a matter of time. She kept fans in the loop throughout her pregnancy, oftentimes sharing photos of her growing baby bump and even ultrasound images that she compared to her films. "Baby A flexing for the camera at their ultrasound," she wrote with the hashtag "TheRealMillionDollarBaby." Congrats, Swank and co!