Howie Mandel: From Childhood To Hollywood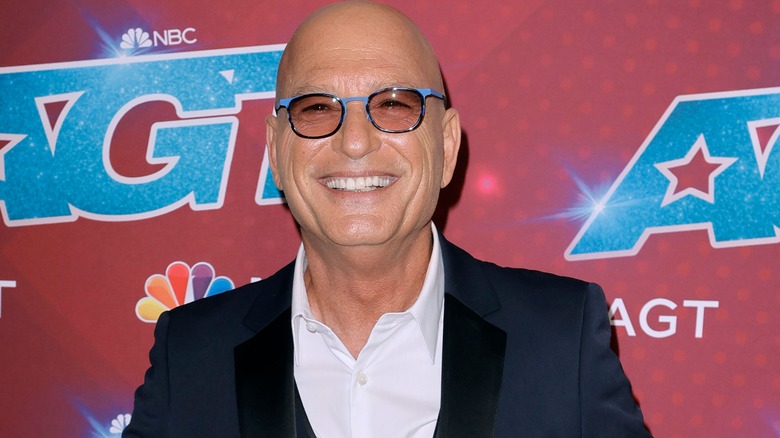 Kevin Winter/Getty Images
The article references mental illness.
Say what you like about Howie Mandel — and in the wake of his tabloid-baiting interview with "Vanderpump Rules" star Tom Sandoval in 2023, plenty have — but his career trajectory stands out as one of Hollywood's most interesting. After all, who else has shot to stardom with a latex glove-based party trick?
Against all the odds, the Canadian has managed to extend his 15 minutes of fame across six decades in a career that has taken in everything from hospital dramas, variety competitions, and cartoons, to Las Vegas residencies, hidden camera shows, and horror comedies. As viewers of "The Masked Singer" and the "America's Got Talent" franchise will already be aware, he's still going strong in the golden era of his life. While his career has had its ups and downs and changed more than most, one thing remains constant — the safety he feels under the glow of a spotlight. "The stage has always been my security blanket," he told Rolling Stone in 2019. "The only place where I'm legitimately comfortable is when I'm swathed in strangers laughing at me."
So how exactly did Mandel make it from an open mic night at his local stand-up circuit to becoming a fixture of prime-time U.S. television? Here's a look at the funnyman's weird and wonderful journey.
Howie Mandel was a troublemaking child
"In school, I was a weird, neurotic mess," Howie Mandel admitted in one of his "The Masked Singer" VTs. "I got my fulfillment from creating elaborate pranks." The comedian wasn't kidding, either. In fact, he was expelled from no fewer than three different schools for his mischievous streak. For instance, at one school he was given his marching orders for throwing a candy bar into the swimming pool, telling Houston Public Media, "And obviously you know what that looks like." Meanwhile, at William Lyon Mackenzie Collegiate Institute, Mandel was given the boot for assuming the identity of a school official so convincingly, that construction companies turned up to start making additions to the school library. 
The "America's Got Talent" host later told ABC News that living with his then-undiagnosed ADHD made him act out. While he strived to amuse and entertain his peers, they were rarely tickled by his attempts. "I became a pariah," Mandel said. "I think the thrust of any child is to try to fit in and be part of it. And I can't tell you how many times my humor, you know, what I thought was humor ended up making me the outsider. Like I'd ... go, 'It's a joke.' And they'd go, 'Well, what was funny?' And they just thought I was insane." But then, Mandel at least saw the value in being able to entertain himself — and soon he'd be able to use that energy to entertain others, too. 
A latex glove trick launched him to fame
Howie Mandel's early brand of comedy could never be described as conventional. In 1977, he graced the stage of an open mic night at Toronto's Yuk Yuk's Comedy Club in which he debuted a routine that would launch him to fame. Indeed, Mandel delighted and baffled audiences in equal measure with an act that involved him blowing up a latex glove over his head. It also came equipped with a catchphrase that he'd utter whenever the audience got a little rowdy – "It's you." We guess you had to be there.
Mandel later told CBC that the trick was entirely improvised. "The point was that I wasn't a comedian, and therein lies the joke. Then when I first realized that they were looking at me and waiting for something, I got uncomfortable. That fear is what I shared [...] that discomfort is what they were laughing at." Referring to the latex gloves he pulled out, he added, "I was breathing and the fingers were going up, the audience was laughing, and Boom! I had an act."
Indeed, this trick incredibly proved to be Mandel's calling card, and over the following decade, he was asked to show it off on numerous high-profile shows. Sadly, the funnyman was eventually forced to drop the bit when he ended up in the emergency room after the stunt gave him a perforated sinus.
He became a Canadian screen regular
Toronto-born Howie Mandel first came to national attention in 1979 when he was invited to appear on "Make Me Laugh," the TV show in which contestants have to sit through various comedians' routines without chuckling. Remarkably, the funnyman went back to his day job as a carpet salesman after its filming. "I'm color-blind and knew nothing about carpets, but I was a really, really good carpet salesman," he proudly boasted to Rolling Stone about his former profession. 
It was only when the one and only Diana Ross asked Mandel to support her on tour that he decided to pursue a comedy career full-time. Soon after, he also opened up for David Letterman where he sparked the interest of the head of CBC-TV. The star was subsequently given his own special, and his rapid rise to fame continued in 1980 when he was cast as Matt Lloyd, the lead character in the Canadian comedy movie, "Gas." He then became one of the first-ever VJs with a hosting gig on "PopClips," Nickelodeon's pre-MTV music video show.
In 1981, Mandel was invited to appear on "The 6th Annual Young Comedians Special," a booking which he told City Life elevated his career to new levels, saying, "It was a TV special hosted by the Smothers Brothers featuring me, Jerry Seinfeld, Richard Lewis and Harry Anderson. Right after that aired, I started selling out 10,000-seat venues."
Howie Mandel achieved his American breakthrough
In 1982, Howie Mandel achieved his American breakthrough when he bagged the part of Dr. Wayne Fiscus in the NBC medical drama "St. Elsewhere." In an interview with People to commemorate the show's 40th anniversary, the funnyman freely admitted that he was completely out of his depth in only his second major acting role. After all, the star was working alongside a cast and crew full of Hollywood luminaries who would go on to bigger things such as Denzel Washington, Tim Robbins, and Ray Liotta. "When you think back and look at it from that perspective ... I'm a part of television history, which makes me thrilled to be a small part [of]," he explained.
Speaking to Esquire, Mandel revealed that he was desperate for acting lessons to help his performance. However, producer Bruce Paltrow — father of Gwyneth Paltrow — convinced him otherwise, saying, "Buddy, you've just been hired to be in the best class you could ever be in. Don't take any lessons. Just listen."
You might not know that Mandel was actually the second choice to play the medic. In the pilot episode, David Paymer — who would later become an Oscar nominee for his performance in "Mr. Saturday Night" — had originally taken on the character before the production team decided to make a last-minute change. Mandel theorized that the casting team likely wasn't very aware of his comedic schtick, otherwise, they may not have been so eager to give him the gig. 
He became part of the 'new batch' in Hollywood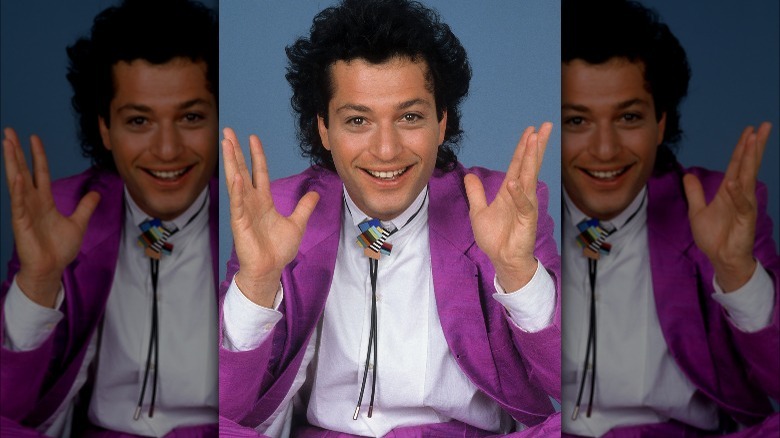 Donaldson Collection/Getty Images
In 1984, Howie Mandel continued his rise up the showbiz career ladder when he landed his first role in a Hollywood movie. Not that viewers got the chance to see him on screen, though. No, the comedian's first credit was as the voice of the adorable Gizmo in Joe Dante's classic horror comedy "Gremlins." Mandel also reprised the character in its 1990 sequel, "The New Batch," by which point he'd also appeared in front of the camera with Ted Danson in "A Fine Mess," shared top billing with Christopher Lloyd in "Walk Like A Man," and played blue-skinned humanoid Maurice in kids caper "Little Monsters."
In an interview with Empire, Mandel revealed that he'd actually perfected Gizmo's voice several decades beforehand. "I started doing it at 11 years old — I was at a birthday party and started choking on a piece of cake. [In Gizmo voice] 'Help me!' It was halfway down my throat and I couldn't get the air out and that's the way the sound had been coming out," he explained. When he started doing the voice in his stand-up act, fellow voice artist Frank Welker recommended that he meet with the team making "Gremlins," as they were seeking out a cute voice for Gizmo. "That was it," he concluded. 
Howie Mandel bagged and lost several eponymous shows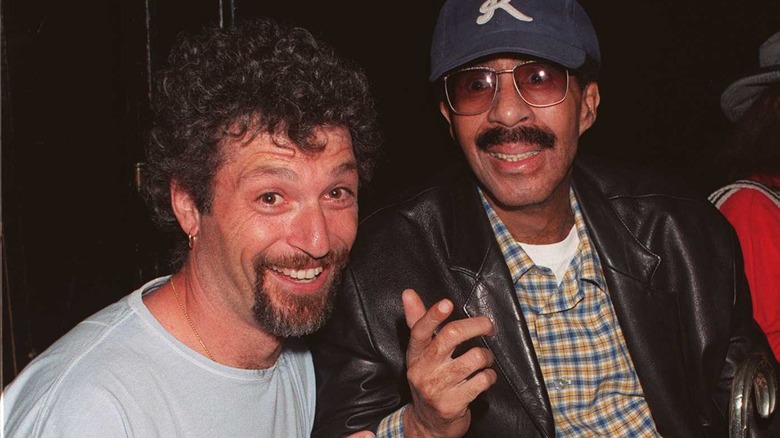 Denny Keeler/Getty Images
Continuing to build on the popularity of his stand-up work, Howie Mandel bagged no fewer than three eponymous television shows in the 1990s. Unfortunately, not a single one of them made it to a second season.
The first to hit screens was the 1992 sketch show simply titled "Howie," in which Mandel was joined by the likes of Little Richard, Gilbert Gottfried, and Lita Ford. Despite its impressive pedigree, ratings were poor and the critics vicious, with the Los Angeles Times writing, "'Howie" is a show powered by ... witless enthusiasm, springing from one inconsequentially goofy gag to the next, without regard for pacing, context, or whatever accident just happened." Ouch.
Three years later, "Howie Mandel's Sunny Skies" was the next attempt to harness the funnyman's talents on the small screen. However, Showtime bosses pulled the plug after just 13 episodes. Then in 1998, Mandel landed his very own self-titled and syndicated daytime chat show. But despite its high caliber of guests — the first episode featured Jennifer Aniston, and it also gave Britney Spears' "Baby ... One More Time" its TV debut — it once again suffered the axe within a year.
He became an animated favorite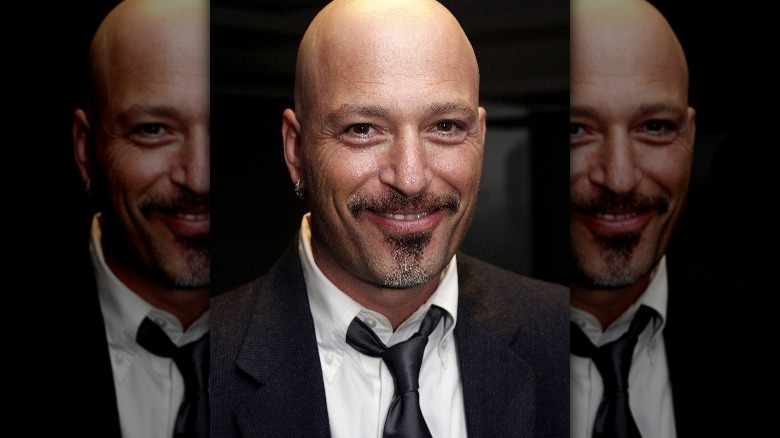 Giulio Marcocchi/Getty Images
Gizmo wasn't the only major character that Howie Mandel provided the voice for. That same year, the comedian also lent his tones to Skeeter, Animal, and Bunsen in the classic cartoon "Muppet Babies." And he's continued to enter the recording booth throughout his enduring career. At the turn of the century, Mandel played Jack in "The Tangerine Bear" and its Christmas follow-up. Four years later, he voiced Spencer T. Penguin in "Pinocchio 3000." Additionally, TV movies like "David Copperfield," "In Search of Dr. Seuss" and "The Great Polar Bear Adventure" are just a few to have boasted the comedian's recognizable twang. In more recent years, he's voiced cameos in "Robot Chicken" and "Harley Quinn."
And who can forget Mandel's role as Bobby Generic, the imaginative youngster in the '90s Fox Kids animation that the comedian also helped to create, "Bobby's World." In an interview with Entertainment Weekly about plans to bring the show back, the star explained how this chapter of his career was entirely accidental. "I did the voice and I was a club act when Fox asked me to do a Saturday morning cartoon," he explained. "I didn't know how to write what I believed was for Saturday mornings. So I just wrote things that happened to me and my kids. And it was all real. And it happened to work."
He reluctantly became the face of Deal or No Deal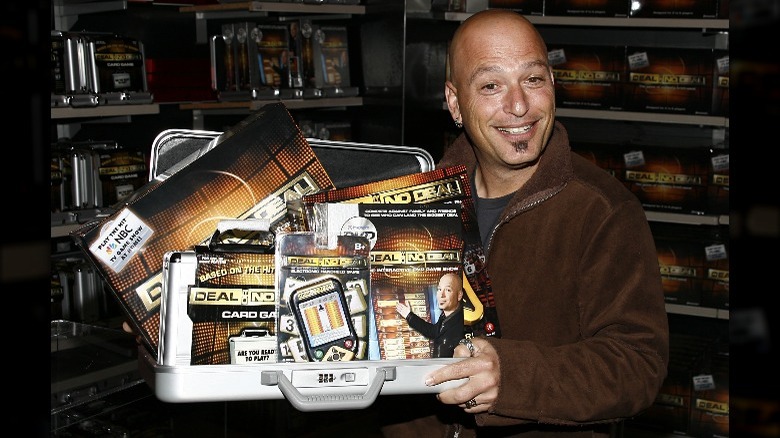 Amy Sussman/Getty Images
In 2005, Howie Mandel added game show host to his list of talents when he fronted the American version of the British box-opening game phenomenon "Deal or No Deal." He later presented the Canadian adaptation, too. In an interview to promote another game show, "Bulls***," in 2022, Mandel explained to The Hollywood Reporter why he was drawn to the NBC hit. "What I loved about 'Deal or No Deal' is there was no skill. It was just humanity to see how far somebody would go, and when your human instincts are the tools that you use to achieve something in life, that's the most relatable kind of television." 
Speaking to Esquire, he revealed that he was initially hesitant to take the gig — his career was floundering, and becoming a game show host wasn't exactly high on his career wishlist. Still, he liked the idea of helping people win a million dollars. While he warmed to the idea, he found it hard to watch good people lose out on massive amounts of money on the show. "I was cognizant of somebody making ridiculous choices," he said. "That was heartbreaking inside."
Mandel's appointment on "Deal or No Deal" also led to cameos on "Studio 60 on the Sunset Strip" and "Medium," the latter of which saw him boot Patricia Arquette's lead off the stage because of her psychic abilities in a dream sequence. The show wrapped in 2010 before enjoying a revival on CNBC in 2018. 
Howie Mandel revealed he has OCD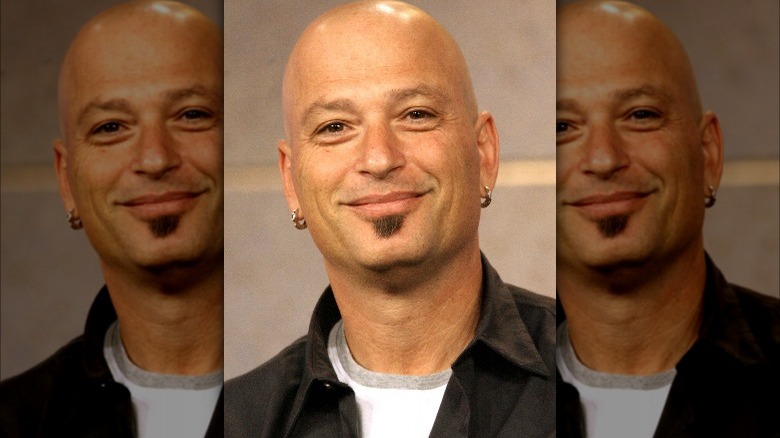 Frederick M. Brown/Getty Images
In 2006, Howie Mandel revealed to the world that he has obsessive-compulsive disorder during an appearance on "The Howard Stern Show." On top of having a mysophobia — a debilitating fear of germs — he has also experienced severely intrusive thoughts about death since his childhood. "There isn't a waking moment of my life when 'we could die' doesn't come into my psyche," he told People in 2021. "But the solace I would get would be the fact that everybody around me was okay. It's good to latch onto okay. But [during the pandemic] the whole world was not okay. And it was absolute hell."
As he explained to Esquire, the chronic anxiety Mandel experiences with OCD has helped to inform his humor. For instance, the latex-glove trick that started his career would never have happened if he didn't carry latex gloves around with him everywhere to protect his hands from germs. "Fear is my fuel, and also my poison," he told the outlet. "I like fear. I'm a product of fear."
Mandel, whose daughter Jackie has also been diagnosed with OCD, told People that he feared he would damage his career by coming clean. "My first thought was that I've embarrassed my family. Then I thought, 'Nobody is going to hire somebody who isn't stable.'" The star has had to directly deal with his phobia on camera several times, most notably when Rob Schneider mocked him by grabbing his hand during an appearance on "Live with Regis and Kelly."
If you or someone you know needs help with mental health, please contact the Crisis Text Line by texting HOME to 741741, call the National Alliance on Mental Illness helpline at 1-800-950-NAMI (6264), or visit the National Institute of Mental Health website.
Mandel joined the Got Talent franchise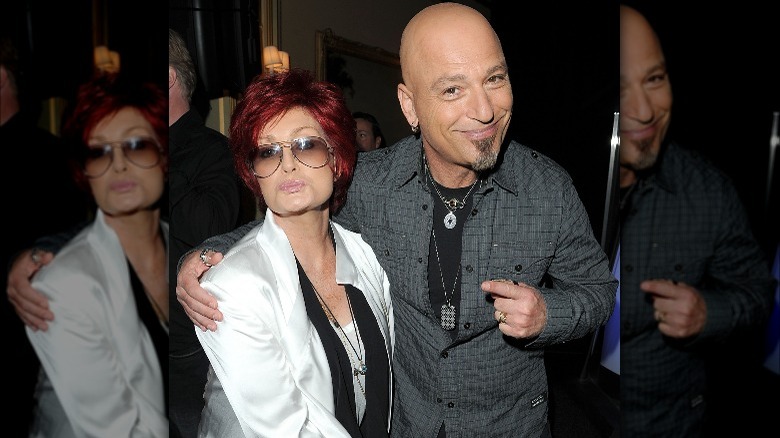 Jason Merritt/Getty Images
One of the most enduring parts of Howie Mandel's career has been his 13 years and counting stint on "America's Got Talent." The comedian joined the franchise as a replacement for David Hasselhoff in its fifth season in 2010 and has remained an ever-present part of it ever since.
So, apart from a lucrative paycheck, prime-time exposure, and a budding friendship with creator Simon Cowell, what attracted Mandel to the judging panel? Well, in an interview with Esquire, the funnyman revealed that he also gets a thrill from discovering untapped talent. In particular, he loves the moment when a new star first appears in front of the show's cameras. "Somebody walks out from that wing, and I'm looking at their face and I see their eyes," said Mandel. "Ninety-nine percent of them have never been on a stage of that size. I see them looking around in awe and taking it in, knowing that this moment will never be recreated ... And then when that moment hits, and whatever they're doing clicks, when the audience gets to their feet and you can feel the room just erupt? It's like magic."
He and his wife have celebrated a long marriage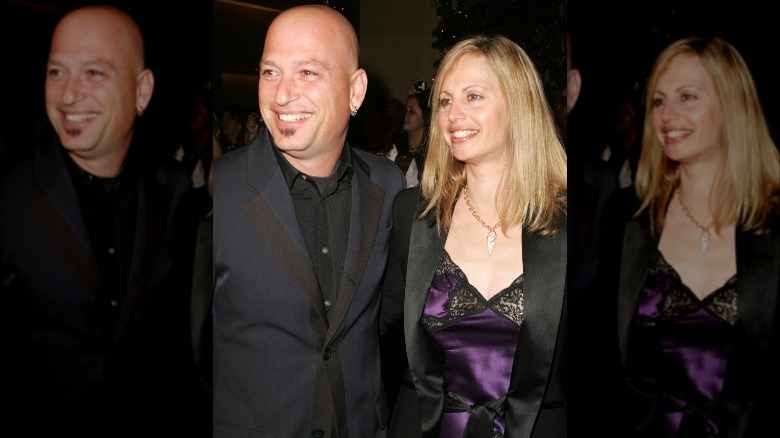 s_bukley/Shutterstock
In the fickle world of showbiz, it's rare for a marriage to last ten years let alone 50. But Howie Mandel and his wife Terry Mandel are now fast approaching that golden anniversary milestone having walked down the aisle way back in 1980. The couple both went to high school at William Lyon Mackenzie Collegiate Institute. However, they actually met in the queue at Mcdonald's, as Howie later recalled to "Today with Hoda and Jenna." "I actually borrowed money from her. I didn't know her, and I was short a couple of bucks for french fries and she lent me money," he explained. "She was, like, 14 at the time and she lent me money. And I've been paying her back ever since." They started dating a few years later when Howie was 19. 
The pair haven't been afraid to mix business with pleasure, either. Terry served as associate producer on her husband's "Live from Carnegie Mall" TV special in 1985 and they later both founded The Abstract Talent Agency. She also encouraged Howie to sign up for one of his most successful TV projects, "Deal or No Deal," as he admitted to The Gazette. "I thought these guys were punking me. They showed me it, and there was no game. I said, 'How do I sustain this for an hour? ... I don't want to do this. I don't want to just read trivia questions.' My wife said, 'You'll see. It's good.' And I listened to her."
Howie Mandel is a father of three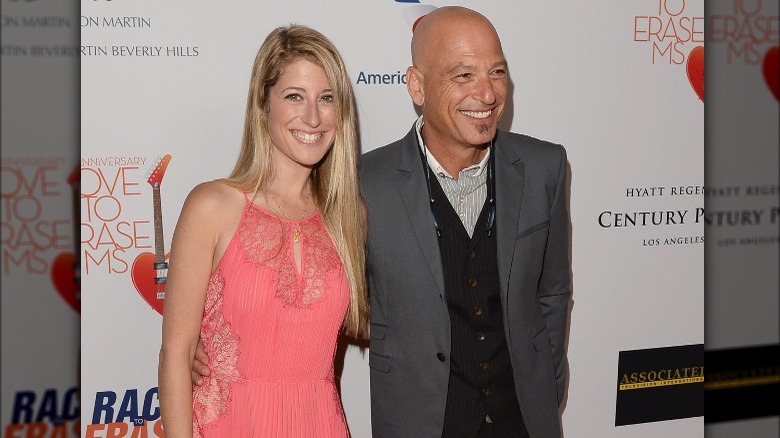 Jason Merritt/Getty Images
Howie Mandel and his wife Terry first became parents in 1984 with the birth of their daughter Jackie before adding to the family unit five years later with son Alex and then again in 1992 when they welcomed Riley into the world. Interestingly, two of his three kids have attempted to follow in their father's showbiz footsteps.
Not only is Jackie a YouTube personality but she's also teamed up with Howie to host the podcast "Howie Mandel Does Stuff." Alex, meanwhile, is a writer, director, and actor whose credits include "Killer Holiday," "A Good Person" and "Freak Encounters." Riley, on the other hand, has eschewed the celebrity world having graduated from Chapman University in 2018 with a physical therapy doctorate.
Jackie has also made Howie a grandfather, too, with her own kids Axel and Abbey. While awaiting the arrival of the latter in 2014, the "America's Got Talent" host admitted to Closer Weekly, "It's pretty interesting how life just keeps unfolding in front of my eyes. My baby is having a baby — that's so bizarre, so weird, and yet so wonderful!"
He is a tech pioneer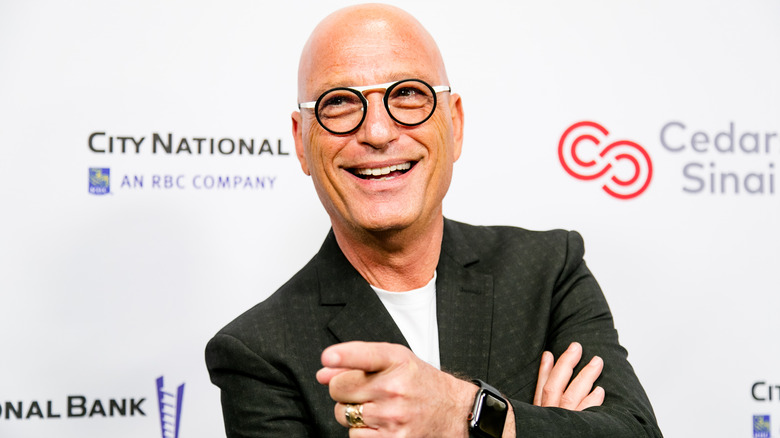 John Wolfsohn/Getty Images
Howie Mandel proved that he can keep up with the times in 2019 when he became an early adapter of TikTok, as encouraged by his son Alex. Pretty soon, the "America's Got Talent" host had also become one of the social media platform's most popular TV personalities. Indeed, Mandel threw himself wholeheartedly into the phenomenon, performing duets with Rebel Wilson, participating in various dance challenges, and filming several clips which racked up millions of views. 
Speaking to the New York Post, the funnyman explained why he decided to jump aboard the TikTok train. "A lot of people my age have a tendency to lose our curiosity. You hear old people say, 'That's not music. You should hear the music we had.' But I'm always fascinated about not only what [young people] are listening to and what they are watching, but how are they watching it."
Mandel has been ahead of the curve when it comes to other platforms, too. According to the comedian, he was the first ever individual to send a tweet while on live TV. And during the pandemic, he regularly took to Twitch to present a live show. If that wasn't enough, in 2022, Mandel also partnered with an AI company to create a virtual replica of himself!
Once a prankster, always a prankster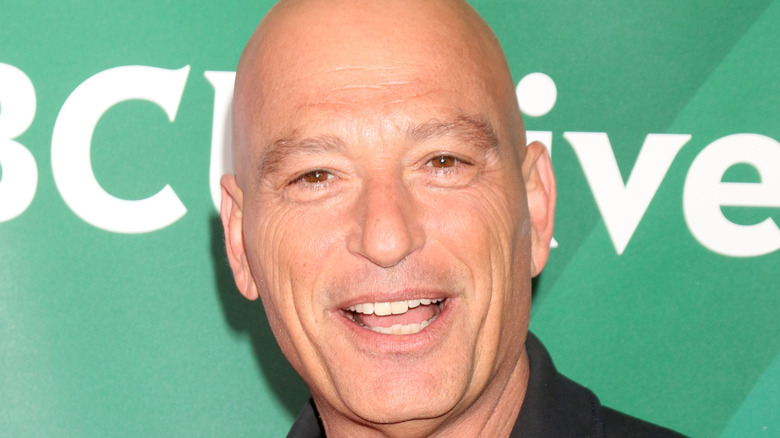 Kathy Hutchins/Shutterstock
Getting expelled from high school for playing a prank didn't exactly deter Howie Mandel from the world of practical jokes. In fact, he's built much of his enduring career on the art form. Mandel has evens presented several prank-themed shows including "Howie Do It" and "Deal With It," and he continually makes prank calls on the podcast he hosts with his daughter Jackie, "Howie Mandel Does Stuff." 
In 1999, he famously played a trick on Conan O'Brien backstage at "Late Night," wherein he had a guy pretend to be his agent who faked a number of gory internal injuries whilst continuing to do his job. On "Conan," O'Brien comically reflected, "I remember thinking, 'That guy's a great agent.'" Even his poor wife, Terry, isn't immune from the star's mischief. On an episode of "Jimmy Kimmel Live!" Mandel bragged how he often hides a solitary piece from each of her jigsaw puzzles just to frustrate her.
In an interview with Ability magazine, Mandel recalled the exact moment he fell in love with the concept of the prank. "One night, when [my parents] were watching 'Candid Camera,' I finally understood what comedy was all about. I heard the laughter on television, I turned around and saw my parents laughing, and that's when I thought, 'This is great. This is what I can do. I'm gonna prank somebody.'"