How Lisa Marie Presley's Marriage To Michael Lockwood Fractured Her Relationship With Priscilla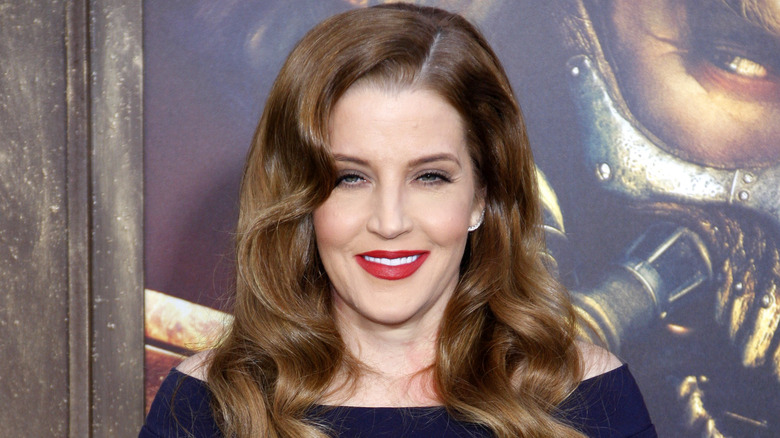 Tinseltown/Shutterstock
Sadly, Lisa Marie Presley's relationship with her father, Elvis Presley, was cut short after he died suddenly in 1977 when she was just 9, per People. The little girl was understandably heartbroken. "I think I had a harsh introduction to death early on," Lisa Marie admitted to Larry King. [AROUND 5.00 MARK] Growing up without a father figure made her look for love in all the wrong places, resulting in Lisa Marie's relationship history resembling a permanent stay at the heartbreak hotel.
US Weekly reports she racked up four marriages during her life — which, like Elvis', ended prematurely after Lisa Marie suffered a heart attack in January 2023. Her last marriage was to guitarist Michael Lockwood. Lisa Marie raved about him to "OWN," praising Lockwood for taking care of their young twins, Harper Vivienne Ann and Finley Aaron Love, while they toured together. "There's always a lot going on, and he is incredible," she said. "We've been together for ten years now, and it's been pretty outstanding."
Unfortunately, it was also pretty tumultuous. The marriage ended in a nasty split and a long, vicious custody battle. The Blast reports that Lisa Marie filed for divorce in 2016, but the breakup dragged on for years as they fought tooth and nail for custody of their daughters. Lisa Marie and her mom, Priscilla Presley's relationship had always been tumultuous, rocky, and fragile. But Lisa Marie Presley's marriage to Michael Lockwood managed to fracture her relationship with Priscilla even more.
It rarely ends well when your mom sides with your ex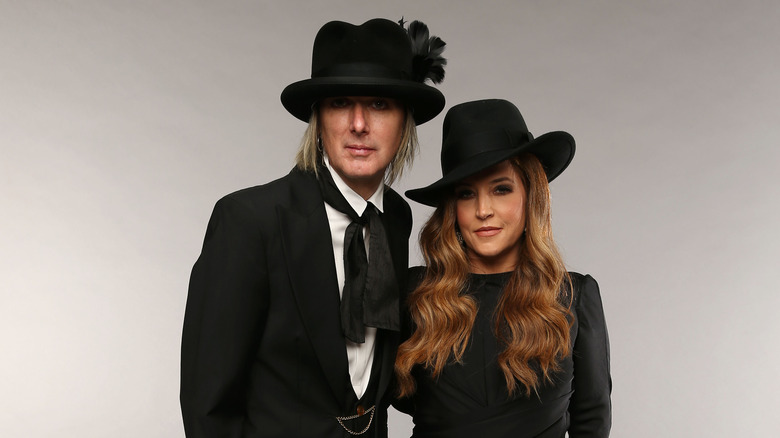 Christopher Polk/Getty Images
Lisa Marie Presley was a daddy's girl through and through. But after Elvis Presley died, she was forced to stay with Priscilla Presley full-time, which didn't make for the most harmonious living arrangements. "They did not have a healthy or close relationship, and it was very complicated," a source told ET. It was made even more complicated when Lisa Marie's doomed marriage to Michael Lockwood ended.
According to The Sun, after Lisa Marie filed to end their marriage in 2016, she accused Lockwood of harboring a collection of "indecent images" and videos on his computer that made her "sick to the stomach." Lisa Marie's allegations resulted in their twin daughters being temporarily taken into care and Lockwood being investigated by authorities. The guitarist denied any wrongdoing and was never charged, but the incident sparked their ferocious, 6-year custody battle. It also led to Lisa Marie and her mom becoming estranged and a serious fallout between Priscilla and Lisa Marie's daughter, Riley Keough.
People reported that Lisa Marie was spitting mad at Priscilla for taking Lockwood's side after they split. A source said that although they were pictured together at numerous events promoting Baz Luhrmann's "Elvis" biopic, Lisa Marie and Priscilla remained at loggerheads until her death. Things were so contentious that Lisa Marie removed her mother from her living trust in 2016, passing control of her estate to Riley and her brother, Benjamin Keough, who died tragically in 2020.
Priscilla Presley fights for her right to money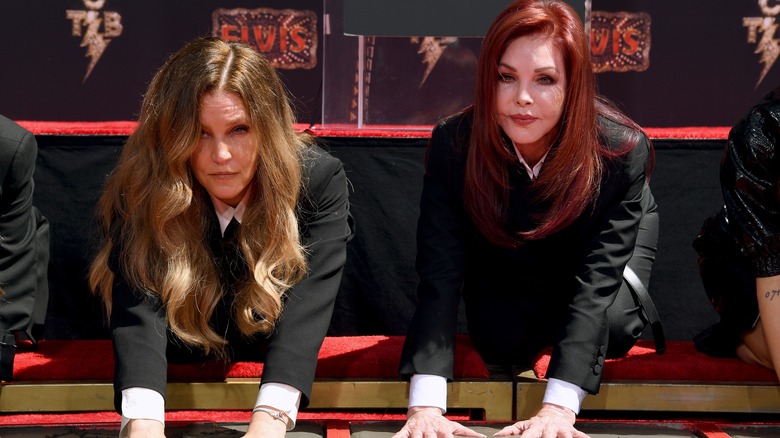 Jon Kopaloff/Getty Images
Priscilla Presley was all tears as she took to the stage to eulogize her daughter Lisa Marie Presley at her 2023 memorial service. "I'm going to read something that my granddaughter wrote for all of you, and it says it all," Priscilla announced before launching into an emotional poem. The mourning mom didn't mention which granddaughter had written the moving composition. Still, it was most likely Riley Keough, as it made mention of her late brother, Benjamin Keough.
However, despite reading the poem, there's clearly no love lost between Priscilla and Riley. Page Six reports that the grandmother is gearing up for the next round of her legal battle against Riley as she fights to regain control over Lisa Marie's estate. And according to sources, to help overturn her late daughter's wishes, Priscilla's planning to buddy up with Michael Lockwood once again. "This is nothing new; Michael and Priscilla have always been close," a source shared. Page Six notes that she even arranged for Lockwood to attend Lisa Marie's funeral despite him not being invited.
ET obtained court documents filed by Lockwood requesting the right to represent his and Lisa Marie's twins in Priscilla's ongoing probate battle. "There is no conflict regarding appointment because the proposed guardian is not a beneficiary of the trust instrument at issue," the filing claims. However, it's safe to assume Lockwood will be firmly on #TeamPriscilla during the April 13 hearing.