How Travis Barker's Near-Deadly Plane Crash In 2008 Affected His Son Landon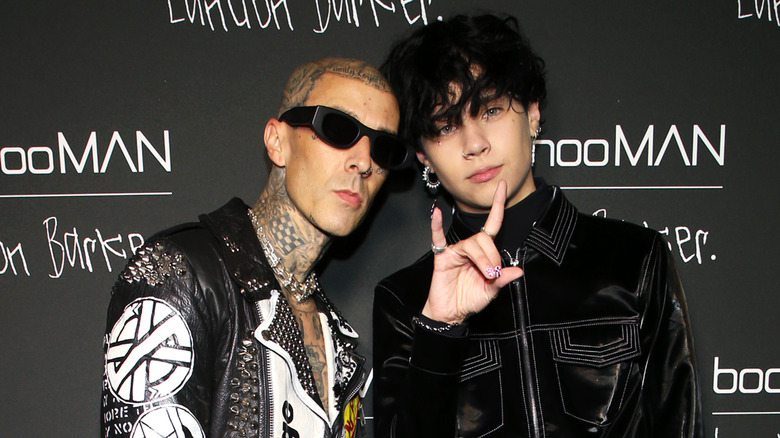 Phillip Faraone/Getty Images
Travis Barker has lived through his share of tragedy. First, there was the 2008 plane crash that nearly took his life and left him with physical and mental scars. Then, his friend and fellow crash survivor DJ AM died of an overdose in 2009. More recently, in 2022, the Blink-182 drummer suffered another major health scare and was suddenly rushed to hospital for an undisclosed medical emergency.
That being said, Barker has also experienced moments of great joy. As he once told People, his family is everything to him. "I'm obsessed with my children," he gushed, referring to Alabama Luella and Landon Asher whom he shares with ex-wife Shanna Moakler, as well as his stepdaughter, Atiana Cecilia. These days, he's also obsessed with Kourtney Kardashian. The pair surprised fans with their May 2022 courthouse wedding and they continue to make headlines with their outrageous PDA. It may seem like a strange love connection and yet, it's obviously working. So much so that the relationship has even helped the musician, as well as his son Landon, overcome the lingering fears they've held onto for over a decade following that near-deadly plane crash.
Travis Barker's plane crash affected his son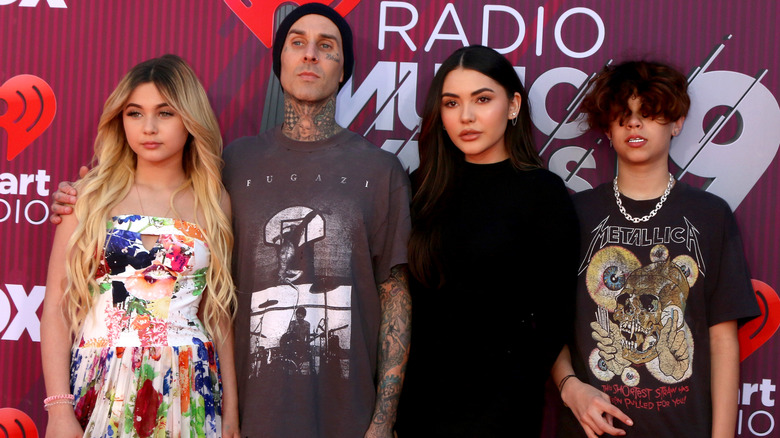 Kathy Hutchins/Shutterstock
Travis Barker's near-fatal 2008 plane crash, as he told Men's Health in 2021, left him suffering from PTSD. He couldn't even look at a plane without fearing the worst. "I couldn't walk down the street," he shared. "If I saw a plane [in the sky], I was determined it was going to crash, and I just didn't want to see it." Indeed, he didn't set foot on a flight for 13 years after the accident and although his son, Landon Barker, was just five years old when it happened, the trauma also stayed with him.
Travis spoke candidly about the phobia he and Landon share during his and Kourtney Kardashian's Hulu wedding special, "Til Death Do Us Part." As he told viewers, he wasn't sure if Landon would make it to the nuptials in Portofino, Italy. "He's so afraid of flying," he revealed. "I think he walked off two commercial flights." In the end, though, Landon did make it, arriving on a jet with Kim Kardashian and her kids. "When I saw him, I was so happy," the doting dad enthused. As for his own relationship with planes, it's far from perfect. "I'm still equally afraid of flying as I always was, but it's not something that can hold me back of that I can be afraid of anymore," he said, noting that takeoffs are the most stressful because that was the moment when his crash happened. Even so, he assured, "I'm better."
DJ AM and Travis Baker were the only survivors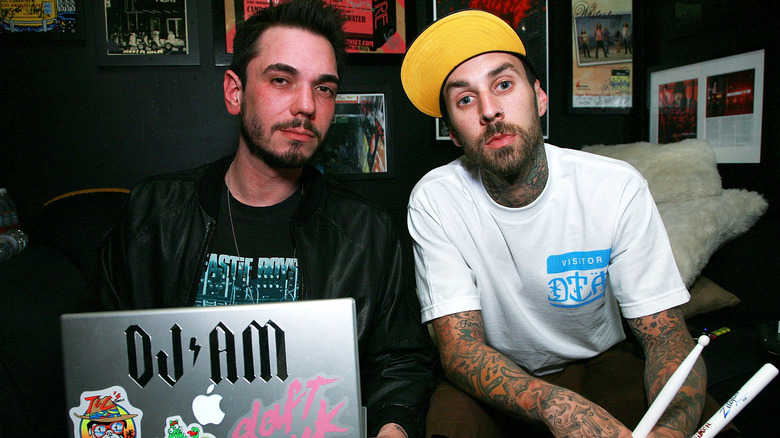 Tiffany Rose/Getty Images
On September 19, 2008, Travis Barker was involved in a plane crash that killed four and left him and his friend, the late DJ AM, severely burned. The musicians had just finished a gig in Columbia, South Carolina and were set to fly back home to California in a private jet. According to investigators, all four of the jet's under-inflated tires exploded as the plane drove down the runway at 150 mph for takeoff, per CBS News. The plane crashed and was engulfed in flames, killing both pilots, as well as Barker's security guard and assistant.
Recalling his harrowing escape, the drummer told Joe Rogan, "When I opened the emergency exit before the plane blew up, I was in such a hurry to get out of the plane and exit the plane, I jumped right into the jet." It was full of fuel which instantly soaked his clothes. "My whole body lit up," he said. Once in the hospital, Barker spent 11 weeks undergoing 27 surgeries and multiple skin grafts to help heal the third-degree burns covering 65% of his body.
He didn't learn about the fatalities until weeks later at which point, things got worse. Barker admitted to feeling suicidal and offering friends $1 million to take his life. He also suffered from PTSD and vowed to never get on a plane again. However, that changed in 2021 when he flew to Cabo San Lucas, Mexico with Kourtney Kardashian. "With you anything is possible," he wrote on Instagram.