How Kyle Richards And Kathy Hilton's Years-Long Feud Really Began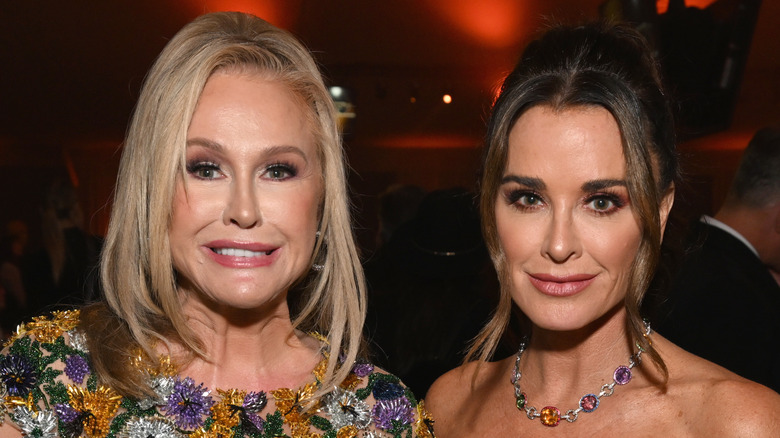 Michael Kovac/Getty Images
Kyle Richards and Kathy Hilton's relationship has been marked by an array of challenges throughout the years. Fans have closely watched the drama unravel on "The Real Housewives of Beverly Hills," as the half-sisters have been candid about their ups and downs. Their continuous falling-outs can be attributed to a variety of reasons and circumstances.
In 2015, Kyle helped produce the TV series "American Woman," which was broadly based on Kyle and Hilton's late mother, Kathleen Richards. Hilton was not pleased about it, leading to major tension between the two reality TV stars. On the "RHOBH" Season 8 reunion (via Us Weekly), Kyle revealed, "[My relationship with Kathy] is not great." She added that they hadn't talked in six months. Kyle continued, "I told her all the time, I said, 'I'm not sharing your stories or [sister] Kim's — these are my own stories.' And not only that, it's a fictionalized version of our life, and our mom being a single mom in the '70s is the jumping-off point."
By the time Season 12 of "RHOBH" rolled around, Hilton and Kyle seemed to have mended their relationship. However, during a group trip to Aspen, Hilton's reported breakdown ignited the fire once again. Lisa Rinna called out Hilton, noting that she told her she would "f***ing ruin" Kyle, per Page Six. The cause of their most recent beef is no secret, but how did Kyle and Hilton's years-long feud really begin?
Mauricio Umansky was in the middle of it
Kathy Hutchins/Shutterstock
The drama between Kathy Hilton and Kyle Richards consistently stems from some sort of family disagreement, and this particular instance is no exception. Kyle's husband Mauricio Umansky once made a professional decision that deeply triggered Kathy and her husband Rick Hilton. In his memoir "The Dealmaker" (via Page Six), Umansky wrote extensively about leaving his brother-in-law's real estate firm, Hilton & Hyland, to start his own company, The Agency in 2011. After Rick was unwilling to make Umansky a full partner, the real estate broker wasn't interested in staying on. Umansky wrote, "He and Kathy held tremendous anger toward us, which is not the way I choose to live my life. Naturally, Kyle was very hurt by their reaction, and it was a difficult pill for her to swallow."
So, why were Kathy and Rick so upset by Umansky's decision? Umansky speculates that they were worried that he would scoop up Rick's clients. He noted that they stopped talking to him and Kyle and no longer extended invitations to holiday festivities.
Umansky isn't the only family member looped into Kyle and Kathy's feud. When Season 1 of "RHOBH" aired in 2010, Kyle's behavior toward their sister Kim Richards was a big problem for Kathy. In a 2021 appearance on "Lunch with Bruce" (via Us Weekly), Kathy shared, "I didn't watch ['RHOBH'] because I was so hurt at what happened that first season and I didn't speak to my sister for a long time."
Kyle Richards and Kathy Hilton's status today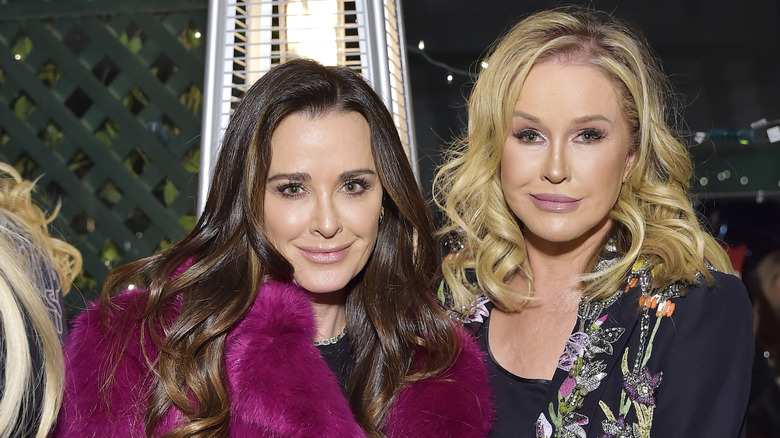 Stefanie Keenan/Getty Images
As of early 2023, Kyle Richards and Kathy Hilton haven't smoothed things out regarding their Season 12 drama. An insider told People, "Nothing has really changed since the reunion. They're still not speaking. Nobody has made an effort to sit down and patch things up." However, there may be hope. They continued, "Kyle is busy focusing on herself right now and Kathy is doing the same. But they're family and each of them are supportive of the other and always will be." In December 2022, Hilton told Access Hollywood, "I have not talked to her in a while. We've texted, but I have not talked to her for a while." The same month, Richards told Extra TV, "We could be better, you know, but we are sisters and at the end of the day we always come together."
Meanwhile, Mauricio Umansky has stuck by his wife's side amid Richards and Hilton's feud. He told Us Weekly that it was tough to watch the siblings fight during Season 12. He added, "I know a lot of the stuff that's going on in the background, which isn't exactly what's being put out there ... Being supportive of Kyle, I think Kyle's a hundred percent in the right here without question."
Will Richards and Hilton put their complicated past behind them, as they've done before? Fans will most likely get to hear Richards' take on it all, as she's confirmed to return to Season 13.