Why Hoda Kotb Nearly Didn't Get Her Gig On The Today Show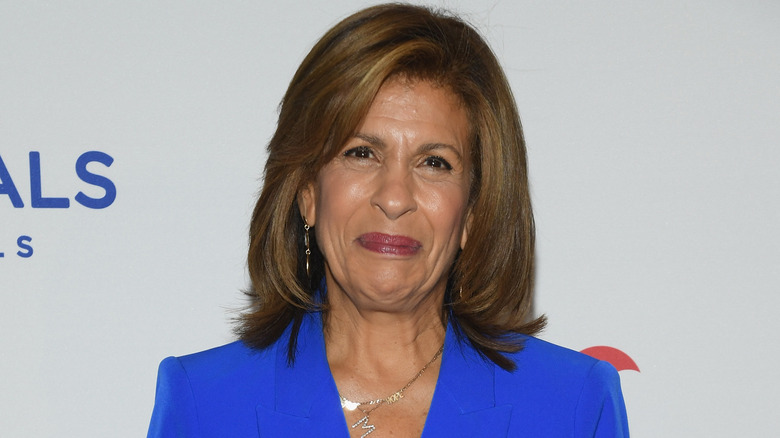 Gary Gershoff/Getty Images
Hoda Kotb is one of the most popular morning television personalities thanks to her stint on "Today." Kotb joined NBC News in 1998 and has held several positions with the network. The star has proven she can do everything, from serving as a correspondent on "Dateline" to covering several Olympic games. But perhaps one of the most well-known aspects of her career began in 2008 when she signed on with Kathie Lee Gifford to host the fourth hour of "Today." Little did we know that watching the two sip wine, gossip, and conduct interviews would become a part of our morning routine.
In 2018, Kotb got a big promotion when NBC named her a co-anchor alongside Savannah Guthrie amid Matt Lauer's shocking scandal and subsequent firing that rocked the network. "It's 2018, and we are kicking off the year right because Hoda is officially the co-anchor of Today," Guthrie told viewers tuning in to Kotb's inaugural appearance at the anchor desk. "This has to be the most popular decision NBC News has ever made, and I'm so thrilled." Of course, Kotb still kept her job on the fourth hour of the program, and when Gifford left in 2018, she joined forces with Jenna Bush Hager to keep with the light-hearted theme during that hour.
With such an illustrious career with the network, it's hard to believe that Kotb almost didn't land a gig on "Today."
NBC thought Hoda Kotb was too 'boring'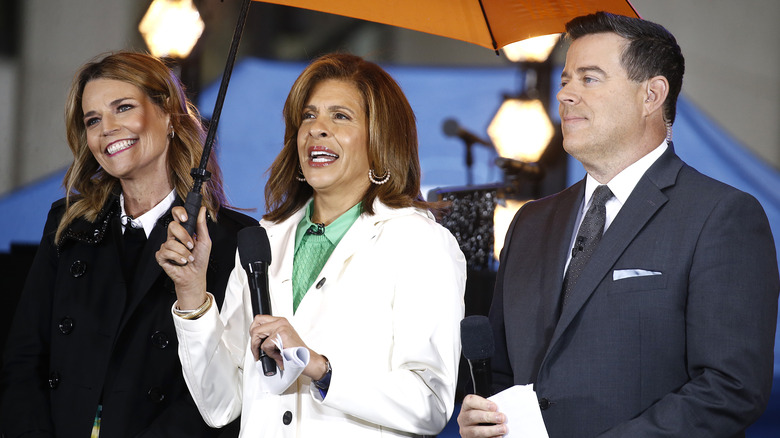 John Lamparski/Getty Images
"Today" without Hoda Kotb would be like a peanut butter and jelly sandwich without the peanut butter. Can you imagine if Kotb wasn't part of the beloved morning show? Well, she almost didn't land the gig that made her uber-famous. In April, the television personality celebrated her 25th anniversary with the network, reminiscing about her career with Jenna Bush Hager. According to The U.S. Sun, during their heartfelt chat, Kotb revealed that her journey with "Today" was not without its challenges. "I think if you've ever been one of those people who has been put in a box, and I was because I only ever covered hard news," she explained. "And so when the more lighter fare came up like this show, the bosses were very sort of, early on, against me getting it."
The star added that higher-ups wanted to see someone else get the position because they felt Kotb was "boring." The star continued, "And I had one person who fought for me, a person named Amy Rosenblum, who said to me, 'I'm going to help you. I want you to be like the person you are in my office, not the boring one you are on TV, be the one I know!'" Kotb then explained to Bush Hager that she was trying so long to be perfect, only to realize her "imperfections" made her better at her job.
So, we can all thank Amy Rosenblum for giving us more of Hoda!
Hoda Kotb celebrates a huge milestone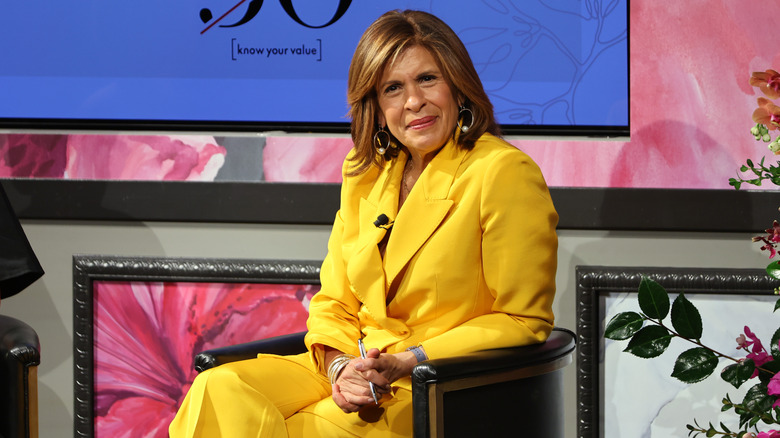 Cindy Ord/Getty Images
It's hard to believe that Hoda Kotb has enjoyed 25 years with NBC, and there's no doubt that she's become a fan-favorite on "Today." While many of us fondly remember her and Kathie Lee sipping wine during the fourth hour of the show, her partnership with Jenna Bush Hager is undoubtedly a success, and we hope to see them together for many more years to come.
In April, "Today" paid a touching tribute to Kotb, sharing highlights from her illustrious career on the show as she and her co-stars stood outside with fans. Kotb herself seemed genuinely surprised to learn that she had reached the 25-year mark with the network, and she spoke about her amazement during the fourth hour of "Today" with Bush Hager. "I have to tell ya, I was totally, and continue to be totally shocked. In fact, my mom texted me, she didn't know, and she took a screengrab of the screen and wrote, 'Oh, wow. 25!'" Kotb said. 
Fans flooded the Twitter post with comments for the anchor, expressing their disbelief that it has already been 25 years. "Congratulations Hoda Kotb on celebrating twenty-five (25) years," one person wrote. "The Today Show is fortunate to have you, and as viewers we are sooo glad that we 'have you' as well. Congratulations!" Another commented, "Still beautiful after all these years!! Love you, Hoda!! Congrats on 25 years!!" So, cheers to... 25 more?