The Sad Reason Captain Lee Rosbach's Time On Below Deck Is Over
Jim Spellman/Getty Images
Captain Lee Rosbach's name has been synonymous with "Below Deck" since its first season aired in 2013. During the premiere episode, it was soon apparent that the stoic leader had a no-nonsense attitude and didn't suffer fools lightly — from the crew or guests. However, underneath his tough exterior, Rosbach was also quick to reward hard work and give advice to the "Below Deck" cast when they needed it.
Nicknamed the "Stud of the Sea," Rosbach endeared himself to many viewers with his quotable one-liners and never missed a season of "Below Deck." When a health issue arose ahead of Season 9, he was notably absent from the first few episodes and had to rely on his replacement, Captain Sean Meagher. Rosbach returned for Season 10, but another health-related injury left him immobile, and he had to leave the boat to seek medical attention. While he did return mid-season, the finale had many fans wondering if his time on "Below Deck" was over. When a fan asked if Rosbach was leaving, the captain tweeted back, "Who said that, not me." Although Rosbach initially denied claims that he was retiring, he later revealed why he wouldn't return for Season 11.
Captain Lee Rosbach was not asked back to Below Deck amid his ongoing health issues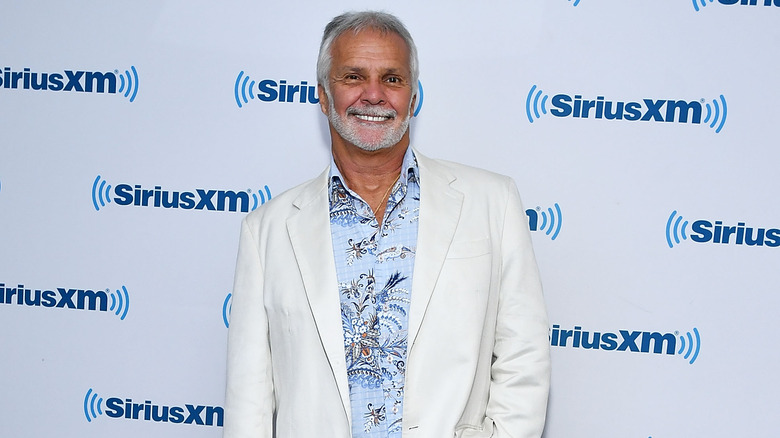 Slaven Vlasic/Getty Images
While many fans believed Captain Lee Rosbach left "Below Deck" of his own accord, the stalwart leader claimed it wasn't his decision to walk away from the show after 10 seasons. Rosbach revealed to South Florida's Sun Sentinal that a producer had unceremoniously given him the news over the phone. "I did not quit. I did not retire. I was just not invited back. I guess I can see their point of view. They really couldn't get a straight answer from anyone on how my health was," he shared. As for Bravo, Rosbach noted that he and the network "came to an agreement," and he would still be working with them on projects for the next year, adding that if "the numbers take a tank," he would happily rejoin the show.
After news of Rosbach's departure, Andy Cohen invited him to "Watch What Happens Live" for a special episode commemorating his time on the show. When asked about his favorite memory from "Below Deck," the captain revealed, "When I got to see my bride walking down the dock," referring to a special visit by his wife, Mary Anne Rosbach, during Season 5. Although the Stud of the Sea is stepping away from "Below Deck," he is far from retired and has other projects to keep him busy.
Captain Lee Rosbach had a one-man show at the Hard Rock Hotel
Captain Lee Rosbach has proved to be one of the most popular leaders at the helm of the "Below Deck" franchise. In January, he announced his one-man show at the Hard Rock Hotel in Hollywood, Florida, for just one night on April 6. "Feel like joining me for a nightcap? For one night only, I'll be appearing at the Seminole Hard Rock Hollywood Hotel & Casino to share stories, cocktails and so much more," he shared on Instagram. Referring to his famous "Below Deck" one-liner, Rosbach wrote in a later post, "I'll be madder than a pissed-on [chicken] if I don't see you all there." The captain's performance doesn't mean he's quitting the seas, though. When a fan asked on Twitter, "Now you are doing performances? Not a captain anymore?" Rosbach responded, "Once a Captain, always. Captain, it never leaves you."
As for "Below Deck" Season 11, Us Weekly reported that Captain Kerry Titheradge from "Below Deck Adventure" will be replacing Rosbach. While Titheradge was well-received after his premiere season, there is no doubt that Rosbach will be missed by "Below Deck" fans.