Joe Alwyn Spent Taylor Swift's Birthday With One Of Her Friends Before Their Split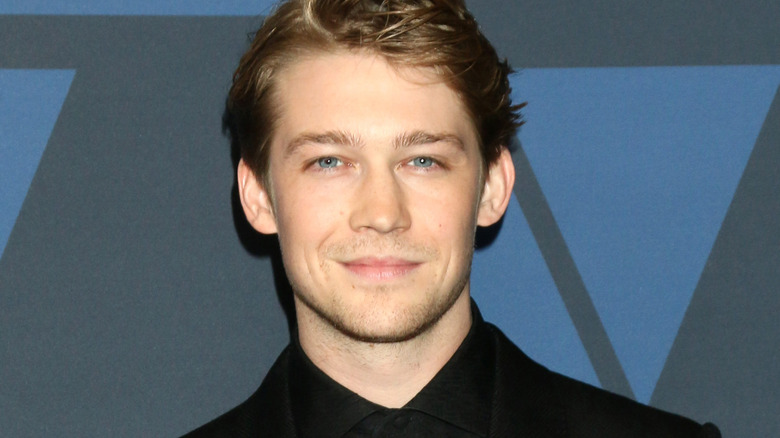 Kathy Hutchins/Shutterstock
After six years together, Taylor Swift and actor Joe Alwyn have allegedly ended their relationship. While neither party has officially confirmed or denied the split, we do know Alwyn spent Swift's last birthday with one of her closest confidants. Unlike past romances, Swift and Alwyn's dedication to privacy has kept their relationship out of the tabloids — a rare feat for the singer, whose romantic life has been endlessly documented. With that said, Swift has achieved international fame from channeling her heartbreak through song, and her fans have become great at fishing out potential warnings or red flags about her personal life from her music.
Apparently, the clever musician has already started hinting at their breakup since the start of her "Eras" tour by swapping out songs in her pre-planned setlist. Given that Swift's tour is set to run until August, that leaves her plenty of time to weave subtle references about what went wrong into the show if she so chooses. Alwyn, on the other hand, is focusing on his acting career. Here's why he spent Swift's most recent birthday with one of her closest friends.
Joe Alwyn spent some time with Emma Stone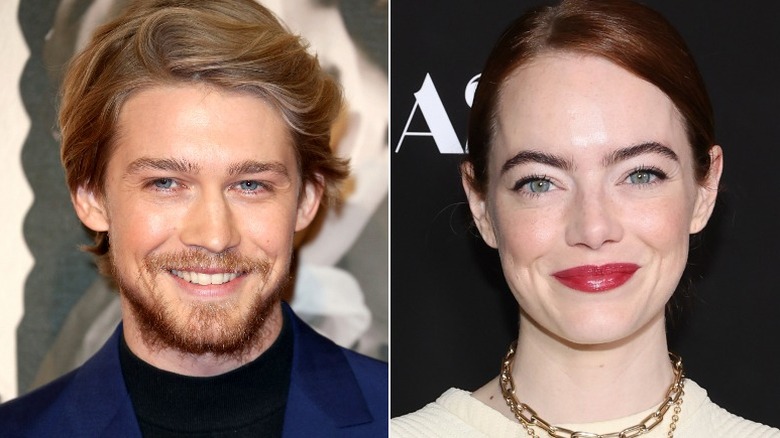 Fred Duval/Shutterstock & Cindy Ord/Getty Images
Taylor Swift didn't celebrate her 33rd birthday by throwing a lavish, celeb-filled party. Instead, she opted to carve out some studio time with Joe Antonoff, her friend and creative partner. "Thanks for all the beautiful wishes today!!" Swift wrote on Instagram. "I spent my 33rd birthday in the studio of course. Wouldn't have it any other way. Love you!" While Swift didn't actually reveal that Joe Alwyn wasn't present in the studio, it's been confirmed that he was elsewhere spending the day with Swift's friend, Emma Stone. 
Usually, spending your girlfriend's birthday with her close friend is a surefire path to splitsville, but that's not what went down between Alwyn and Stone. According to the Daily Mail, Alwyn and Stone's meeting was strictly professional, as they were filming a movie together in New Orleans. At the present time, the film's title and plot are being closely guarded. Upon first glance, neither Alwyn nor Stone has updated their IMDb accounts to reflect any 2023 projects, so it may be some time before the public becomes privy to it. Fortunately, this wasn't the creative pair's first time working together, as E! News reported. Their last project was 2018's "The Favorite," which is a historical drama.
Taylor Swift and Joe Alwyn have plenty to keep themselves busy amid breakup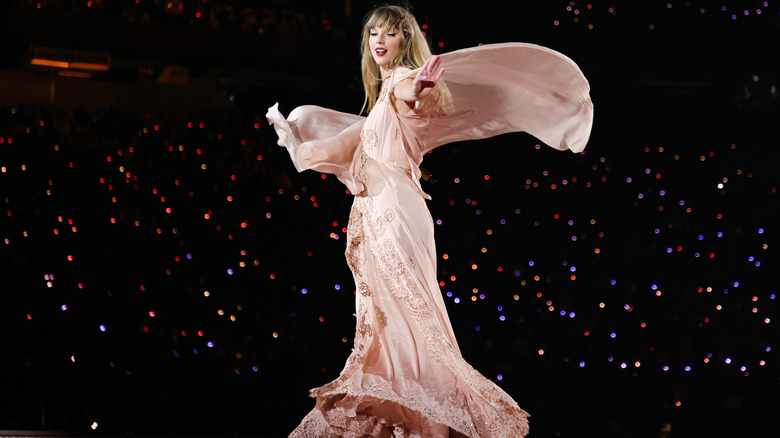 Ethan Miller/tas23/Getty Images
Around the start of Taylor Swift's Era's tour, a source revealed to People that Joe Alwyn had plans to join Swift on her dates "when he can." Now that they've broken up, fans can pretty much forget about snapping sly pics of Alwyn from the side of the stage. Of course, couples break up and make up all the time, so it's not completely impossible. Fortunately, Swift and Alwyn have plenty of things to occupy their time in case they're done for good. Of course, Swift's in-demand tour will take up the majority of her year. According To Captial FM, Swift also has an international Eras tour on her schedule, although it's unknown exactly when fans can fight to reserve those highly-coveted tickets. 
Alwyn, on the other hand, has another new film project in the works. According to People, the English actor is currently filming scenes for "The Brutalist," which also stars Adrien Brody and Guy Pearce. According to IMDb, "The Brutalist" centers on a European architect and his wife, who seek refuge in America after the war. Alwyn's character is unlisted.