How Hilary Swank Kept Her Pregnancy A Secret While Filming Alaska Daily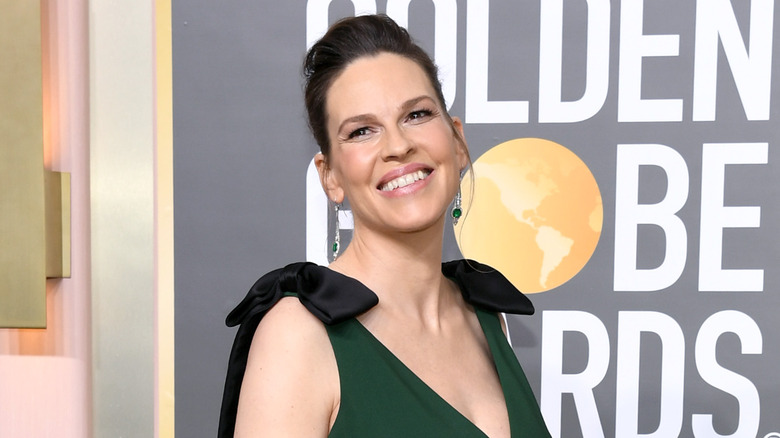 Jon Kopaloff/Getty Images
Working mothers have some monumental strength, especially when they're working through their pregnancies. Hilary Swank not only worked through her pregnancy with twins, but she also kept it a secret for months while filming her ABC series, "Alaska Daily." Now, the finale of "Alaska Daily" just premiered in late March, and Swank has so much more to celebrate. She just announced her twins were born and she's in "heaven." But with Swank filming well into her pregnancy, how did she keep it a secret for as long as she did? It took a little bit of healthy lying.
To the public, she announced her pregnancy in October 2022, when "Alaska Daily" premiered on ABC. "This is something that I've been wanting for a long time," she told "Good Morning America." "And my next thing is I'm going to be a mom. I'm gonna be a mom. And not just of one ... two. I can't believe it. And it feels so nice to be able to talk about it and share it."
While on "The Drew Barrymore Show," Swank also announced that her twins were due in April 2023, specifically on her late father's birthday, April 16. Swank's father, Stephen, died in 2021 after struggling with many health issues, which led to Swank taking on the role of caregiver for him and taking a break from filmmaking, as Today reported.
Hilary Swank had to request a stunt double to hide her pregnancy
In the series "Alaska Daily," Hilary Swank plays Eileen Fitzgerald, a journalist relocating from New York City to Alaska to get a fresh start away from bridges she burned, but she gets more than she bargained for. Swank was in her first trimester of pregnancy while filming, and was just starting to show when she announced it in October 2022. So she had to get creative with how she hid it on-set. She did this by making sure she didn't have to do any of her own running on camera.
"To do one to two minutes on screen takes two hours," Swank told "The Late Late Show with James Corden" in January. "They want it from this angle, this angle ... You'll be running for two hours. I was like, 'Oh my god. I'm pregnant. I can't tell anybody.'" Since she wasn't telling anyone at the time and didn't want it to get out, she fibbed a little and told production that she was a "really bad runner," so bad that she required a stunt double to do her running shots for her. "They were like, all of them, like, 'Huh? You? What? You need a stunt double to run?'" she said. "And I was like, 'Yeah, real bad.'" She had to demonstrate for them, and — even though she's "not a great runner to start with" — her acting chops came in handy because they secured her a stunt double in the end.
Hilary Swank is in 'heaven' after giving birth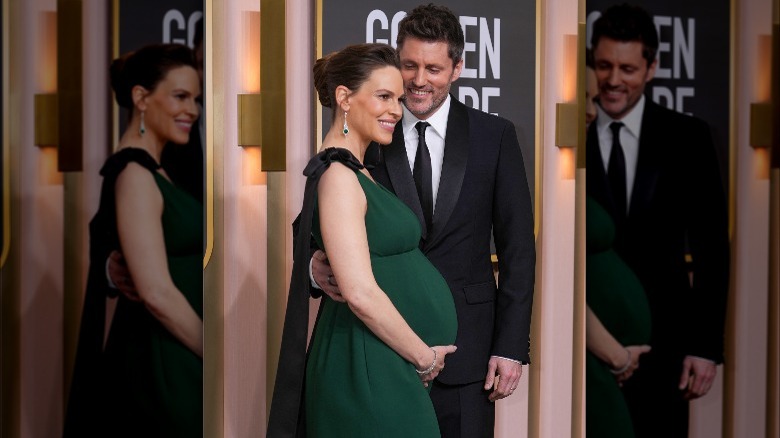 Kevin Mazur/Getty Images
Hilary Swank was able to keep her pregnancy a secret from her "Alaska Daily" cast and crew until she went public with everything in October 2022. "My clothes started not to fit so I had to, the other day ... cut [my jeans] open. And then I put a jacket on that wasn't in continuity," she said on "Live! with Kelly and Ryan" (via Entertainment Tonight) about how she continued to keep it hidden while on-set. "And [they] came and said, 'That's not in continuity.' I said, 'Oh, I think it works.' 'It doesn't.' 'No, it does. I'm going to make it work.' She's like, 'If you're an executive producer, you can do it, but this is weird.'"
After the announcement, though, Swank still worked through her pregnancy. She has an Instagram post from Halloween that shows her on-set and with her baby bump on full display. Then in January, she told Entertainment Tonight at the Golden Globe Awards that she "love[d] being pregnant," so it was all worth it for Swank.
And with that, Swank gave birth on April 9 to fraternal twins, a boy and a girl, whom she shares with her husband, Philip Schneider. "It wasn't easy. But boy (and girl!) was it worth it," she wrote on Instagram with a couple of angel emojis and a white heart. "Happy Easter! Posting from pure Heaven," and she finished off her caption with some hatching chick emojis.