RHOC: What Happened To Tamra Judge's Ex-Husband, Simon Barney?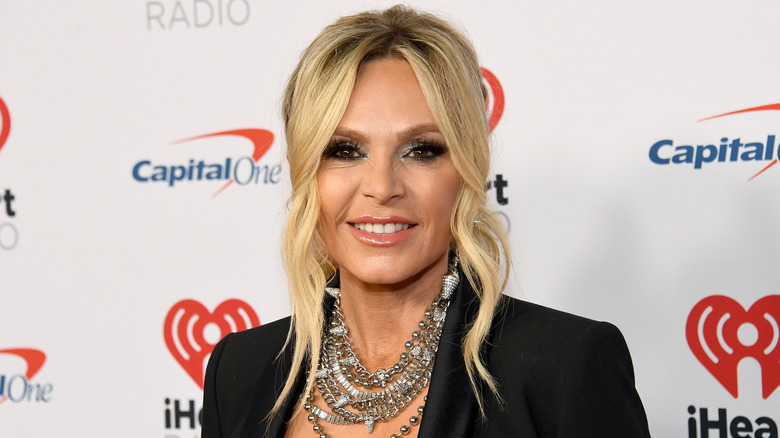 Jon Kopaloff/Getty Images
Tamra Judge left "The Real Housewives of Orange County" in 2020, concluding a 12-year stint on Bravo's original "Real Housewives" installment. And her time was definitely not wasted! Judge was a brazen, audacious obstacle for her co-stars, adding much-needed drama to the show. Unfortunately, Judge's persona alienated many people in her life — including her second husband, Simon Barney. Well, that was part of the reason, as the couple was pretty much an all-around disaster.
Anyway, while the bulk of Judge's "RHOC" storyline has included her marriage to current husband, Eddie Judge, she actually started the series as Barney's wife. For the first few seasons, Judge proudly wore Barney's last name, but their relationship slowly deteriorated until things reached the point of no return. "I want a divorce, f*** you," Judge declared during their historic car scene in Season 5. And while everyone says things when tensions are high, Judge obviously meant her words. By 2011, Judge's union with Barney was over in the eyes of the law. Of course, a ton has happened for both parties since sinking their marriage. During Judge's time away from "RHOC," she's found new avenues to connect with her fans, such as participating in "The Real Housewives Ultimate Girls Trip" and her podcast. Barney, on the other hand, has also dealt with some major life events.
Simon Barney was diagnosed with cancer
Since divorcing Tamra Judge, Simon Barney seemed to readjust quite nicely into normal life. Unfortunately, he found himself back in the spotlight after revealing his cancer diagnosis to People in 2020. "I'm a private person, despite what my time on reality television might say," shared Barney. "But I wanted to speak before someone else does and uses their words, not mine. And to speak out about it so others can see how I've taken this fight on with optimism, and the good this has ultimately brought my life." At the time, Barney had stage 3 throat cancer, which required chemo and radiation, described as Barney as "almost worse than the cancer." 
Barney struggled especially hard during the start of the COVID-19 pandemic, according to Tamra Judge, who, in an odd twist of fate, became one of Barney's support systems. "I am worried about Simon," Judge said to Us Weekly. "As you all know, last month he went public with his cancer diagnosis. Having a disease that compromises his immune system means that this could be lethal for him." Fortunately, Barney appears to be doing well today. In 2022, Judge updated fans yet again on Barney and offered up some encouraging news. "He's doing okay, he's doing okay," shared Judge during an episode of "Watch What Happens Live" (via Bravo). She added, "I mean, he's still fighting the fight. He's doing okay." 
Simon Barney has since found love elsewhere
Like his ex-wife, Simon Barney has also found love again since their divorce. In 2016, Barney got engaged to Catushia Ienni, who he started dating in 2012, according to All About The Tea. And though they've yet to actually get married, Ienni obviously plays an integral role in Barney's life. And she even supported Barney through his throat cancer battle. "My better half about to go celebrate her 40th birthday at lunch with her girlfriends," Barney posted to Instagram in 2020. "She's been my hero...."
Ienni also appears to be quite close with Barney's children, which wasn't always the case. Early in their divorce, Barney and Judge both faced strained relationships with the three children they share. However, Barney's cancer diagnosis has strengthened their bond. It appears Ienni has also forged relationships with Barney's kids. This past May, Barney honored Ienni on Mother's day for being a stepmom to his children. "To the best step mom, Happy Mother's Day," wrote Simon on Instagram. "Thank you for always being there..." Ienni has also managed to win Judge's approval. When a fan inquired into whether Judge cared for Ienni, she replied, "Yes I do! She is sweet and good to my kids" (via The Sun).