Damar Hamlin Gets Green Light For NFL Return Months After On-Field Collapse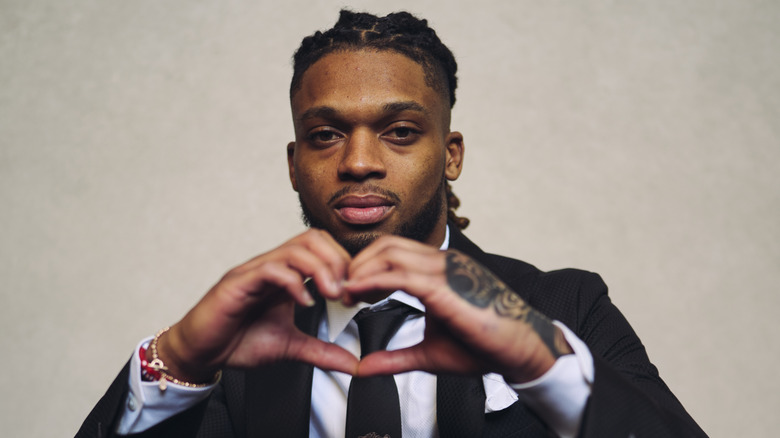 Cooper Neill/Getty Images
During the January 2 game against the Cincinnati Bengals, Buffalo Bills safety Damar Hamlin suddenly collapsed on the field after tackling Bengals receiver Tee Higgins. It was reported that the safety was down for 19 minutes until the ambulance came onto the field to rush him to the hospital. It was also reported that medical staff used an automated external defibrillator and administered CPR on Hamlin.
"Damar Hamlin suffered a cardiac arrest following a hit in our game versus the Bengals," the Bills' Twitter account wrote in a statement to worried NFL fans around the country. "His heartbeat was restored on the field and he was transferred to the UC Medical Center for further testing and treatment. He is currently sedated and listed in critical condition."
And after his miraculous recovery, questions surrounded Hamlin on whether or not he was planning to return to playing football. "Eventually," he told Michael Strahan in a "Good Morning America" interview (via ESPN), indicating that he wishes to play again. "That's always the goal ... But I'm allowing that to be in God's hands. I'm just thankful He gave me a second chance." Now, it looks like the safety will be given a second chance on the field.
Damar Hamlin is 'fully cleared' to play football again
A little more than a month since he collapsed on the field, Buffalo Bills safety Damar Hamlin made an inspiring stop at the NFL Honors. "Sudden cardiac arrest was nothing I would have ever chosen to be a part of my life story," he said in his speech that honored the medical staff who saved his life. "My vision was about playing in the NFL, and being the best player I can be. But God's plan was to have a purpose greater than any game in this world."
And now, the safety is gearing up to be the best player he can be again. "He's fully cleared," Bills General Manager Brandon Beane said in a press conference. He mentioned that everyone in the organization was in agreement that Hamlin was healthy and ready enough to "resume full activities," and they're treating it like any other player who has been injured. "He's here, and he is of the mindset — he's in a great headspace — to come back and make his return," Beane added.
On February 8, NFL Players Association medical director Dr. Thom Mayer gave an optimistic outlook on Hamlin's future with the NFL. "I guarantee you that Damar Hamlin will play professional football again," he said on SiriusXM's "Heart to Heart" program (via CNN). And we are very excited to see him out on the field again.