What Leonardo DiCaprio Had To Say About His Golden Globes Incident With Lady Gaga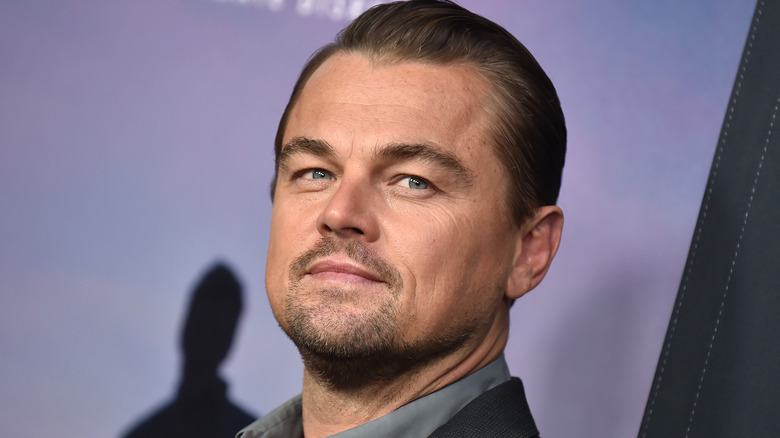 DFree/Shutterstock
Lady Gaga started her career as a pop icon with a rather peculiar fashion sense, but she's since become a bonafide actor. And while her role in 2018's "A Star Is Born," opposite Bradley Cooper, really put her on the acting map — and led her to her first Oscar win in 2019 — the "Born This Way" singer had another notable role years earlier. In 2015, Lady Gaga joined the sixth season of "American Horror Story: Hotel" as an evil vampire who quickly became a fan favorite. 
"I'm not the type of girl who fits most molds," shared the singer to Billboard in 2015. "That's why working on American Horror Story with Ryan [Murphy] is a destiny. I wanted to create something extremely meaningful by exploring the art of darkness." Lady Gaga's dedication paid off once award season rolled around. In 2016, Gaga took home her first Golden Globe for Best Actress In a Limited Series. Unfortunately, the "Born This Way" songstress' career milestone was overshadowed by Leonardo DiCaprio, who laughed and made a rather amused face as she grazed his arm on the way to the stage. Naturally, the internet interpreted DiCaprio's reaction as shade or hate, but was it all just one big misunderstanding?
Leonardo DiCaprio denies shading Lady Gaga
At first glance, Leonardo DiCaprio's reaction does look uber-shady. But everything isn't always what it appears to be. During an appearance on the U.K.'s "This Morning," DiCaprio clarified what was going through his head. "[Gaga and I] were laughing about that afterwards," DiCaprio explained. "I actually had no idea who was passing me or what was going on, but that was a funny little bit that went around. We were laughing at it at the after-party!" 
He added, "It's amazing what goes viral these days; I guess I'm of a different generation now. I have no idea where this stuff comes from or how it's even captured." DiCaprio offered up a similar story when chatting with Entertainment Tonight, though his response came off a little less chipper. "I just didn't know what was passing me, that's all," DiCaprio shared with a laugh. At the end of the day, only DiCaprio knows the truth of what went through his head. However, if you're still convinced that he was being a little shady, you might not be alone. There have been rumblings that Gaga herself felt a little slighted. 
Did Lady Gaga bump into Leo on purpose?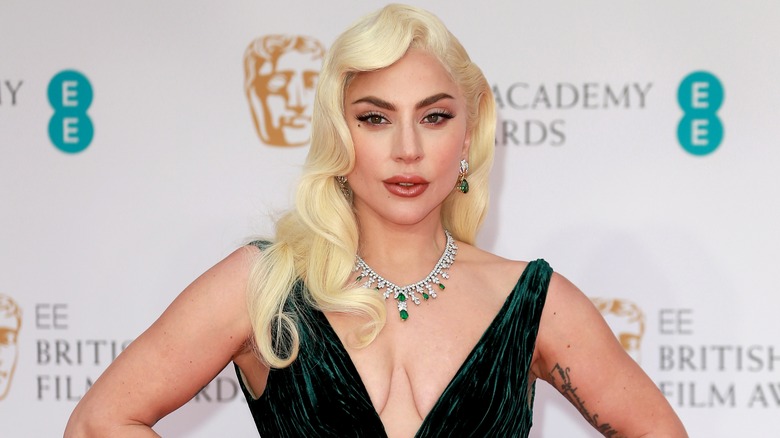 Fred Duval/Shutterstock
Even though Leonardo DiCaprio attempted to shut down speculation, it's been rumored that there was much more to this interaction. According to Radar, DiCaprio had been poking at Lady Gaga for much of the night, prompting her to bump into him on her way to the stage. "Leonardo was talking s**t about her even before the show started because he did not think she deserved to be nominated," shared a source. "It got back to her obviously. She would have ignored it, but when her name was announced as the winner, Leo was laughing so loud that people far away from his table heard it. He was making a total scene." The source continued, "Gaga was not about to let him steal her moment and she wanted to shut him up." 
If true, then Lady Gaga definitely achieved her goal and then some. Not that anyone should be surprised. The Grammy award-winner has a ton of experience dealing with haters. In 2017, Lady Gaga completely shut down critics who'd pointed out her weight gain. "I heard my body is a topic of conversation so I wanted to say, I'm proud of my body and you should be proud of yours too," shared the singer to Instagram. "No matter who you are or what you do. I could give you a million reasons why you don't need to cater to anyone or anything to succeed. Be you, and be relentlessly you."